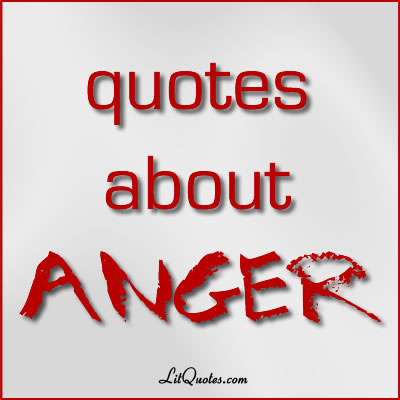 "You do not know how the people of this country bear malice. It is the boast of some of them that they can keep a stone in their pocket seven years, turn it at the end of that time, keep it seven years longer, and hurl it and hit their mark 'at last.'" ~ Shirley by Charlotte Bronte
How often it is that the angry man rages denial of what his inner self is telling him. ~ The Woman in White by Wilkie Collins
Any woman who is sure of her own wits is a match at any time for a man who is not sure of his own temper. ~ The Woman in White by Wilkie Collins
Anger and jealousy can no more bear to lose sight of their objects than love. ~ The Mill on the Floss by George Eliot
Anger's my meat; I sup upon myself,
And so shall starve with feeding. ~ Coriolanus by William Shakespeare
"From hell's heart I stab at thee; for hate's sake I spit my last breath at thee." ~ Moby Dick by Herman Melville
With a fierce action of her hand, as if she sprinkled hatred on the ground, and with it devoted those who were standing there to destruction, she looked up once at the black sky, and strode out into the wild night. ~ Dombey and Son by Charles Dickens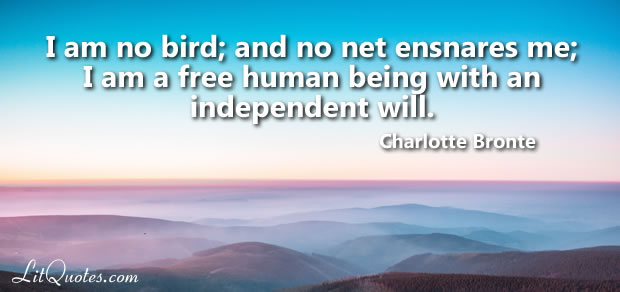 "I am no bird; and no net ensnares me; I am a free human being with an independent will." ~ Jane Eyre by Charlotte Bronte
Photo by Jakub Kriz on Unsplash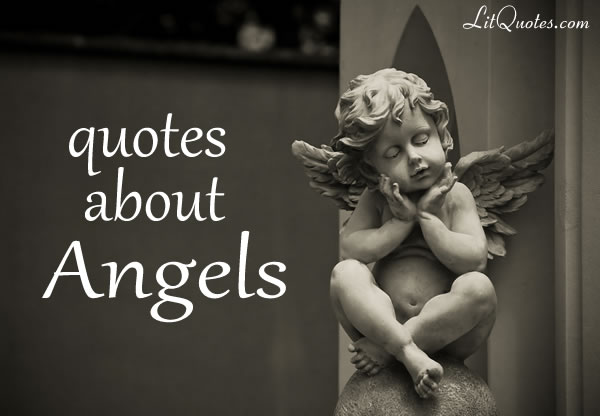 "I am not an angel," I asserted; "and I will not be one till I die: I will be myself." ~ Jane Eyre by Charlotte Bronte
You can't expect the fatted calf to share the enthusiasm of the angels over the prodigal's return. ~ Reginald by Saki
In old days there were angels who came and took men by the hand and led them away from the city of destruction. We see no white-winged angels now. But yet men are led away from threatening destruction: a hand is put into theirs, which leads them forth gently towards a calm and bright land, so that they look no more backward; and the hand may be a little child's. ~ Silas Marner by George Eliot
The shadows of our own desires stand between us and our better angels, and thus their brightness is eclipsed. ~ Barnaby Rudge by Charles Dickens
Heaven, too, was very near to them in those days. God's direct agency was to be seen in the thunder and the rainbow, the whirlwind and the lightning. To the believer, clouds of angels and confessors, and martyrs, armies of the sainted and the saved, were ever stooping over their struggling brethren upon earth, raising, encouraging, and supporting them. ~ The White Company by Sir Arthur Conan Doyle
It was the beginning of a day in June; the deep blue sky unsullied by a cloud, and teeming with brilliant light. The streets were, as yet, nearly free from passengers, the houses and shops were closed, and the healthy air of morning fell like breath from angels, on the sleeping town. ~ The Old Curiosity Shop by Charles Dickens
"Good night, sweet prince, and flights of angels sing thee to thy rest!" ~ Hamlet, Prince of Denmark by William Shakespeare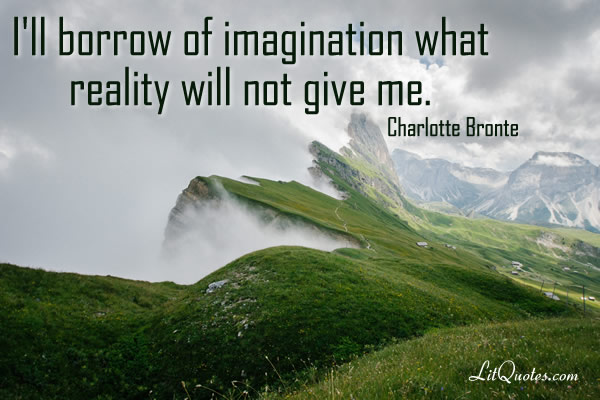 "I'll borrow of imagination what reality will not give me." ~ Shirley by Charlotte Bronte
Photo by Jaromír Kavan on Unsplash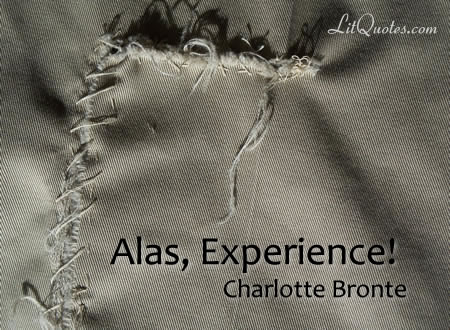 Alas, Experience! No other mentor has so wasted and frozen a face as yours, none wears a robe so black, none bears a rod so heavy, none with hand so inexorable draws the novice so sternly to his task, and forces him with authority so resistless to its acquirement. ~ Shirley by Charlotte Bronte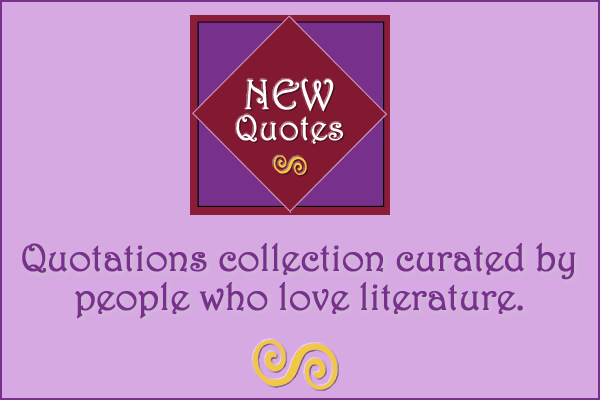 We added new quotes to the site today.  All of the quotes on this site list an author and a source. NONE of the quotes come from movies made from books.
Smiles and tears are so alike with me, they are neither of them confined to any particular feelings: I often cry when I am happy, and smile when I am sad. ~ The Tenant of Wildfell Hall by Anne Bronte
I wish I were a girl again, half savage and hardy, and free; and laughing at injuries, not maddening under them! ~ Wuthering Heights by Emily Bronte
A trusty companion halves the journey and doubles the courage. ~ The Coming Race by Edward Bulwer-Lytton
It was a dark and stormy night; the rain fell in torrents, except at occasional intervals, when it was checked by a violent gust of wind which swept up the streets (for it is in London that our scene lies), rattling along the house-tops, and fiercely agitating the scanty flame of the lamps that struggled against the darkness. ~ Paul Clifford by Edward Bulwer-Lytton
In case you're wondering, the above IS the quote that made "it was a dark and stormy night" famous.
"I'll borrow of imagination what reality will not give me." ~ Shirley by Charlotte Bronte
Feeling without judgment is a washy draught indeed; but judgment untempered by feeling is too bitter and husky a morsel for human deglutition. ~ Jane Eyre by Charlotte Bronte
But sorry is the Kool-Aid of human emotions. It's what you say when you spill a cup of coffee or throw a gutterball when you're bowling with the girls in the league. True sorrow is as rare as true love. ~ Carrie by Stephen King
Her husband had archaic ideas about jewels; a man bought them for his wife in acknowledgment of things he could not gracefully utter. ~ A Lost Lady by Willa Cather
Everything may be labelled—but everybody is not. ~ The Age of Innocence by Edith Wharton
"Why do we call all our generous ideas illusions, and the mean ones truths?" ~ The House of Mirth by Edith Wharton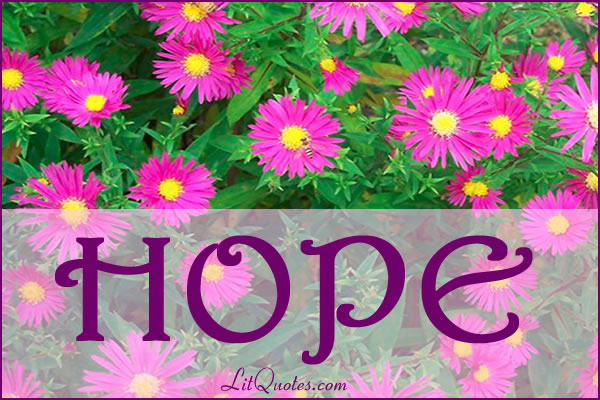 But our wishes are like tinder: the flint and steel of circumstances are continually striking out sparks, which vanish immediately, unless they chance to fall upon the tinder of our wishes; then, they instantly ignite, and the flame of hope is kindled in a moment.  ~ Agnes Grey by Anne Bronte
God shall be my hope,
My stay, my guide, and lantern to my feet. ~ Henry VI, Part Two by William Shakespeare
I hope, or I could not live. ~ The Island of Doctor Moreau by H. G. Wells
These fellow-mortals, every one, must be accepted as they are: you can neither straighten their noses, nor brighten their wit, nor rectify their dispositions; and it is these people–amongst whom your life is passed–that it is needful you should tolerate, pity, and love: it is these more or less ugly, stupid, inconsistent people whose movements of goodness you should be able to admire–for whom you should cherish all possible hopes, all possible patience. ~ Adam Bede by George Eliot
The cool peace and dewy sweetness of the night filled me with a mood of hope: not hope on any definite point, but a general sense of encouragement and heart-ease. ~ Villette by Charlotte Bronte
Remember to the last, that while there is life there is hope. ~ Wreck of the Golden Mary by Charles Dickens
"Our highest assurance of the goodness of Providence seems to me to rest in the flowers. All other things, our powers, our desires, our food, are all really necessary for our existence in the first instance. But this rose is an extra. Its smell and its color are an embellishment of life, not a condition of it. It is only goodness which gives extras, and so I say again that we have much to hope from the flowers." ~ The Naval Treaty by Sir Arthur Conan Doyle
Pride is one of the seven deadly sins; but it cannot be the pride of a mother in her children, for that is a compound of two cardinal virtues — faith and hope. ~ Nicholas Nickleby by Charles Dickens
"In this world you've just got to hope for the best and prepare for the worst and take whatever God sends." ~ Anne Of Avonlea by Lucy Maud Montgomery
My spirits were elevated by the enchanting appearance of nature; the past was blotted from my memory, the present was tranquil, and the future gilded by bright rays of hope and anticipations of joy. ~ Frankenstein by Mary Shelley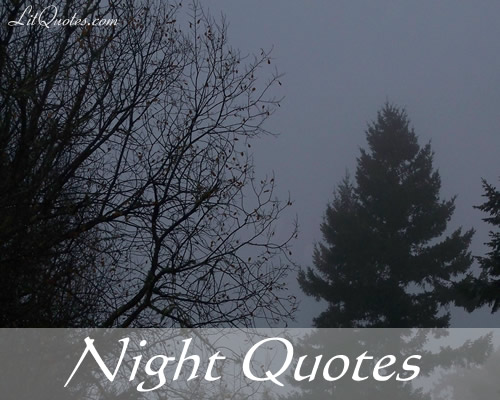 No man knows till he has suffered from the night how sweet and dear to his heart and eye the morning can be. ~ Dracula by Bram Stoker
"The owl, night's herald." ~ Venus and Adonis by William Shakespeare
They never pulled the curtains till it was too dark to see, nor shut the windows till it was too cold. Why shut out the day before it was over? The flowers were still bright; the birds chirped. You could see more in the evening often when nothing interrupted, when there was no fish to order, no telephone to answer. ~ Between the Acts by Virginia Woolf
The longest way must have its close,—the gloomiest night will wear on to a morning. ~ Uncle Tom's Cabin by Harriet Beecher Stowe
In the dead vast and middle of the night. ~ Hamlet, Prince of Denmark by William Shakespeare
At the enchanted metropolitan twilight I felt a haunting loneliness sometimes, and felt it in others–poor young clerks who loitered in front of windows waiting until it was time for a solitary restaurant dinner–young clerks in the dusk, wasting the most poignant moments of night and life. ~ The Great Gatsby by F. Scott Fitzgerald
The cool peace and dewy sweetness of the night filled me with a mood of hope: not hope on any definite point, but a general sense of encouragement and heart-ease. ~ Villette by Charlotte Bronte
Night, the mother of fear and mystery, was coming upon me. ~ The War of the Worlds by H. G. Wells
Once upon a midnight dreary, while I pondered, weak and weary,
Over many a quaint and curious volume of forgotten lore– ~ The Raven by Edgar Allan Poe
With a fierce action of her hand, as if she sprinkled hatred on the ground, and with it devoted those who were standing there to destruction, she looked up once at the black sky, and strode out into the wild night. ~ Dombey and Son by Charles Dickens
Leonard looked at her wondering, and had the sense of great things sweeping out of the shrouded night. But he could not receive them, because his heart was still full of little things. ~ Howards End by E. M. Forster
And when, on the still cold nights, he pointed his nose at a star and howled long and wolflike, it was his ancestors, dead and dust, pointing nose at star and howling down through the centuries and through him. ~ The Call of the Wild by Jack London
"Lead on!" said Scrooge. "Lead on! The night is waning fast, and it is precious time to me, I know. Lead on, Spirit!" ~ A Christmas Carol by Charles Dickens
"Good night, sweet prince, and flights of angels sing thee to thy rest!" ~ Hamlet, Prince of Denmark by William Shakespeare
No mockery in this world ever sounds to me so hollow as that of being told to cultivate happiness. What does such advice mean? Happiness is not a potato. ~ Villette by Charlotte Bronte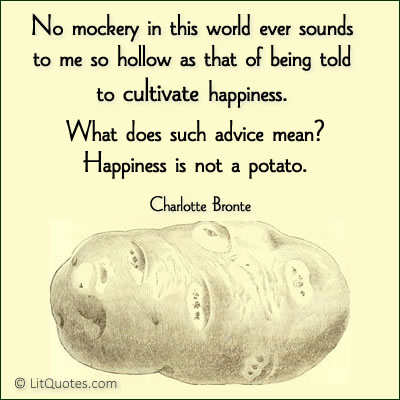 I've posted this at the LitQuotes Facebook page and the LitQuotes Twitter page in case you'd like to share the photo. AND it's on our new Pinterest page.

New quotes were added to the site today.  As per usual, all of the quotes list an author and a source. We're proud that this quotation collection is curated by people and NOT by a computer program.
Here are some quotes from the new additions:
Men must want to do things of their own innermost drives. People, not commercial organizations or chains of command, are what make great civilizations work. Every civilization depends upon the quality of the individuals it produces. If you over-organize humans, over-legalize them, suppress their urge to greatness — they cannot work and their civilization collapses. ~ Children of Dune by Frank Herbert
"A sermon is not to tell you what you are, but what you ought to be, and a novel should tell you not what you are to get, but what you'd like to get." ~ The Small House at Allington by Anthony Trollope
"Must we be strangers, you and I, because there was a time in which we were almost more than friends?" ~ Phineas Finn by Anthony Trollope
Your man with a thin skin, a vehement ambition, a scrupulous conscience, and a sanguine desire for rapid improvement, is never a happy, and seldom a fortunate politician. ~ The Prime Minister by Anthony Trollope
Something unpleasant is coming when men are anxious to tell the truth. ~ The Young Duke by Benjamin Disraeli
"God did not give me my life to throw away." ~ Jane Eyre by Charlotte Bronte
The wild rains of the day are abated; the great single cloud disparts and rolls away from heaven, not passing and leaving a sea all sapphire, but tossed buoyant before a continued, long-sounding, high-rushing moonlight tempest. The moon reigns glorious, glad of the gale, as glad as if she gave herself to his fierce caress with love. ~ Shirley by Charlotte Bronte
We should acknowledge God merciful, but not always for us comprehensible. ~ Villette by Charlotte Bronte
"Your father, Jo. He never loses patience, never doubts or complains, but always hopes, and works and waits so cheerfully that one is ashamed to do otherwise before him." ~ Little Women by Louisa May Alcott