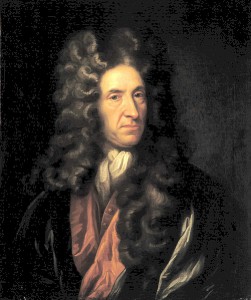 Daniel Defoe (1660 – April 24, 1731) was an English writer most famous for his novels Robinson Crusoe and Moll Flanders. Here are five facts about him that you may not know:
1 – His name at birth was Daniel Foe. He later changed his name to the more aristocratic-sounding Defoe.
2 – He lived through both the Great Plague of London (1665) and the Great Fire of London (1666).
3 – For a time he worked as a general merchant. Some of the goods he dealt with were hosiery, general woolen goods, and wine.  His business was not successful and he went bankrupt in 1692.
4 – In 1684 he married Mary Tuffley. They had eight children.
5 –  Defoe's first literary endeavors were writing political pamphlets and as a journalist.  In 1701 he wrote The True-Born Englishman.  The satirical poem defended King William III, who was Dutch, against William's enemies who pushed for "English racial purity".
Fear of danger is ten thousand times more terrifying than danger itself. ~ Robinson Crusoe by Daniel Defoe
Novels by Daniel Defoe
Robinson Crusoe
The Farther Adventures of Robinson Crusoe
Serious reflections during the life and surprising adventures of Robinson Crusoe: with his Vision of the angelick world
Memoirs of a Cavalier
Captain Singleton
A Journal of the Plague Year
Colonel Jack
Moll Flanders
Roxana: The Fortunate Mistress