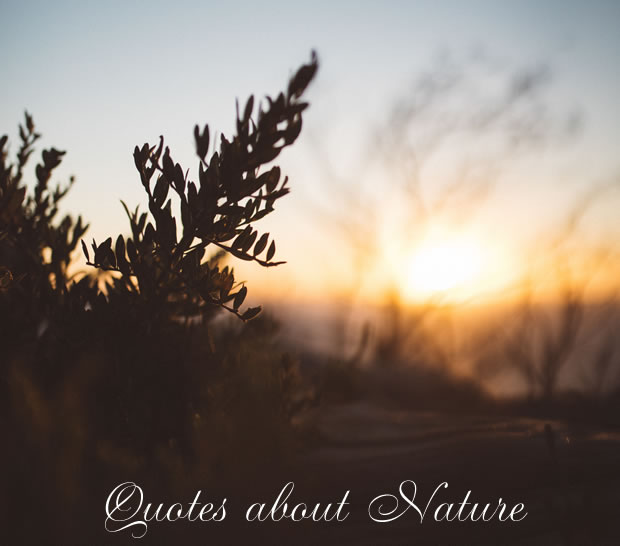 There are many literary quotes about nature.  Here are some of the best.
"There is no such thing as magic, though there is such a thing as a knowledge of the secrets of Nature." ~ She by H. Rider Haggard
"Bees do have a smell, you know, and if they don't they should, for their feet are dusted with spices from a million flowers." ~ Dandelion Wine by Ray Bradbury
If you need something to worship, then worship life — all life, every last crawling bit of it! We're all in this beauty together! ~ Dune Messiah by Frank Herbert
It was October, and the air was cool and sharp, woodsmoke and damp moss exquisitely mingled in it with the subtle odours of the pines. ~ Secret Worship by Algernon Blackwood
The western sky was clear and flushed with vivid crimson, towards which the prairie rolled away in varying tones of blue. ~ Blake's Burden by Harold Bindloss
Sunlight is the life-blood of Nature. Mother Earth looks at us with such dull, soulless eyes, when the sunlight has died away from out of her. It makes us sad to be with her then; she does not seem to know us or to care for us. ~ Three Men in a Boat by Jerome K. Jerome
Have you ever observed a humming-bird moving about in an aerial dance among the flowers–a living prismatic gem that changes its colour with every change of position. ~ Green Mansions by W. H. Hudson
Nature is the true revelation of the Deity to man. The nearest green field is the inspired page from which you may read all that it is needful for you to know. ~ The Stark Munro Letters by Sir Arthur Conan Doyle
Photo by Billy Pasco on Unsplash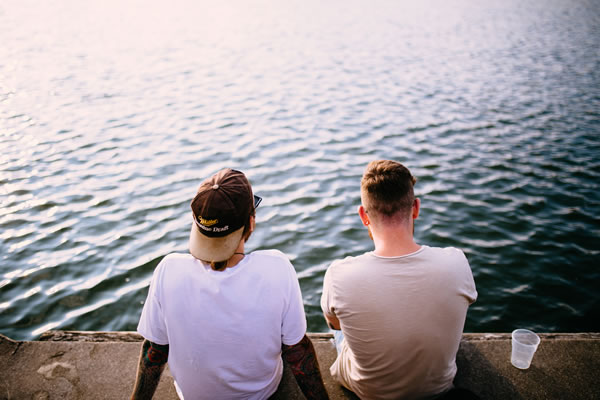 The site has a large collection of literary quotes about communication.  These are some of my favorites.
In reality they all lived in a kind of hieroglyphic world, where the real thing was never said or done or even thought, but only represented by a set of arbitrary signs. ~ The Age of Innocence by Edith Wharton
"Old men only lie in wait for people to ask them to talk. Then they rattle on like a rusty elevator wheezing up a shaft." ~ Dandelion Wine by Ray Bradbury
Often I must speak other than I think. That is called diplomacy. ~ Dune Messiah by Frank Herbert
"With no intention to take offence, I deny your right to put words into my mouth." ~ Treasure Island by Robert Louis Stevenson
Our words are giants when they do us an injury, and dwarfs when they do us a service. ~ The Woman in White by Wilkie Collins
"Words," said the host, at length, "is worse'n bullets. You never know what they'll hit." ~ The Night Horseman by Max Brand
Fair speech may hide a foul heart. ~ The Two Towers by J. R. R. Tolkien
We are never half so interesting when we have learned that language is given us to enable us to conceal our thoughts. ~ Anne of the Island by Lucy Maud Montgomery
"I make no manner of doubt that you threw a very diamond of truth at me, though you see it hit me so directly in the face that it wasn't exactly appreciated, at first." ~ Uncle Tom's Cabin by Harriet Beecher Stowe
Never tell all you know—not even to the person you know best. ~ The Secret Adversary by Agatha Christie
Fine, large, meaningless, general terms like romance and business can always be related. They take the place of thinking, and are highly useful to optimists and lecturers. ~ The Job by Sinclair Lewis
The fool wonders, the wise man asks. ~ Count Alarcos: A Tragedy by Benjamin Disraeli
A slight throbbing about the temples told me that this discussion had reached saturation point. ~ Right Ho, Jeeves by P. G. Wodehouse
Mrs. Bittacy rustled ominously, holding her peace meanwhile. She feared long words she did not understand. Beelzebub lay hid among too many syllables. ~ The Man Whom the Trees Loved by Algernon Blackwood
To read between the lines was easier than to follow the text. ~ The Portrait of a Lady by Henry James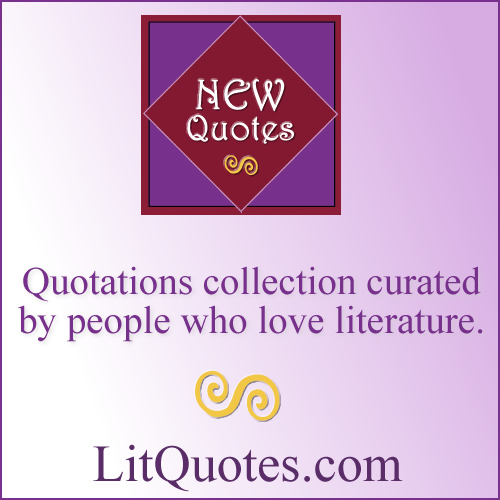 New quotes were added to the site today.  Just a reminder that all of the quotes list an author and a source. This quotation collection is curated by people and NOT by a computer program.
Here are some quotes from the new additions. . .
No legacy is so rich as honesty. ~ All's Well That Ends Well by William Shakespeare
"I'm so thankful for friendship. It beautifies life so much." ~ Anne Of Avonlea by Lucy Maud Montgomery
She was becoming herself and daily casting aside that fictitious self which we assume like a garment with which to appear before the world. ~ The Awakening by Kate Chopin
Truth uncompromisingly told will always have its ragged edges. ~ Billy Budd by Herman Melville
"Truth is like a thrashing-machine; tender sensibilities must keep out of the way." ~ The Confidence-Man by Herman Melville
The first thing you learn in life is you're a fool. The last thing you learn in life is you're the same fool. ~ Dandelion Wine by Ray Bradbury
"You must be the best judge of your own happiness." ~ Emma by Jane Austen