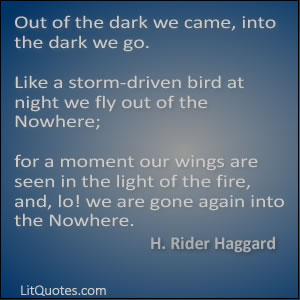 Out of the dark we came, into the dark we go. Like a storm-driven bird at night we fly out of the Nowhere; for a moment our wings are seen in the light of the fire, and, lo! we are gone again into the Nowhere. ~ King Solomon's Mines by H. Rider Haggard
I've posted this at the LitQuotes Facebook page and the LitQuotes Twitter page in case you'd like to share the photo.
"Love has no age, no limit; and no death." ~ The Forsyte Saga by John Galsworthy
I've posted this on the LitQuotes Facebook page as well as the LitQuotes Google Plus page for easier sharing. It's also on the LitQuotes Pinterest page.