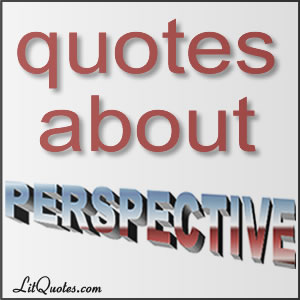 Think you of the fact that a deaf person cannot hear. Then, what deafness may we not all possess? What senses do we lack that we cannot see and cannot hear another world all around us? ~ Dune by Frank Herbert
Perhaps no man could appreciate his own world until he had seen it from space. ~ A Fall of Moondust by Arthur C. Clarke
The very stone one kicks with one's boot will outlast Shakespeare. ~ To the Lighthouse by Virginia Woolf
One never can tell from the sidewalk just what the view is to some one on the inside, looking out. ~ Knocking the Neighbors by George Ade
Come what may, I am bound to think that all things are ordered for the best; though when the good is a furlong off, and we with our beetle eyes can only see three inches, it takes some confidence in general principles to pull us through. ~ The Stark Munro Letters by Sir Arthur Conan Doyle
Will not a tiny speck very close to our vision blot out the glory of the world, and leave only a margin by which we see the blot? ~ Middlemarch by George Eliot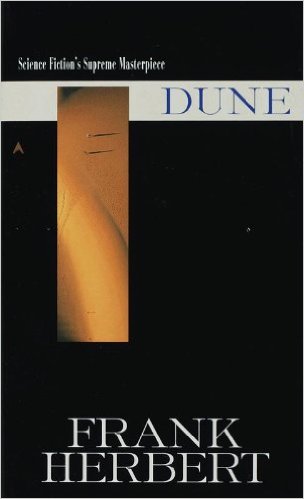 Dune, by Frank Herbert, was published in 1965.  It's the first installment of the Dune saga, and is frequently cited as the best-selling science fiction novel of all time.
There are six novels in the Dune Series by Frank Herbert:
Dune – Published in 1965
Dune Messiah – Originally serialized in the Galaxy magazine in 1969
Children of Dune – Published in 1976, it became the first hardcover best-seller in the science fiction genre
God Emperor of Dune – Published in 1981
Heretics of Dune – Published in 1984
Chapterhouse: Dune – Publisher in 1985
Herbert's Death
Frank Herbert died in 1986.  At the time of his death he'd been planning to write a seventh novel in the Dune series.  Two decades later, Brian Herbert and Kevin J. Anderson published two sequels.  Hunters of Dune  came out in 2006 and Sandworms of Dune  was published in 2007.  These two books were based in part on Frank Herbert's notes for the seventh Dune novel.
Deep in the human unconscious is a pervasive need for a logical universe that makes sense. But the real universe is always one step beyond logic. ~ Dune by Frank Herbert
Frank Herbert's full name was Frank Patrick Herbert, Jr.  He was born on October 8, 1920 in Tacoma, Washington. He's best known for his novel Dune.  Before he became a popular author he worked as a newspaper journalist, photographer, short story writer, book reviewer, ecological consultant and lecturer.  He died on February 11, 1986.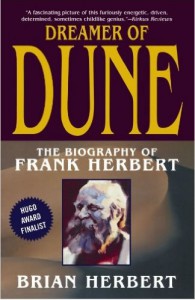 To learn more about Frank Herbert, and there's tons more to know, check out Dreamer of Dune: The Biography of Frank Herbert.  The book is written by Herbert's son, Brian.  If you're a fan of Dune you're sure to love it.  You'll also enjoy the book if you're an aspiring writer or someone trying to make a new start in life.  Frank Herbert didn't always have an easy road to travel. What he had was intellect, a strong work ethic, a unique vision and that made for one extraordinary life.  I loved this book and highly recommend it.
A fan of Dune said to me about this book, "The way that Brian presented his father, warts and all, reminded me of Dune Messiah.  Not that Brian was tearing down his father, but he presented both the good and bad about him.  I think that Frank Herbert wouldn't have had it any other way."
I must not fear. Fear is the mind-killer. Fear is the little-death that brings total obliteration. I will face my fear. I will permit it to pass over me and through me. And when it has gone past I will turn the inner eye to see its path. Where the fear has gone there will be nothing. Only I will remain. ~ Dune by Frank Herbert
Novels in the Dune Series by Frank Herbert:
Dune
Dune Messiah
Children of Dune
God Emperor of Dune
Heretics of Dune
Chapterhouse: Dune

A new batch of quotes was added to the site today.  They'll soon be added into the quote topics section of the site.  Remember that all of our quotes list an author and a source.  We're proud that this quotation site is curated by people and NOT by a computer program.
Here are some of my favorites from the new batch.  If you have a quote that you'd like to see added to the site, you can contribute a quote.
Sometimes I wonder if our memories are as good as we think they are and if the whole past wasn't once entirely different from anything we remember, and we've forgotten that we forgot. ~ The Big Time by Fritz Leiber
I remembered that the real world was wide, and that a varied field of hopes and fears, of sensations and excitements, awaited those who had courage to go forth into its expanse, to seek real knowledge of life amidst its perils. ~ Jane Eyre by Charlotte Bronte
To see and know the worst is to take from Fear her main advantage. ~ Villette by Charlotte Bronte
Deep in the human unconscious is a pervasive need for a logical universe that makes sense. But the real universe is always one step beyond logic. ~ Dune by Frank Herbert