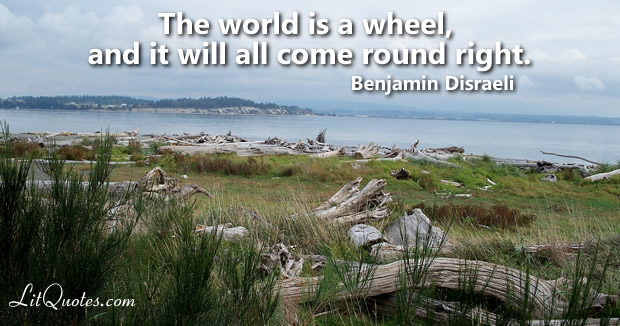 "The world is a wheel, and it will all come round right." ~ Endymion by Benjamin Disraeli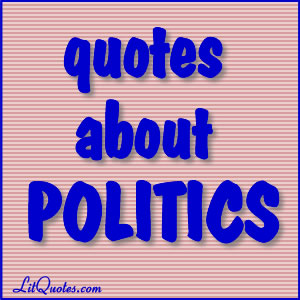 Often I must speak other than I think. That is called diplomacy. ~ Dune Messiah by Frank Herbert
"There is no act of treachery or meanness of which a political party is not capable; for in politics there is no honour." ~ Vivian Grey by Benjamin Disraeli
A drunkard or a gambler may be weaned from his ways, but not a politician. ~ Phineas Redux by Anthony Trollope
He was born to be a senator. He never said anything important, and he always said it sonorously. ~ Elmer Gantry by Sinclair Lewis
"There is no gambling like politics." ~ Endymion by Benjamin Disraeli
"You see my kind of loyalty was loyalty to one's country, not to its institutions or its office-holders. The country is the real thing, the substantial thing, the eternal thing; it is the thing to watch over, and care for, and be loyal to; institutions are extraneous." ~ A Connecticut Yankee in King Arthur's Court by Mark Twain
A drunkard or a gambler may be weaned from his ways, but not a politician. ~ Phineas Redux by Anthony Trollope
From politics, it was an easy step to silence. ~ Northanger Abbey by Jane Austen
"The world is wearied of statesmen; whom democracy has degraded into politicians." ~ Lothair by Benjamin Disraeli
And he gave it for his opinion, "that whoever could make two ears of corn, or two blades of grass, to grow upon a spot of ground where only one grew before, would deserve better of mankind, and do more essential service to his country, than the whole race of politicians put together." ~ Gulliver's Travels by Jonathan Swift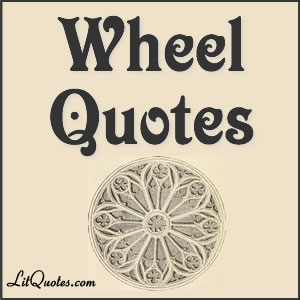 History is a wheel, for the nature of man is fundamentally unchanging. What has happened before will perforce happen again. ~ A Feast for Crows by George R. R. Martin
Insanity is often the logic of an accurate mind overtasked. Good mental machinery ought to break its own wheels and levers, if anything is thrust among them suddenly which tends to stop them or reverse their motion. A weak mind does not accumulate force enough to hurt itself; stupidity often saves a man from going mad. ~ The Autocrat of the Breakfast Table by Oliver Wendell Holmes, Sr.
"The world is a wheel, and it will all come round right." ~ Endymion by Benjamin Disraeli
Laughter and tears are meant to turn the wheels of the same machinery of sensibility; one is wind-power, and the other water-power; that is all. ~ The Autocrat of the Breakfast Table by Oliver Wendell Holmes, Sr.

It matters not how strait the gate,
How charged with punishments the scroll,
I am the master of my fate:
I am the captain of my soul. ~ Invictus by William Ernest Henley
"The world is a wheel, and it will all come round right." ~ Endymion by Benjamin Disraeli
"Look at that sea, girls–all silver and shadow and vision of things not seen. We couldn't enjoy its loveliness any more if we had millions of dollars and ropes of diamonds." ~ Anne of Green Gables by Lucy Maud Montgomery
"Simple, generous goodness is the best capital to found the business of this life upon. It lasts when fame and money fail, and is the only riches we can take out of this world with us." ~ Little Men by Louisa May Alcott
From the death of each day's hope another hope sprung up to live to-morrow. ~ The Old Curiosity Shop by Charles Dickens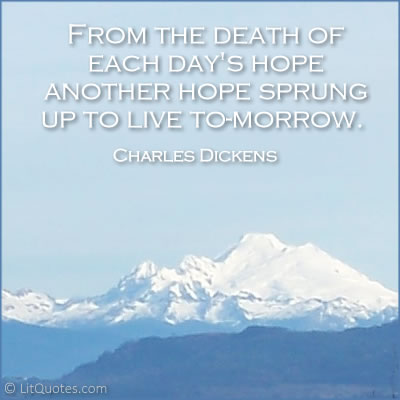 The mind is its own place, and in it self
Can make a Heaven of Hell, a Hell of Heaven. ~ Paradise Lost by John Milton
The dew seemed to sparkle more brightly on the green leaves; the air to rustle among them with a sweeter music; and the sky itself to look more blue and bright. Such is the influence which the condition of our own thoughts, exercise, even over the appearance of external objects. ~ Oliver Twist by Charles Dickens
"Nurture your mind with great thoughts. To believe in the heroic makes heroes." ~ Coningsby by Benjamin Disraeli
"I say that the strongest principle of growth lies in human choice." ~ Daniel Deronda by George Eliot
"All things are ready, if our minds be so." ~ Henry V by William Shakespeare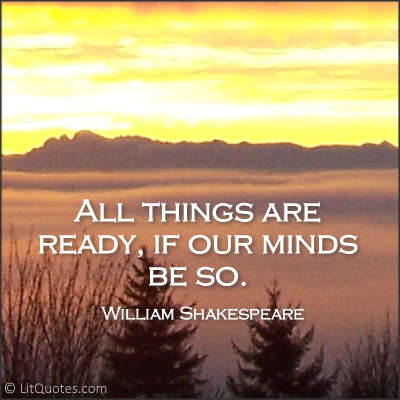 There are dark shadows on the earth, but its lights are stronger in the contrast. ~ The Pickwick Papers by Charles Dickens
The bird that would soar above the level plain of tradition and prejudice must have strong wings. ~ The Awakening by Kate Chopin
"Love has no age, no limit; and no death." ~ The Forsyte Saga by John Galsworthy
"You know, there are two good things in life, freedom of thought and freedom of action." ~ Of Human Bondage by W. Somerset Maugham
Come what may, I am bound to think that all things are ordered for the best; though when the good is a furlong off, and we with our beetle eyes can only see three inches, it takes some confidence in general principles to pull us through. ~ The Stark Munro Letters by Sir Arthur Conan Doyle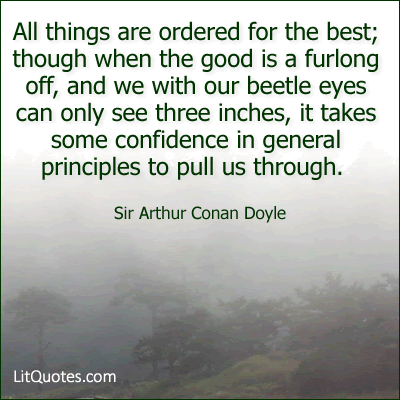 See More Inspirational Quotes from Literature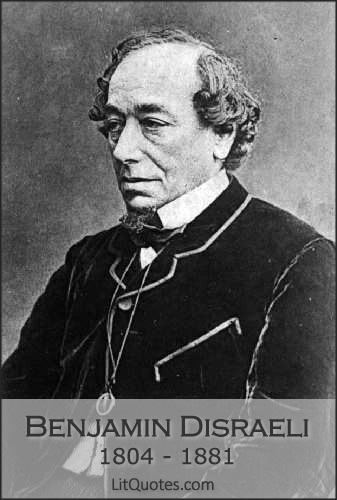 Benjamin Disraeli was born on December 21, 1804  and died on April 19, 1881.  He was a talented writer as well as a politician.  He twice served as Prime Minister. His works include Sybil, Coningsby and Vivian Grey.
While Disraeli was British, all of his grandparents and great grandparents were born in Italy
He was of Jewish birth, but later converted to Christianity.  As of this writing, he's the only person to hold the office of British Prime Minister who was born Jewish.
In 1839 Disraeli married Mary Anne Lewis.  She was twelve years older than Disraeli and had an income of £5,000 a year. "Dizzy married me for my money," his wife later said, "But, if he had the chance again, he would marry me for love."
He served as Prime Minister twice.  The first time was from February 27 to 1 December of 1868.  The second time Disraeli was Prime Minister was from February 20, 1874 to April 21, 1880.
Disraeli is remembered for his political battles with the Liberal leader, William Ewart Gladstone.
Hughenden Manor, a red brick Victorian mansion, located in High Wycombe, Buckinghamshire, England was Disraeli's country house.  In 1862 the Disraelis had the house remodelled by the architect Edward Buckton Lamb. Today, it is owned by the National Trust and open to the public.
Disraeli had a close friendship with Queen Victoria, who in 1876 created him Earl of Beaconsfield.
"There is no act of treachery or meanness of which a political party is not capable; for in politics there is no honour." ~ Vivian Grey by Benjamin Disraeli
"We are all born for love," said Morley. "It is the principle of existence, and its only end." ~ Sybil by Benjamin Disraeli
"Nurture your mind with great thoughts. To believe in the heroic makes heroes." ~ Coningsby by Benjamin Disraeli
Novels by Benjamin Disraeli
Vivian Grey
Popanilla
The Young Duke
Contarini Fleming
Ixion in Heaven
The Wondrous Tale of Alroy
The Rise of Iskander
The Infernal Marriage
Henrietta Temple
Venetia
Coningsby, or the New Generation
Sybil, or The Two Nations
Tancred, or the New Crusade
Lothair
Endymion
Falconet (unfinished)
More About Benjamin Disraeli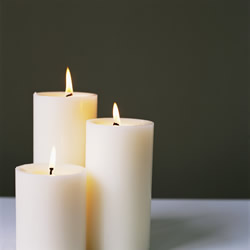 In the Destroyer's steps there spring up bright creations that defy his power, and his dark path becomes a way of light to Heaven. ~ The Old Curiosity Shop by Charles Dickens
************
"In this world you've just got to hope for the best and prepare for the worst and take whatever God sends." ~ Anne Of Avonlea by Lucy Maud Montgomery
************
There are dark shadows on the earth, but its lights are stronger in the contrast. ~ The Pickwick Papers by Charles Dickens
************
"Simple, generous goodness is the best capital to found the business of this life upon. It lasts when fame and money fail, and is the only riches we can take out of this world with us." ~ Little Men by Louisa May Alcott
************
"The world is a wheel, and it will all come round right." ~ Endymion by Benjamin Disraeli
************
"To endure is greater than to dare; to tire out hostile fortune; to be daunted by no difficulty; to keep heart when all have lost it; to go through intrigue spotless; and to forgo even ambition when the end is gained–who can say this is not greatness." ~ The Virginians by William Makepeace Thackeray
************
Men who look on nature, and their fellow-men, and cry that all is dark and gloomy, are in the right; but the sombre colours are reflections from their own jaundiced eyes and hearts. The real hues are delicate, and need a clearer vision. ~ Oliver Twist by Charles Dickens
************
Heaven knows we need never be ashamed of our tears, for they are rain upon the blinding dust of earth, overlying our hard hearts. ~ Great Expectations by Charles Dickens
************
"Love has no age, no limit; and no death." ~ The Forsyte Saga by John Galsworthy
************
Even on this small stage we have our two sides, and something might be done by throwing all one's weight on the scale of breadth, tolerance, charity, temperance, peace, and kindliness to man and beast. We can't all strike very big blows, and even the little ones count for something. ~ The Stark Munro Letters by Sir Arthur Conan Doyle
************
I believe that this life is not all; neither the beginning nor the end. I believe while I tremble; I trust while I weep. ~ Villette by Charlotte Bronte
************
"I have read in your face, as plain as if it was a book, that but for some trouble and sorrow we should never know half the good there is about us." ~ The Haunted Man by Charles Dickens
************
Inspirational Quotes from Literature