Classic literature can be inspirational.  It can be poetic.  It can be educational.  Classic literature can also be really funny!  Check out these ten funny quotes from literature:
1 – "How dreadful!" cried Lord Henry. "I can stand brute force, but brute reason is quite unbearable. There is something unfair about its use. It is hitting below the intellect." ~  The Picture of Dorian Gray by Oscar Wilde
2 – "If you could see my legs when I take my boots off, you'd form some idea of what unrequited affection is."  ~  Dombey and Son by Charles Dickens
3 – Indeed, he would sometimes remark, when a man fell into his anecdotage, it was a sign for him to retire from the world. ~  Lothair by Benjamin Disraeli
4 – You cannot make a man by standing a sheep on its hind-legs. But by standing a flock of sheep in that position you can make a crowd of men. ~  Zuleika Dobson by Sir Max Beerbohm
5 – The bishop did not whistle: we believe that they lose the power of doing so on being consecrated. ~  The Warden by Anthony Trollope
6 – A story with a moral appended is like the bill of a mosquito. It bores you, and then injects a stinging drop to irritate your conscience. ~  Strictly Business by O. Henry
7  – From politics, it was an easy step to silence. ~  Northanger Abbey by Jane Austen
8 – Few things are harder to put up with than the annoyance of a good example. ~  The Tragedy of Pudd'nhead Wilson by Mark Twain
9 – It is not that I object to the work, mind you; I like work: it fascinates me. I can sit and look at it for hours. ~  Three Men in a Boat by Jerome K. Jerome
10 – I don't want to repeat my innocence. I want the pleasure of losing it again. ~  This Side of Paradise by F. Scott Fitzgerald
If you enjoyed these quotes check out our humorous quotes page or our random funny quote feature.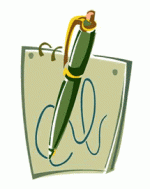 Are you a fan of F. Scott Fitzgerald?  Then check out the F. Scott Fitzgerald Society.  Their website proclaims, "Anyone interested in the works and life of F. Scott Fitzgerald is welcome."
The site has  resources, frequently asked questions and a great biography section.   The biography, written by Matthew J. Bruccoli, captures the euphoric highs and the heart-breaking lows of the life of Fitzgerald.  It ends with this paragraph:
F. Scott Fitzgerald died believing himself a failure. The obituaries were condescending, and he seemed destined for literary obscurity. The first phase of the Fitzgerald resurrection — "revival" does not properly describe the process — occurred between 1945 and 1950. By 1960 he had achieved a secure place among America's enduring writers. The Great Gatsby, a work that seriously examines the theme of aspiration in an American setting, defines the classic American novel.