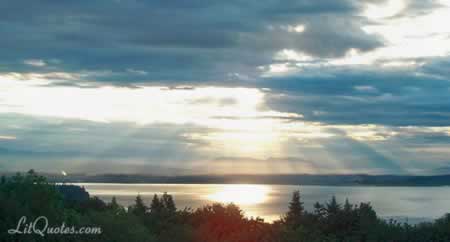 The western sky was clear and flushed with vivid crimson, towards which the prairie rolled away in varying tones of blue. ~ Blake's Burden by Harold Bindloss
The whole earth was brimming sunshine that morning. She tripped along, the clear sky pouring liquid blue into her soul. ~ Sister Carrie by Theodore Dreiser
Who has not in his great grief felt a longing to look upon the outward features of the universal Mother; to lie on the mountains and watch the clouds drive across the sky and hear the rollers break in thunder on the shore, to let his poor struggling life mingle for a while in her life; to feel the slow beat of her eternal heart, and to forget his woes. ~ Allan Quatermain by H. Rider Haggard
The sky was clear — remarkably clear — and the twinkling of all the stars seemed to be but throbs of one body, timed by a common pulse. ~ Far From The Madding Crowd by Thomas Hardy
It's lovely to live on a raft. We had the sky up there, all speckled with stars, and we used to lay on our backs and look up at them, and discuss about whether they was made or only just happened. ~ The Adventures of Huckleberry Finn by Mark Twain
For those of you living on the East Coast of the United States it might be hard to believe, but spring really is on its way.  Really! Here are some quotes from literature to let you know what will soon be coming your way.
It was an ideal spring day, a light blue sky, flecked with little fleecy white clouds drifting across from west to east. The sun was shining very brightly, and yet there was an exhilarating nip in the air, which set an edge to a man's energy. ~ The Adventure of the Copper Beeches by Sir Arthur Conan Doyle
It was that period in the vernal quarter when we may suppose the Dryads to be waking for the season. The vegetable world begins to move and swell and the saps to rise, till in the completest silence of lone gardens and trackless plantations, where everything seems helpless and still after the bond and slavery of frost, there are bustlings, strainings, united thrusts, and pulls-all-together, in comparison with which the powerful tugs of cranes and pulleys in a noisy city are but pigmy efforts. ~ Far From The Madding Crowd by Thomas Hardy
For, as when the red-cheeked, dancing girls, April and May, trip home to the wintry, misanthropic woods; even the barest, ruggedest, most thunder-cloven old oak will at least send forth some few green sprouts, to welcome such glad-hearted visitants. ~ Moby Dick by Herman Melville
"That is one good thing about this world. . .there are always sure to be more springs." ~ Anne Of Avonlea by Lucy Maud Montgomery
The early mist had vanished and the fields lay like a silver shield under the sun. It was one of the days when the glitter of winter shines through a pale haze of spring. ~ Ethan Frome by Edith Wharton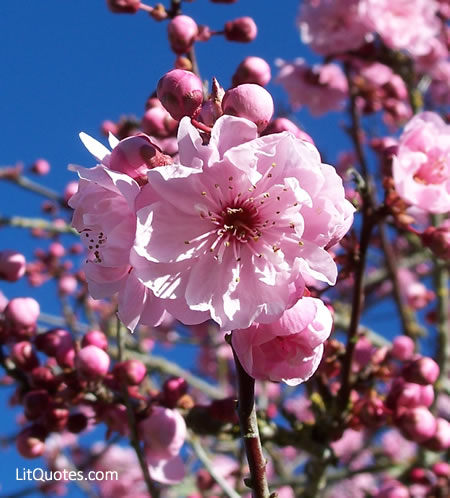 See More Literary Quotes About Spring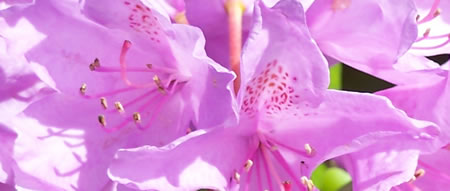 Today is the first day of summer.  Enjoy!  Here are five literary quotes about summer to help you savor the moment.
And so with the sunshine and the great bursts of leaves growing on the trees–just as things grow in fast movies–I had that familiar conviction that life was beginning over again with the summer. ~ The Great Gatsby by F. Scott Fitzgerald
Saturday morning was come, and all the summer world was bright and fresh, and brimming with life. There was a song in every heart; and if the heart was young the music issued at the lips. There was cheer in every face and a spring in every step. ~ The Adventures of Tom Sawyer by Mark Twain
Her love was entire as a child's, and though warm as summer it was fresh as spring. ~ Far From The Madding Crowd by Thomas Hardy
A tranquil summer sunset shone upon him as he approached the end of his walk, and passed through the meadows by the river side. He had that sense of peace, and of being lightened of a weight of care, which country quiet awakens in the breasts of dwellers in towns. ~ Little Dorrit by Charles Dickens
He has been eight years upon a project for extracting sunbeams out of cucumbers, which were to be put in phials hermetically sealed, and let out to warm the air in raw inclement summers. ~ Gulliver's Travels by Jonathan Swift
Check out the entire collection of summer quotes from literature.
May 2013 bring you . . . .
They seemed to come suddenly upon happiness as if they had surprised a butterfly in the winter woods. ~  Ethan Frome by Edith Wharton
"Friendship, I fancy, means one heart between two." ~  Diana of the Crossways by George Meredith
Her love was entire as a child's, and though warm as summer it was fresh as spring. ~ Far From The Madding Crowd by Thomas Hardy
It is a fair, even-handed, noble adjustment of things, that while there is infection in disease and sorrow, there is nothing in the world so irresistibly contagious as laughter and good-humour. ~  A Christmas Carol by Charles Dickens