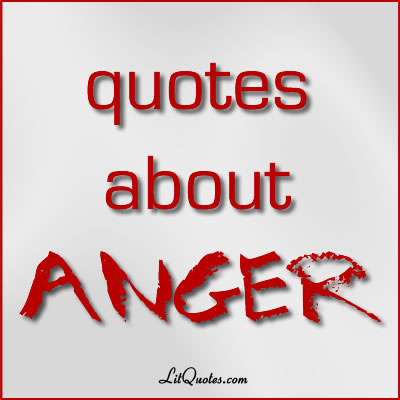 "You do not know how the people of this country bear malice. It is the boast of some of them that they can keep a stone in their pocket seven years, turn it at the end of that time, keep it seven years longer, and hurl it and hit their mark 'at last.'" ~ Shirley by Charlotte Bronte
How often it is that the angry man rages denial of what his inner self is telling him. ~ The Woman in White by Wilkie Collins
Any woman who is sure of her own wits is a match at any time for a man who is not sure of his own temper. ~ The Woman in White by Wilkie Collins
Anger and jealousy can no more bear to lose sight of their objects than love. ~ The Mill on the Floss by George Eliot
Anger's my meat; I sup upon myself,
And so shall starve with feeding. ~ Coriolanus by William Shakespeare
"From hell's heart I stab at thee; for hate's sake I spit my last breath at thee." ~ Moby Dick by Herman Melville
With a fierce action of her hand, as if she sprinkled hatred on the ground, and with it devoted those who were standing there to destruction, she looked up once at the black sky, and strode out into the wild night. ~ Dombey and Son by Charles Dickens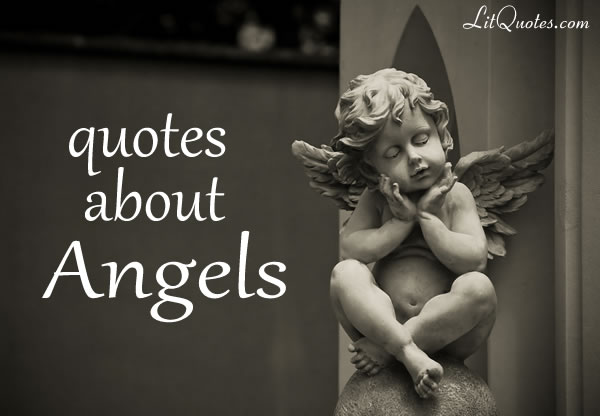 "I am not an angel," I asserted; "and I will not be one till I die: I will be myself." ~ Jane Eyre by Charlotte Bronte
You can't expect the fatted calf to share the enthusiasm of the angels over the prodigal's return. ~ Reginald by Saki
In old days there were angels who came and took men by the hand and led them away from the city of destruction. We see no white-winged angels now. But yet men are led away from threatening destruction: a hand is put into theirs, which leads them forth gently towards a calm and bright land, so that they look no more backward; and the hand may be a little child's. ~ Silas Marner by George Eliot
The shadows of our own desires stand between us and our better angels, and thus their brightness is eclipsed. ~ Barnaby Rudge by Charles Dickens
Heaven, too, was very near to them in those days. God's direct agency was to be seen in the thunder and the rainbow, the whirlwind and the lightning. To the believer, clouds of angels and confessors, and martyrs, armies of the sainted and the saved, were ever stooping over their struggling brethren upon earth, raising, encouraging, and supporting them. ~ The White Company by Sir Arthur Conan Doyle
It was the beginning of a day in June; the deep blue sky unsullied by a cloud, and teeming with brilliant light. The streets were, as yet, nearly free from passengers, the houses and shops were closed, and the healthy air of morning fell like breath from angels, on the sleeping town. ~ The Old Curiosity Shop by Charles Dickens
"Good night, sweet prince, and flights of angels sing thee to thy rest!" ~ Hamlet, Prince of Denmark by William Shakespeare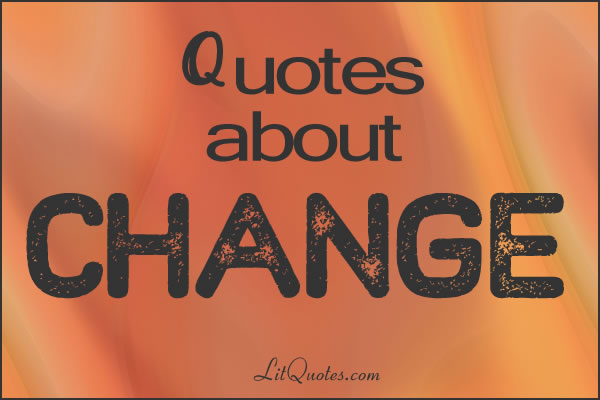 Till we can become divine we must be content to be human, lest in our hurry for change we sink to something lower. ~ Barchester Towers by Anthony Trollope
"There is no such thing as Death, though there be a thing called Change." ~ She by H. Rider Haggard
"I'm not a bit changed–not really. I'm only just pruned down and branched out. The real ME–back here–is just the same." ~ Anne of Green Gables by Lucy Maud Montgomery
Yet birth, and lust, and illness, and death are changeless things, and when one of these harsh facts springs out upon a man at some sudden turn of the path of life, it dashes off for the moment his mask of civilization and gives a glimpse of the stranger and stronger face below. ~ The Curse of Eve by Sir Arthur Conan Doyle
"The natur o' things doesn't change, though it seems as if one's own life was nothing but change. The square o' four is sixteen, and you must lengthen your lever in proportion to your weight, is as true when a man's miserable as when he's happy; and the best o' working is, it gives you a grip hold o' things outside your own lot." ~ Adam Bede by George Eliot
"It is a law of nature we overlook, that intellectual versatility is the compensation for change, danger, and trouble." ~ The Time Machine by H. G. Wells
"Men's courses will foreshadow certain ends, to which, if persevered in, they must lead," said Scrooge. "But if the courses be departed from, the ends will change. Say it is thus with what you show me!" ~ A Christmas Carol by Charles Dickens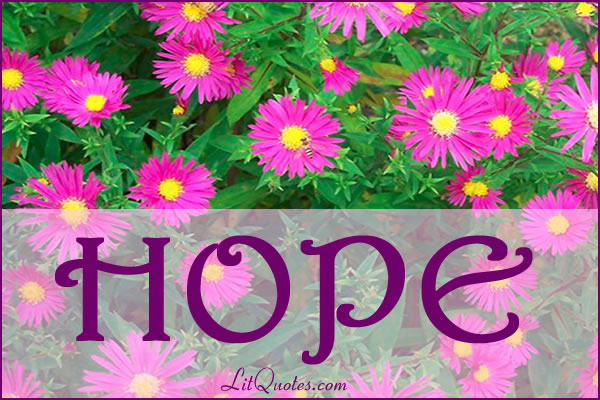 But our wishes are like tinder: the flint and steel of circumstances are continually striking out sparks, which vanish immediately, unless they chance to fall upon the tinder of our wishes; then, they instantly ignite, and the flame of hope is kindled in a moment.  ~ Agnes Grey by Anne Bronte
God shall be my hope,
My stay, my guide, and lantern to my feet. ~ Henry VI, Part Two by William Shakespeare
I hope, or I could not live. ~ The Island of Doctor Moreau by H. G. Wells
These fellow-mortals, every one, must be accepted as they are: you can neither straighten their noses, nor brighten their wit, nor rectify their dispositions; and it is these people–amongst whom your life is passed–that it is needful you should tolerate, pity, and love: it is these more or less ugly, stupid, inconsistent people whose movements of goodness you should be able to admire–for whom you should cherish all possible hopes, all possible patience. ~ Adam Bede by George Eliot
The cool peace and dewy sweetness of the night filled me with a mood of hope: not hope on any definite point, but a general sense of encouragement and heart-ease. ~ Villette by Charlotte Bronte
Remember to the last, that while there is life there is hope. ~ Wreck of the Golden Mary by Charles Dickens
"Our highest assurance of the goodness of Providence seems to me to rest in the flowers. All other things, our powers, our desires, our food, are all really necessary for our existence in the first instance. But this rose is an extra. Its smell and its color are an embellishment of life, not a condition of it. It is only goodness which gives extras, and so I say again that we have much to hope from the flowers." ~ The Naval Treaty by Sir Arthur Conan Doyle
Pride is one of the seven deadly sins; but it cannot be the pride of a mother in her children, for that is a compound of two cardinal virtues — faith and hope. ~ Nicholas Nickleby by Charles Dickens
"In this world you've just got to hope for the best and prepare for the worst and take whatever God sends." ~ Anne Of Avonlea by Lucy Maud Montgomery
My spirits were elevated by the enchanting appearance of nature; the past was blotted from my memory, the present was tranquil, and the future gilded by bright rays of hope and anticipations of joy. ~ Frankenstein by Mary Shelley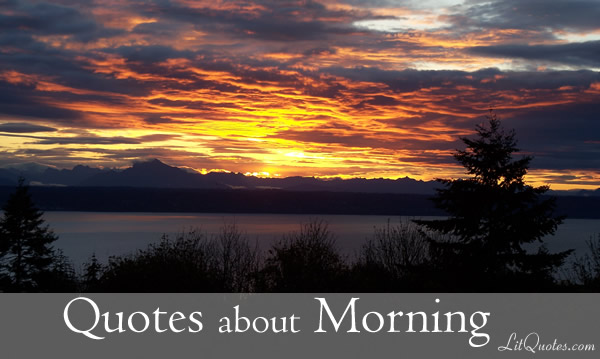 The sun comes out, a golden huzzar, from his tent, flashing his helm on the world. ~ The Confidence-Man by Herman Melville
The longest way must have its close,—the gloomiest night will wear on to a morning. ~ Uncle Tom's Cabin by Harriet Beecher Stowe
Saturday morning was come, and all the summer world was bright and fresh, and brimming with life. There was a song in every heart; and if the heart was young the music issued at the lips. There was cheer in every face and a spring in every step. ~ The Adventures of Tom Sawyer by Mark Twain
Morning made a considerable difference in my general prospect of Life, and brightened it so much that it scarcely seemed the same. ~ Great Expectations by Charles Dickens
"I like breakfast-time better than any other moment in the day," said Mr. Irwine. "No dust has settled on one's mind then, and it presents a clear mirror to the rays of things." ~ Adam Bede by George Eliot
Rays from the sunrise drew forth the buds and stretched them into long stalks, lifted up sap in noiseless streams, opened petals, and sucked out scents in invisible jets and breathings. ~ Tess of the D'Urbervilles by Thomas Hardy
From the east to the west sped the angels of the Dawn, from sea to sea, from mountain-top to mountain-top, scattering light with both their hands. ~ She by H. Rider Haggard
No man knows till he has suffered from the night how sweet and dear to his heart and eye the morning can be. ~ Dracula by Bram Stoker
Gossip is a sort of smoke that comes from the dirty tobacco-pipes of of those who diffuse it: it proves nothing but the bad taste of the smoker. ~ Daniel Deronda by George Eliot
"I say that the strongest principle of growth lies in human choice." ~ Daniel Deronda by George Eliot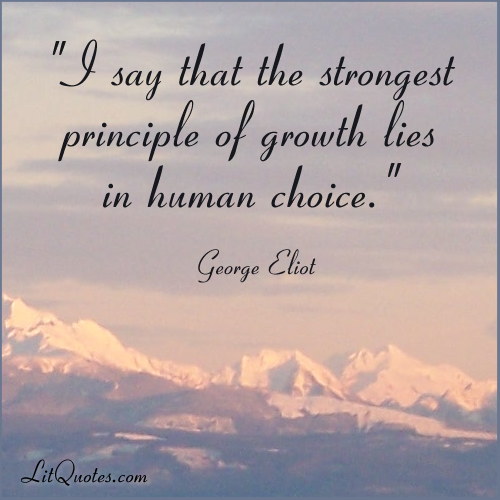 Motivational Quotes from Literature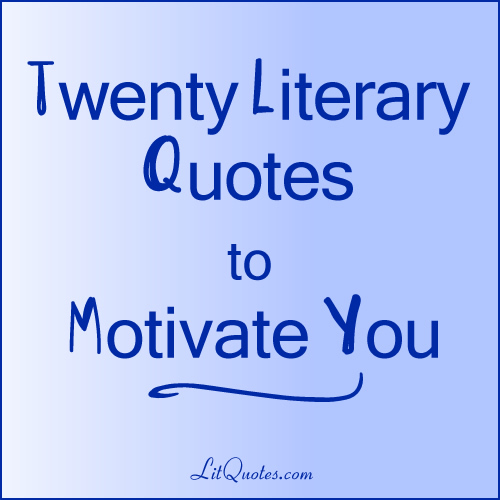 Let's face it.  Life can be tough. To help get you through, here are twenty of the best motivational quotes that literature has to offer . . .
If you need something to worship, then worship life — all life, every last crawling bit of it! We're all in this beauty together! ~ Dune Messiah by Frank Herbert
Even on this small stage we have our two sides, and something might be done by throwing all one's weight on the scale of breadth, tolerance, charity, temperance, peace, and kindliness to man and beast. We can't all strike very big blows, and even the little ones count for something. ~ The Stark Munro Letters by Sir Arthur Conan Doyle
The mind is its own place, and in it self
Can make a Heaven of Hell, a Hell of Heaven. ~ Paradise Lost by John Milton
Out of the night that covers me,
Black as the pit From pole to pole,
I thank whatever gods may be
For my unconquerable soul. ~ Invictus by William Ernest Henley
"I say that the strongest principle of growth lies in human choice." ~ Daniel Deronda by George Eliot
"I hope that real love and truth are stronger in the end than any evil or misfortune in the world." ~ David Copperfield by Charles Dickens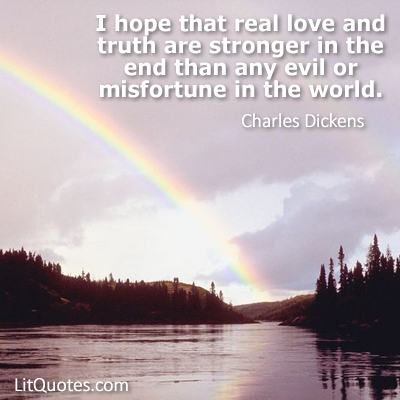 "Look at that sea, girls–all silver and shadow and vision of things not seen. We couldn't enjoy its loveliness any more if we had millions of dollars and ropes of diamonds." ~ Anne of Green Gables by Lucy Maud Montgomery
"I'm not afraid of storms, for I'm learning how to sail my ship." ~ Little Women by Louisa May Alcott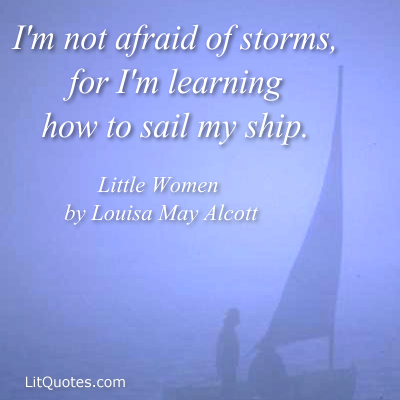 "People are always blaming circumstances for what they are. I don't believe in circumstances. The people who get on in this world are the people who get up and look for the circumstances they want, and, if they can't find them, make them." ~ Mrs. Warren's Profession by George Bernard Shaw
The Sun himself is weak when he first rises, and gathers strength and courage as the day gets on. ~ The Old Curiosity Shop by Charles Dickens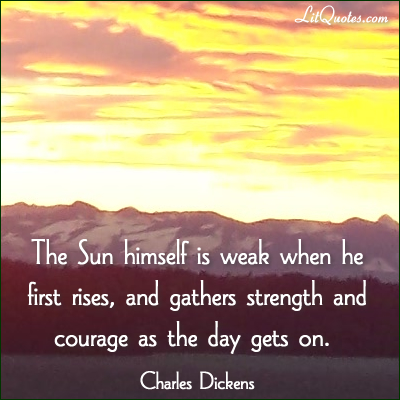 "Nurture your mind with great thoughts. To believe in the heroic makes heroes." ~ Coningsby by Benjamin Disraeli
"As long as the heart beats, as long as body and soul keep together, I cannot admit that any creature endowed with a will has need to despair of life." ~ Journey to the Center of the Earth by Jules Verne
"Love has no age, no limit; and no death." ~ The Forsyte Saga by John Galsworthy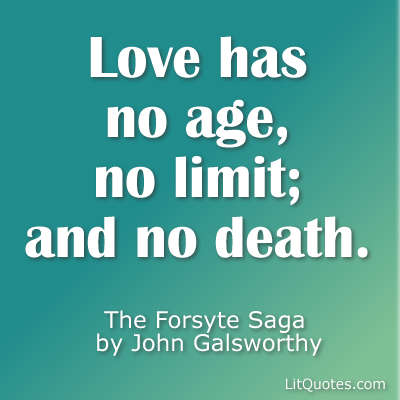 "There are times, young fellah, when every one of us must make a stand for human right and justice, or you never feel clean again." ~ The Lost World by Sir Arthur Conan Doyle
"Virtue is bold, and goodness never fearful." ~ Measure for Measure by William Shakespeare
"The sun does not shine upon this fair earth to meet frowning eyes, depend upon it." ~ Nicholas Nickleby by Charles Dickens
"That is one good thing about this world. . .there are always sure to be more springs." ~ Anne Of Avonlea by Lucy Maud Montgomery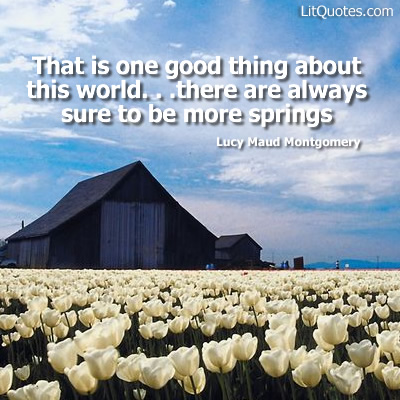 Come what may, I am bound to think that all things are ordered for the best; though when the good is a furlong off, and we with our beetle eyes can only see three inches, it takes some confidence in general principles to pull us through. ~ The Stark Munro Letters by Sir Arthur Conan Doyle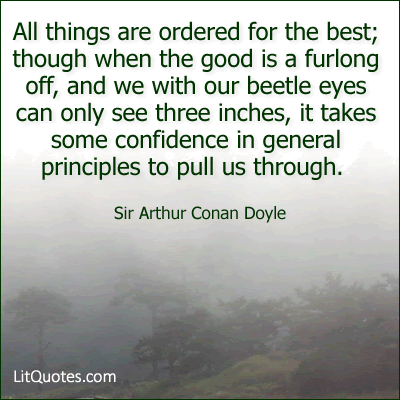 "You know, there are two good things in life, freedom of thought and freedom of action." ~ Of Human Bondage by W. Somerset Maugham
There are dark shadows on the earth, but its lights are stronger in the contrast. ~ The Pickwick Papers by Charles Dickens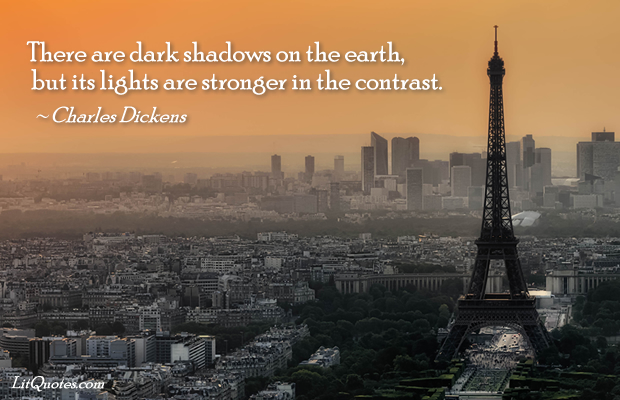 After all, the true seeing is within. ~ Middlemarch by George Eliot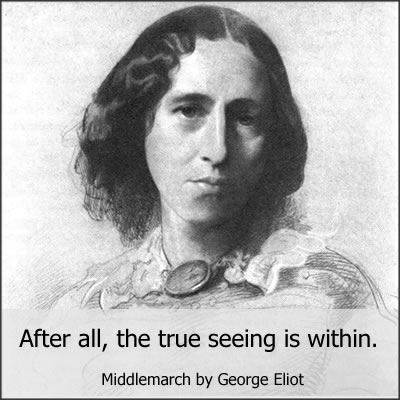 George Eliot (1819-1880)
I've also posted this at the LitQuotes Facebook page, the LitQuotes Twitter page and our Pinterest page.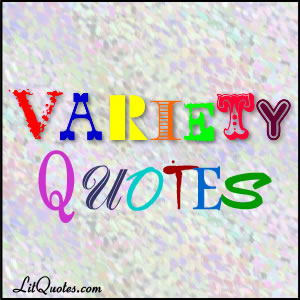 Age cannot wither her, nor custom stale
Her infinite variety. ~ Antony and Cleopatra by William Shakespeare
"I never keep to anything long. Variety is the mother of Enjoyment." ~ Vivian Grey by Benjamin Disraeli
The complex affair we call the world requires a great variety of people to keep it going. ~ The Golden House by Charles Dudley Warner
"I trust that age doth not wither nor custom stale my infinite variety." ~ The Adventure of the Empty House by Sir Arthur Conan Doyle
A difference of taste in jokes is a great strain on the affections. ~ Daniel Deronda by George Eliot