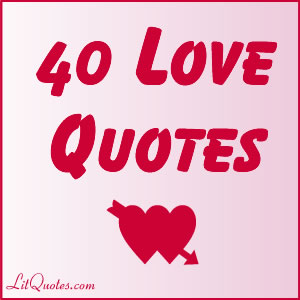 Love looks not with the eyes, but with the mind;
And therefore is wing'd Cupid painted blind. ~ A Midsummer Night's Dream by William Shakespeare

"I do love you surely in a better way than he does." He thought. "Yes—really in a better way. I want you to have your own thoughts even when I hold you in my arms." ~ A Room With A View by E. M. Forster
"God's law is only Love." ~ A Woman of No Importance by Oscar Wilde
I ask you to pass through life at my side—to be my second self, and best earthly companion. ~ Jane Eyre by Charlotte Bronte
Doubt thou the stars are fire;
Doubt that the sun doth move;
Doubt truth to be a liar;
But never doubt I love. ~ Hamlet, Prince of Denmark by William Shakespeare
Love is a flower that grows in any soil, works its sweet miracles undaunted by autumn frost or winter snow, blooming fair and fragrant all the year, and blessing those who give and those who receive. ~ Little Men by Louisa May Alcott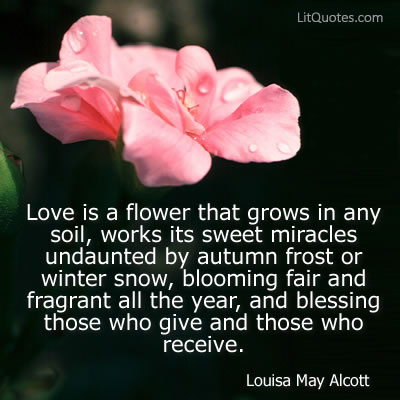 Every atom of your flesh is as dear to me as my own: in pain and sickness it would still be dear. ~ Jane Eyre by Charlotte Bronte
Lovers and madmen have such seething brains,
Such shaping fantasies, that apprehend
More than cool reason ever comprehends. ~ A Midsummer Night's Dream by William Shakespeare
"I don't want sunbursts and marble halls. I just want you." ~ Anne of the Island by Lucy Maud Montgomery
That which is loved may pass, but love hath no end. ~ Parables Of A Province by Gilbert Parker
The winds were warm about us, the whole earth seemed the wealthier for our love. ~ The Amber Gods by Harriet Prescott Spofford
"I hope that real love and truth are stronger in the end than any evil or misfortune in the world." ~  David Copperfield by Charles Dickens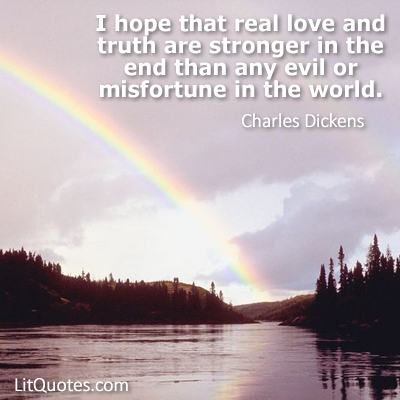 I loved her against reason, against promise, against peace, against hope, against happiness, against all discouragement that could be. ~ Great Expectations by Charles Dickens
Young men's love, then, lies
Not truly in their hearts, but in their eyes. ~ Romeo and Juliet by William Shakespeare
She had found her heart at last. Never having known its worth till now, she had never known the worth of his. ~ Barnaby Rudge by Charles Dickens
It is best to love wisely, no doubt: but to love foolishly is better than not to be able to love at all. ~ The History of Pendennis by William Makepeace Thackeray
"Love has no age, no limit; and no death." ~ The Forsyte Saga by John Galsworthy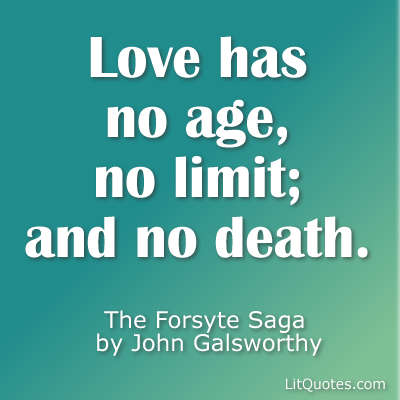 Maggie said that love was the flower of life, and blossomed unexpectedly and without law, and must be plucked where it was found, and enjoyed for the brief hour of its duration. ~ The Rainbow by D. H. Lawrence
"Love comforteth like sunshine after rain." ~ Venus and Adonis by William Shakespeare
"Love knows not distance; it hath no continent; its eyes are for the stars." ~ Parables Of A Province by Gilbert Parker
How is it that the poets have said so many fine things about our first love, so few about our later love? Are their first poems their best? Or are not those the best which come from their fuller thought, their larger experience, their deeper-rooted affections? ~ Adam Bede by George Eliot
Love, it is said, is blind, but love is not blind. It is an extra eye, which shows us what is most worthy of regard. To see the best is to see most clearly, and it is the lover's privilege. ~ The Little Minister by James M. Barrie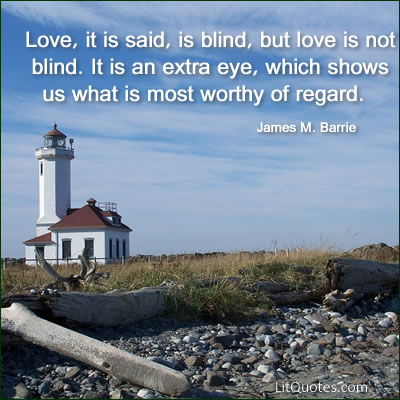 "Love of man for woman–love of woman for man. That's the nature, the meaning, the best of life itself." ~ Riders of the Purple Sage by Zane Grey
"I loved you madly; in the distasteful work of the day, in the wakeful misery of the night, girded by sordid realities, or wandering through Paradises and Hells of visions into which I rushed, carrying your image in my arms, I loved you madly." ~ The Mystery of Edwin Drood by Charles Dickens
"We are all born for love," said Morley. "It is the principle of existence, and its only end." ~ Sybil by Benjamin Disraeli
He knew that when he kissed this girl, and forever wed his unutterable visions to her perishable breath, his mind would never romp again like the mind of God. So he waited, listening for a moment longer to the tuning fork that had been struck upon a star. Then he kissed her. At his lips' touch she blossomed for him like a flower and the incarnation was complete. ~ The Great Gatsby by F. Scott Fitzgerald
"My bounty is as boundless as the sea,
My love as deep; the more I give to thee,
The more I have, for both are infinite." ~ Romeo and Juliet by William Shakespeare
"The best of life is built on what we say when we're in love. It isn't nonsense, Katharine," she urged, "it's the truth, it's the only truth." ~ Night and Day by Virginia Woolf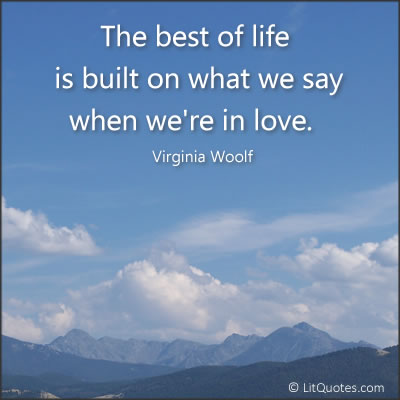 Love is no hot-house flower, but a wild plant, born of a wet night, born of an hour of sunshine; sprung from wild seed, blown along the road by a wild wind. A wild plant that, when it blooms by chance within the hedge of our gardens, we call a flower; and when it blooms outside we call a weed; but, flower or weed, whose scent and colour are always, wild! ~ The Forsyte Saga by John Galsworthy
She lifted her face to him, and he bent forward and kissed her on the mouth, gently, with the one kiss that is an eternal pledge. And as he kissed her his heart strained again in his breast. He never intended to love her. But now it was over. He had crossed over the gulf to her, and all that he had left behind had shrivelled and become void. ~ The Horse Dealer's Daughter by D. H. Lawrence
"If I loved you less, I might be able to talk about it more." ~ Emma by Jane Austen
"Men always want to be a woman's first love. That is their clumsy vanity. We women have a more subtle instinct about things. What we like is to be a man's last romance." ~ A Woman of No Importance by Oscar Wilde
She loved him with too clear a vision to fear his cloudiness. ~ Howards End by E. M. Forster
"I see you everywhere, in the stars, in the river; to me you're everything that exists; the reality of everything." ~ Night and Day by Virginia Woolf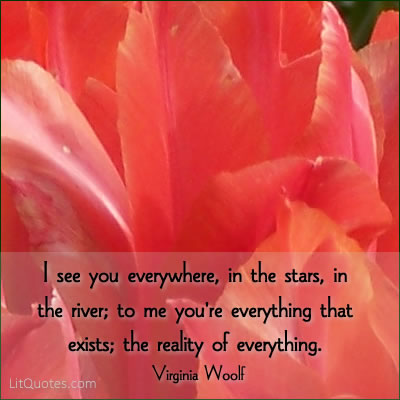 "Is love a tender thing? It is too rough,
Too rude, too boist'rous; and it pricks like thorn." ~ Romeo and Juliet by William Shakespeare
"He's more myself than I am. Whatever our souls are made of, his and mine are the same, and Linton's is as different as a moonbeam from lightning, or frost from fire." ~ Wuthering Heights by Emily Bronte
The course of true love never did run smooth. ~ A Midsummer Night's Dream by William Shakespeare
"Those who speak of love most promiscuously are the ones who've never felt it. They make some sort of feeble stew out of sympathy, compassion, contempt and general indifference, and they call it love. Once you've felt what it means to love as you and I know it–the total passion for the total height–you're incapable of anything less." ~ The Fountainhead by Ayn Rand
"You are my heart, my life, my one and only thought." ~ The White Company by Sir Arthur Conan Doyle
"Who, being loved, is poor?" ~ A Woman of No Importance by Oscar Wilde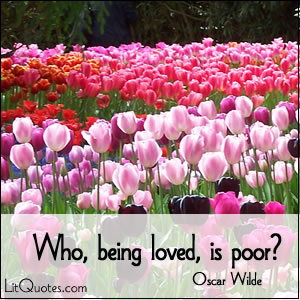 Ready for more?  See our entire love quote collection.  

Fifty new quotes were added to the site today.  All of our quotes list an author and a source. We're proud that this quotation collection is curated by people and NOT by a computer program.
Here are some quotes from the new additions.
If you need something to worship, then worship life — all life, every last crawling bit of it! We're all in this beauty together! ~ Dune Messiah by Frank Herbert
The end of religion is not to teach us how to die, but how to live. ~ Agnes Grey by Anne Bronte
"A man's fate is his own temper; and according to that will be his opinion as to the particular manner in which the course of events is regulated. A consistent man believes in Destiny, a capricious man in Chance." ~ Vivian Grey by Benjamin Disraeli
"Who, being loved, is poor?" ~ A Woman of No Importance by Oscar Wilde
Life is easy to chronicle, but bewildering to practice. ~ A Room With A View by E. M. Forster
It is a narrow mind which cannot look at a subject from various points of view. ~ Middlemarch by George Eliot
The course of true love never did run smooth. ~ A Midsummer Night's Dream by William Shakespeare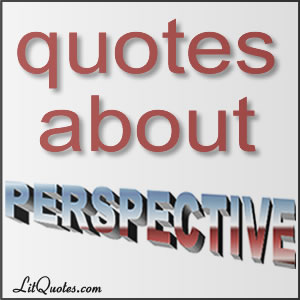 Think you of the fact that a deaf person cannot hear. Then, what deafness may we not all possess? What senses do we lack that we cannot see and cannot hear another world all around us? ~ Dune by Frank Herbert
Perhaps no man could appreciate his own world until he had seen it from space. ~ A Fall of Moondust by Arthur C. Clarke
The very stone one kicks with one's boot will outlast Shakespeare. ~ To the Lighthouse by Virginia Woolf
One never can tell from the sidewalk just what the view is to some one on the inside, looking out. ~ Knocking the Neighbors by George Ade
Come what may, I am bound to think that all things are ordered for the best; though when the good is a furlong off, and we with our beetle eyes can only see three inches, it takes some confidence in general principles to pull us through. ~ The Stark Munro Letters by Sir Arthur Conan Doyle
Will not a tiny speck very close to our vision blot out the glory of the world, and leave only a margin by which we see the blot? ~ Middlemarch by George Eliot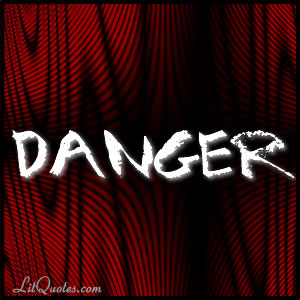 Fear of danger is ten thousand times more terrifying than danger itself. ~ Robinson Crusoe by Daniel Defoe
"You have plenty of courage, I am sure," answered Oz. "All you need is confidence in yourself. There is no living thing that is not afraid when it faces danger. The true courage is in facing danger when you are afraid, and that kind of courage you have in plenty." ~ The Wonderful Wizard of Oz by L. Frank Baum
"Do you know anything on earth which has not a dangerous side if it is mishandled and exaggerated? " ~ The Land of Mist by Sir Arthur Conan Doyle
It is in the uncompromisingness with which dogma is held and not in the dogma or want of dogma that the danger lies. ~ The Way of All Flesh by Samuel Butler
By this, he seemed to mean, not only that the most reliable and useful courage was that which arises from the fair estimation of the encountered peril, but that an utterly fearless man is a far more dangerous comrade than a coward. ~ Moby Dick by Herman Melville
A man will tell you that he has worked in a mine for forty years unhurt by an accident as a reason why he should apprehend no danger, though the roof is beginning to sink. ~ Silas Marner by George Eliot
More Danger Quotes from Literature

It matters not how strait the gate,
How charged with punishments the scroll,
I am the master of my fate:
I am the captain of my soul. ~ Invictus by William Ernest Henley
"The world is a wheel, and it will all come round right." ~ Endymion by Benjamin Disraeli
"Look at that sea, girls–all silver and shadow and vision of things not seen. We couldn't enjoy its loveliness any more if we had millions of dollars and ropes of diamonds." ~ Anne of Green Gables by Lucy Maud Montgomery
"Simple, generous goodness is the best capital to found the business of this life upon. It lasts when fame and money fail, and is the only riches we can take out of this world with us." ~ Little Men by Louisa May Alcott
From the death of each day's hope another hope sprung up to live to-morrow. ~ The Old Curiosity Shop by Charles Dickens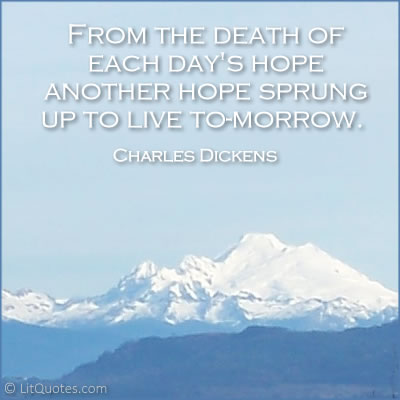 The mind is its own place, and in it self
Can make a Heaven of Hell, a Hell of Heaven. ~ Paradise Lost by John Milton
The dew seemed to sparkle more brightly on the green leaves; the air to rustle among them with a sweeter music; and the sky itself to look more blue and bright. Such is the influence which the condition of our own thoughts, exercise, even over the appearance of external objects. ~ Oliver Twist by Charles Dickens
"Nurture your mind with great thoughts. To believe in the heroic makes heroes." ~ Coningsby by Benjamin Disraeli
"I say that the strongest principle of growth lies in human choice." ~ Daniel Deronda by George Eliot
"All things are ready, if our minds be so." ~ Henry V by William Shakespeare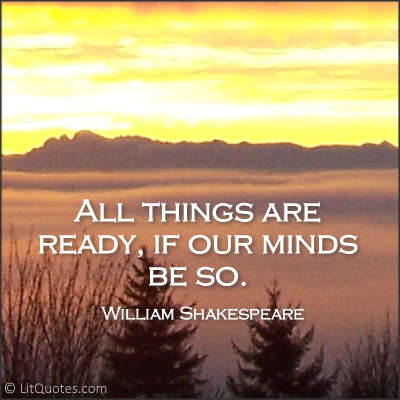 There are dark shadows on the earth, but its lights are stronger in the contrast. ~ The Pickwick Papers by Charles Dickens
The bird that would soar above the level plain of tradition and prejudice must have strong wings. ~ The Awakening by Kate Chopin
"Love has no age, no limit; and no death." ~ The Forsyte Saga by John Galsworthy
"You know, there are two good things in life, freedom of thought and freedom of action." ~ Of Human Bondage by W. Somerset Maugham
Come what may, I am bound to think that all things are ordered for the best; though when the good is a furlong off, and we with our beetle eyes can only see three inches, it takes some confidence in general principles to pull us through. ~ The Stark Munro Letters by Sir Arthur Conan Doyle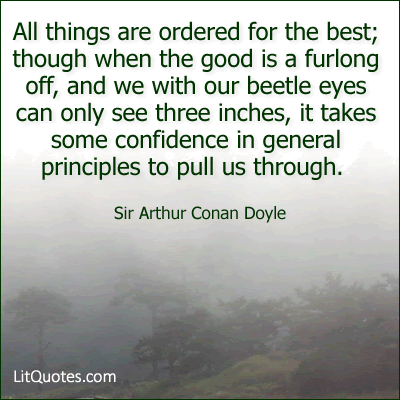 See More Inspirational Quotes from Literature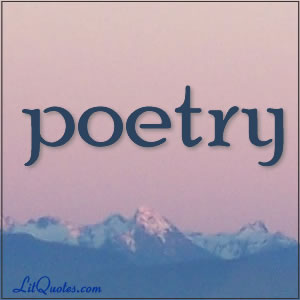 We have only one story. All novels, all poetry, are built on the never-ending contest in ourselves of good and evil. ~ East of Eden by John Steinbeck
She carried her pocket Shakespeare about with her, and met life fortified by the words of the poets. ~ Night and Day by Virginia Woolf
How is it that the poets have said so many fine things about our first love, so few about our later love? Are their first poems their best? Or are not those the best which come from their fuller thought, their larger experience, their deeper-rooted affections? ~ Adam Bede by George Eliot
"She dotes on poetry, sir. She adores it; I may say that her whole soul and mind are wound up, and entwined with it. She has produced some delightful pieces, herself, sir. You may have met with her `Ode to an Expiring Frog,' sir."  ~ The Pickwick Papers by Charles Dickens
More Quotes About Poetry from Literature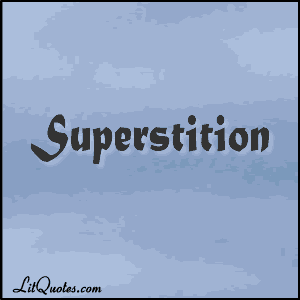 At this time of the year, superstition seems like a timely thing to contemplate.
All men, however highly educated, retain some superstitious inklings. ~ The Invisible Man by H. G. Wells
All this disquisition upon superstition leads me up to the fact that Mr. Manson, our second mate, saw a ghost last night–or, at least, says that he did, which of course is the same thing. ~ The Captain of the Polestar by Sir Arthur Conan Doyle
"Young men of this class never do anything for themselves that they can get other people to do for them, and it is the infatuation, the devotion, the superstition of others that keeps them going. These others in ninety-nine cases out of a hundred are women." ~ Washington Square by Henry James
Instead of trying to still his fears, he encouraged them, with that superstitious impression which clings to us all, that if we expect evil very strongly it is the less likely to come. ~ Silas Marner by George Eliot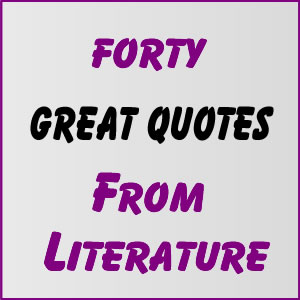 Need some advice or perspective?  Here are 40 great quotes from literature that may help.  These are some of our favorites from our words of wisdom quote collection.
On March 14, 2015 the Immortality Quotes page was added to LitQuotes.   To be alerted to other changes to the site you can like the LitQuotes Facebook page, follow the  LitQuotes Twitter page or check back with our blog.
So is man's heart. The desire to perform a work which will endure, which will survive him, is the origin of his superiority over all other living creatures here below. It is this which has established his dominion, and this it is which justifies it, over all the world. ~ The Mysterious Island by Jules Verne
What is it that sometimes speaks in the soul so calmly, so clearly, that its earthly time is short? Is it the secret instinct of decaying nature, or the soul's impulsive throb, as immortality draws on? Be it what it may, it rested in the heart of Eva, a calm, sweet, prophetic certainty that Heaven was near; calm as the light of sunset, sweet as the bright stillness of autumn, there her little heart reposed, only troubled by sorrow for those who loved her so dearly. ~ Uncle Tom's Cabin by Harriet Beecher Stowe
You know nothing about Hope, that immortal, delicious maiden forever courted forever propitious, whom fools have called deceitful, as if it were Hope that carried the cup of disappointment, whereas it is her deadly enemy, Certainty, whom she only escapes by transformation. ~ Daniel Deronda by George Eliot
"Reputation, reputation, reputation! O, I have lost my reputation! I have lost the immortal part of myself, and what remains is bestial." ~ Othello by William Shakespeare
"So much has religion done for me; turning the original materials to the best account; pruning and training nature. But she could not eradicate nature: nor will it be eradicated 'till this mortal shall put on immortality." ~ Jane Eyre by Charlotte Bronte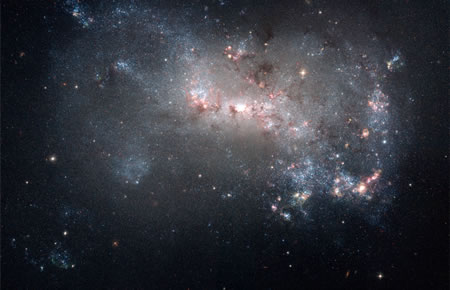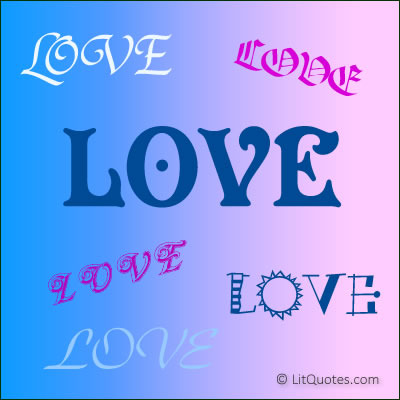 How is it that the poets have said so many fine things about our first love, so few about our later love? Are their first poems their best? Or are not those the best which come from their fuller thought, their larger experience, their deeper-rooted affections? ~ Adam Bede by George Eliot
These fellow-mortals, every one, must be accepted as they are: you can neither straighten their noses, nor brighten their wit, nor rectify their dispositions; and it is these people–amongst whom your life is passed–that it is needful you should tolerate, pity, and love: it is these more or less ugly, stupid, inconsistent people whose movements of goodness you should be able to admire–for whom you should cherish all possible hopes, all possible patience. ~ Adam Bede by George Eliot
Such young unfurrowed souls roll to meet each other like two velvet peaches that touch softly and are at rest; they mingle as easily as two brooklets that ask for nothing but to entwine themselves and ripple with ever-interlacing curves in the leafiest hiding-places. ~ Adam Bede by George Eliot
A difference of taste in jokes is a great strain on the affections. ~ Daniel Deronda by George Eliot
She and Stephen were in that stage of courtship which makes the most exquisite moment of youth, the freshest blossom-time of passion,–when each is sure of the other's love, but no formal declaration has been made, and all is mutual divination, exalting the most trivial word, the lightest gesture, into thrills delicate and delicious as wafted jasmine scent. ~ The Mill on the Floss by George Eliot