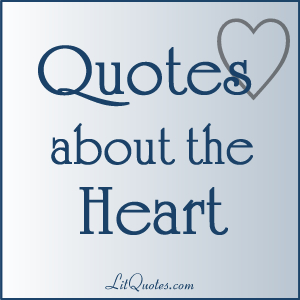 These are some of the sweetest quotes about hearts from literature.
"Friendship, I fancy, means one heart between two." ~ Diana of the Crossways by George Meredith
Life's more than breath and the quick round of blood;
It is a great spirit and a busy heart. ~ Festus by Philip James Bailey
Men who look on nature, and their fellow-men, and cry that all is dark and gloomy, are in the right; but the sombre colours are reflections from their own jaundiced eyes and hearts. The real hues are delicate, and need a clearer vision. ~ Oliver Twist by Charles Dickens
Maybe, he thought, there aren't any such things as good or bad friends – maybe there are just friends, people who stand by you when you're hurt and who help you feel not so lonely. Maybe they're always worth being scared for, and hoping for, and living for. Maybe worth dying for, too, if that's what has to be. No good friends. No bad friends. Only people you want, need to be with; people who build their houses in your heart. ~ It by Stephen King
She had found her heart at last. Never having known its worth till now, she had never known the worth of his. ~ Barnaby Rudge by Charles Dickens
"I carry my own church about under my own hat," said I. "Bricks and mortar won't make a staircase to heaven. I believe with your Master that the human heart is the best temple." ~ The Stark Munro Letters by Sir Arthur Conan Doyle
Heaven knows we need never be ashamed of our tears, for they are rain upon the blinding dust of earth, overlying our hard hearts. ~ Great Expectations by Charles Dickens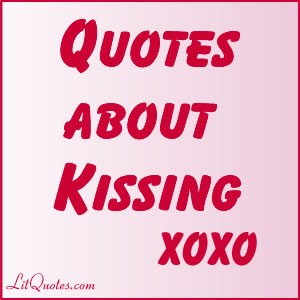 Here are five quotes from literature about kissing.  One of them is funny.  One of them is famous.  And two of them . . . well, two of them might just might quicken your pulse.
She lifted her face to him, and he bent forward and kissed her on the mouth, gently, with the one kiss that is an eternal pledge. And as he kissed her his heart strained again in his breast. He never intended to love her. But now it was over. He had crossed over the gulf to her, and all that he had left behind had shrivelled and become void. ~ The Horse Dealer's Daughter by D. H. Lawrence
"Kissing don't last: cookery do!" ~ The Ordeal of Richard Feverel by George Meredith
"O fie, Miss, you must not kiss and tell." ~ Love for Love by William Congreve
The sound of a kiss is not so loud as that of a cannon, but its echo lasts a deal longer. ~ The Professor at the Breakfast Table by Oliver Wendell Holmes, Sr.
He knew that when he kissed this girl, and forever wed his unutterable visions to her perishable breath, his mind would never romp again like the mind of God. So he waited, listening for a moment longer to the tuning fork that had been struck upon a star. Then he kissed her. At his lips' touch she blossomed for him like a flower and the incarnation was complete. ~ The Great Gatsby by F. Scott Fitzgerald
Quotes about Kissing from Literature
Here's a funny quote about love.  As usual, I've posted this on the LitQuotes Facebook page as well as the LitQuotes Google Plus page for easier sharing.
"Kissing don't last: cookery do!" ~ The Ordeal of Richard Feverel by George Meredith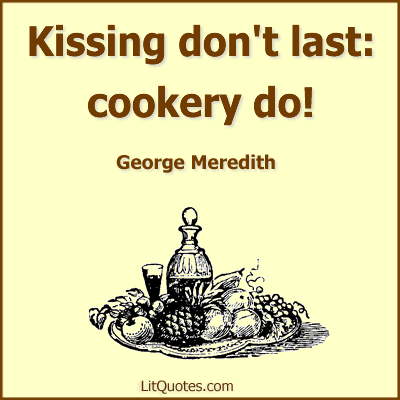 "Friendship, I fancy, means one heart between two." ~ Diana of the Crossways by George Meredith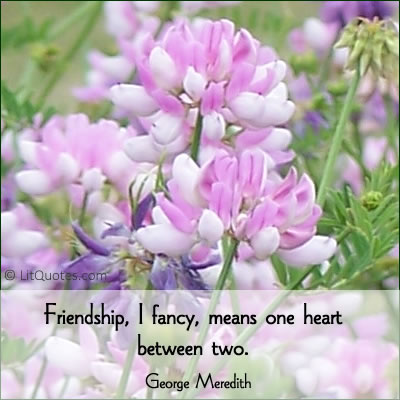 I've posted this on the LitQuotes Facebook page as well as the LitQuotes Google Plus page for easier sharing.  You also might enjoy other friendship quotes from literature.  Just click on the link to see the entire collection.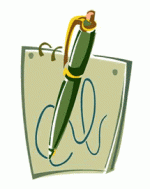 I just discovered Interesting Literature – a library of literary interestingness.  What a fun site!  Articles include items like  Five Reasons Everyone Should Know George Meredith and Ten Underrated Shakespeare Plays.   (By the way, LitQuotes features a George Meredith quotation collection.)
Here's a quote from the site's about page:
Welcome to Interesting Literature, an online library of all that is most interesting and captivating about literature. Here you'll find fun facts, interesting research into writers and their work, and blog posts which seek to capture the most fascinating facets of the literary world. So pull up a chair at this virtual library of literary wonder, and begin browsing!
May 2013 bring you . . . .
They seemed to come suddenly upon happiness as if they had surprised a butterfly in the winter woods. ~  Ethan Frome by Edith Wharton
"Friendship, I fancy, means one heart between two." ~  Diana of the Crossways by George Meredith
Her love was entire as a child's, and though warm as summer it was fresh as spring. ~ Far From The Madding Crowd by Thomas Hardy
It is a fair, even-handed, noble adjustment of things, that while there is infection in disease and sorrow, there is nothing in the world so irresistibly contagious as laughter and good-humour. ~  A Christmas Carol by Charles Dickens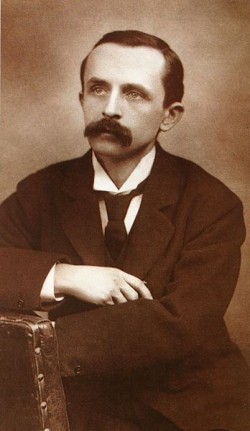 Could James M. Barrie, the author of Peter Pan, be the literary Kevin Bacon of his day? It might sound a little nutty, but take a look at his connections:
He had a long-standing correspondence with Robert Louis Stevenson.  Despite that fact that the two wrote many letters, they never met in person.
George Meredith, the author of The Ordeal of Richard Feverel, was his friend.
George Bernard Shaw was Barrie's neighbor for several years.
He collaborated with H.B. Marriott Watson on a biography of Richard Savage.
Barrie's friend H. G. Wells tried to help him with his marital problems.
Barrie knew Thomas Hardy.
Sir Arthur Conan Doyle and James M. Barrie were good friends.  You can read about their friendship at our partner site, The Chronicles of Sir Arthur Conan Doyle.
Barrie's formed a cricket team, the Allah-Akabarries. Some of Barrie's teammates included, Conan Dolye, H. G. Wells, Jerome K. Jerome, P. G. Wodehouse, A. E. W. Mason, E. V. Lucas, E. W. Hornung, Maurice Hewlett, A. A. Milne (of Winnie the Pooh fame) and G. K. Chesterton.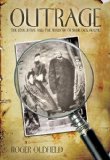 Arthur Conan Doyle didn't just write mysteries, he actually solved a few.  One of his most famous cases is the George Edalji case.
Roger Oldfield has written a book about the case, Outrage: The Edalji Five and the Shadow of Sherlock Holmes.  Mr. Oldfield brings a unique perspective to the case as someone who has met descendents of individuals involved in the case.  He's also familiar with the area where the case took place.
Roger Oldfield recently told LitQuotes this about the case and about his new book:

'SHERLOCK HOLMES AT WORK'.  This was the headline in the Daily Telegraph on January 11 1907 when Sir Arthur Conan Doyle in the first of two articles announced to the world that he was taking up the case of George Edalji.    The great novelist George Meredith, one of the many literary friends who wrote to congratulate him, put it this way: Sherlock Holmes, he said, had shown 'what can be done in the life of breath'.

There had already been a national outcry in 1903 when George Edalji of Great Wyrley in Staffordshire had been convicted of wounding a pony, the 8th of a series of barbarous outrages against animals in his home village.  The fact however that the very creator of Sherlock Holmes seemed in 1907 to be acting out the part of his own creation, the most famous character in British fiction, gave George Edalji's cause worldwide fame: newspapers from New York to Paris to Mumbai reported the developing events of 1907 with fascination.  Conan Doyle not only acted as sleuth, scouring the scene of the crime and interviewing the major players;  he also had his real-life Inspector Lestrade as adversary, in the shape of George Anson, Chief Constable of Staffordshire, whom he blamed for George Edalji's wrongful conviction.
The shadow of Sherlock Holmes has hung over the story every since. 'It is a blot upon the record of English Justice,' Conan Doyle wrote in his Memories and Adventures in 1924, 'and even now it should be wiped out.' This was the verdict which echoed for decades through the pens of many of the dozens of his admirers and biographers – 'a very gentle, perfect knight (Lamond, 1931), a 'brilliant vindication of Edalji' (Pemberton, 1936), 'the incarnation of the English conscience' (Nordon, 1968).  Even Julian Barnes, who has revived worldwide interest in the story in his novel Arthur & George (2005), the bookies' favourite for the top literary prize in Britain in 2005, does not question Conan Doyle's view that Edalji was innocent.
There is evidence, however, which runs counter to the Conan Doyle view, as the local historian Michael Harley suggested in the 1980s.   Roger Oldfield's book Outrage: The Edalji Five and the Shadow of Sherlock Holmes, Vanguard Press, 2010, is the first to go behind the scenes and assess the evidence for and against George Edalji in full.  A conclusion is reached on whether the man who believed in fairies had been taken in by the mild-mannered, middle class myopic from Great Wyrley.   As for Julian Barnes's novel, that too is subjected to rigorous scrutiny and the general reader is given a glimpse into how far it remains true to the actual historical record.
Also new, and of special interest for Conan Doyle addicts, is an account of the extraordinary secret war which broke out between Conan Doyle and Chief Constable Anson.  At one point their furious dispute led each of them to appeal to Winston Churchill for support.   Anson was utterly contemptuous of the detective skills of the man many thought actually was Sherlock Holmes, and his seething hatred for the world-famous writer lasted until his death.
Roger Oldfield's book suggests that the shadow of Sherlock Holmes hanging over the story has obscured the fascinating history of the Edalji family as a whole.  His research has uncovered a mass of new material about all five members of the family which has never been published before.
For full details of the book see www.outrage-rogeroldfield.co.uk
'unlikely to be surpassed as a comprehensive, intelligent, balanced and intensely readable account' ~ The Newsletter of the Sherlock Holmes Society of London
'certainly the best thing there is concerning the Edalji case on every count' ~ D. Michael Risinger, Professor of Law, Newark, USA.