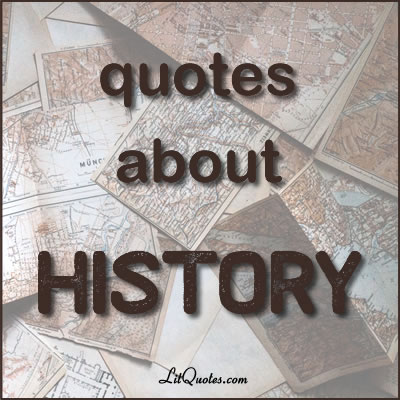 History is a wheel, for the nature of man is fundamentally unchanging. What has happened before will perforce happen again. ~ A Feast for Crows by George R. R. Martin
Who controls the past controls the future: who controls the present controls the past. ~ Nineteen Eighty-Four by George Orwell
History, like love, is so apt to surround her heroes with an atmosphere of imaginary brightness. ~ The Last of the Mohicans by James Fenimore Cooper
"Men get tired of everything, of heaven no less than of hell; and that all history is nothing but a record of the oscillations of the world between these two extremes. An epoch is but a swing of the pendulum; and each generation thinks the world is progressing because it is always moving." ~ Man And Superman by George Bernard Shaw
Events are as much the parents of the future as they were the children of the past. ~ Saint's Progress by John Galsworthy
There was a great historian lost in Wolverstone. He had the right imagination that knows just how far it is safe to stray from the truth and just how far to colour it so as to change its shape for his own purposes. ~ Captain Blood by Rafael Sabatini
"There are only two or three human stories, and they go on repeating themselves as fiercely as if they had never happened before; like the larks in this country, that have been singing the same five notes over for thousands of years." ~ O Pioneers! by Willa Cather
With fake news running wild, how do we know what's true? Here's what William Shakespeare, Herman Melville, George R. R. Martin and others have to say.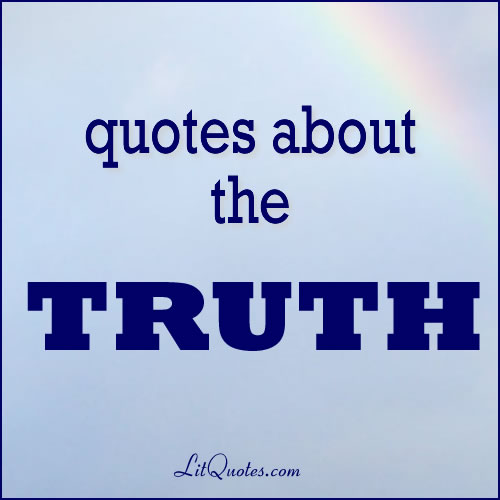 There was a great historian lost in Wolverstone. He had the right imagination that knows just how far it is safe to stray from the truth and just how far to colour it so as to change its shape for his own purposes. ~ Captain Blood by Rafael Sabatini
"Truth is like a thrashing-machine; tender sensibilities must keep out of the way." ~ The Confidence-Man by Herman Melville
You'll find truth in your looking glass, not on the tongues of men. ~ A Feast for Crows by George R. R. Martin
Being in a minority, even a minority of one, did not make you mad. There was truth and there was untruth, and if you clung to the truth even against the whole world, you were not mad. ~ Nineteen Eighty-Four by George Orwell
"It is an old maxim of mine that when you have excluded the impossible, whatever remains, however improbable, must be the truth." ~ The Adventure of the Beryl Coronet by Sir Arthur Conan Doyle
"Journalists say a thing that they know isn't true, in the hope that if they keep on saying it long enough it will be true." ~ The Title by Arnold Bennett
People often claim to hunger for truth, but seldom like the taste when it's served up. ~ A Clash of Kings by George R. R. Martin
"I make no manner of doubt that you threw a very diamond of truth at me, though you see it hit me so directly in the face that it wasn't exactly appreciated, at first." ~ Uncle Tom's Cabin by Harriet Beecher Stowe
Truth is tough. It will not break, like a bubble, at a touch; nay, you may kick it about all day, like a football, and it will be round and full at evening. ~ The Professor at the Breakfast Table by Oliver Wendell Holmes, Sr.
"For truth is truth to the end of reckoning." ~ Measure for Measure by William Shakespeare
It's not always easy to find just the right words.   If you're trying to decide what to put inside a Valentine's Day card or letter, you know what I mean.   Not to worry.  These love  quotes from literature will help.
"Those who speak of love most promiscuously are the ones who've never felt it. They make some sort of feeble stew out of sympathy, compassion, contempt and general indifference, and they call it love. Once you've felt what it means to love as you and I know it–the total passion for the total height–you're incapable of anything less." ~ The Fountainhead by Ayn Rand

Doubt thou the stars are fire;
Doubt that the sun doth move;
Doubt truth to be a liar;
But never doubt I love. ~ Hamlet, Prince of Denmark by William Shakespeare

If you loved someone, you loved him, and when you had nothing else to give, you still gave him love. ~ Nineteen Eighty-Four by George Orwell

If all else perished, and he remained, I should still continue to be; and if all else remained, and he were annihilated, the universe would turn to a mighty stranger. ~ Wuthering Heights by Emily Bronte

It is best to love wisely, no doubt: but to love foolishly is better than not to be able to love at all. ~ The History of Pendennis by William Makepeace Thackeray

Love is a flower that grows in any soil, works its sweet miracles undaunted by autumn frost or winter snow, blooming fair and fragrant all the year, and blessing those who give and those who receive. ~ Little Men by Louisa May Alcott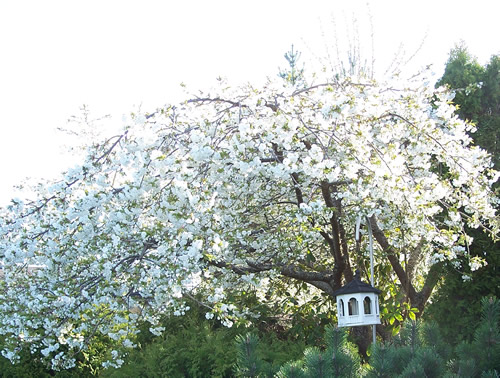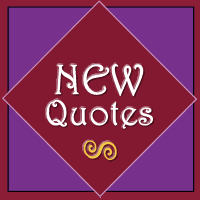 Today I added two dozen new quotes to the collection.  Some of my favorites are:
It has been said that the love of money is the root of all evil. The want of money is so quite as truly. ~ Erewhon by Samuel Butler
I am I, and I won't subordinate my taste to the unanimous judgment of mankind. ~ Martin Eden by Jack London
"Death and taxes and childbirth! There's never any convenient time for any of them!" ~ Gone With The Wind by Margaret Mitchell
"No one believes more firmly than Comrade Napoleon that all animals are equal. He would be only too happy to let you make your decisions for yourselves. But sometimes you might make the wrong decisions, comrades, and then where should we be?" ~ Animal Farm by George Orwell
The big round tears
Coursed one another down his innocent nose
In piteous chase. ~ As You Like It by William Shakespeare
"Miss Taggart, do you know the hallmark of the second-rater? It's resentment of another man's achievement." ~ Atlas Shrugged by Ayn Rand
If you loved someone, you loved him, and when you had nothing else to give, you still gave him love. ~ Nineteen Eighty-Four by George Orwell
I've posted this on the LitQuotes Facebook page as well as the LitQuotes Google Plus page for easier sharing.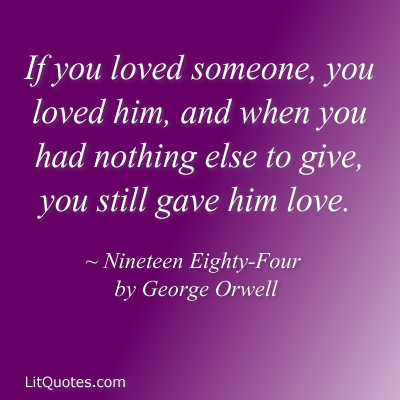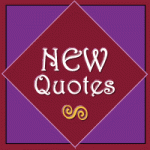 I hope you all had a nice weekend.   I spent some of my spare time adding new quotes to the database.  Here are some of my favorites.  AND if you have a quote that you'd like to see added, feel free to contribute a quote.
The world is a stage, but the play is badly cast. ~ Lord Arthur Savile's Crime by Oscar Wilde
History, like love, is so apt to surround her heroes with an atmosphere of imaginary brightness. ~ The Last of the Mohicans by James Fenimore Cooper
Who controls the past controls the future: who controls the present controls the past. ~ Nineteen Eighty-Four by George Orwell
What is the meaning of life? That was all–a simple question; one that tended to close in on one with years. The great revelation had never come. The great revelation perhaps never did come. Instead there were little daily miracles, illuminations, matches struck unexpectedly in the dark. ~ To the Lighthouse by Virginia Woolf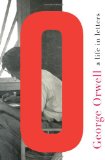 Eric Arthur Blair, who used the pen name George Orwell, was an English novelist, essayist, journalist and critic. He was born on June 25, 1903 in Motihari, India.  He died on January 21, 1950 in London.
He wrote Nineteen Eighty-Four and Animal Farm, but how much do you really know about George Orwell?  George Orwell: A Life in Letters allows us a fascinating look into the life of this complicated man.
From his school days to his tragic early death, George Orwell, who never wrote an autobiography, chronicled the dramatic events of his turbulent life in a profusion of powerful letters. Indeed, one of the twentieth century's most revered icons was a lively, prolific correspondent who developed in rich, nuanced dispatches the ideas that would influence generations of writers and intellectuals.

Over the course of a lifetime, Orwell corresponded with hundreds of people, including many distinguished political and artistic figures. Witty, personal, and profound, the letters tell the story of Orwell's passionate first love that ended in devastation and explains how young Eric Arthur Blair chose the pseudonym "George Orwell." In missives to luminaries such as T. S. Eliot, Stephen Spender, Arthur Koestler, Cyril Connolly, and Henry Miller, he spells out his literary and philosophical beliefs.

Combined with rare photographs and hand-drawn illustrations, George Orwell: A Life in Letters offers "everything a reader new to Orwell needs to know…and a great deal that diehard fans will be enchanted to have" (New Statesmen).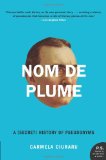 We all know that Samuel Clemens wrote under  the name of Mark Twain and that George Eliot was really Marian Evans.  But did you ever wonder about the back-story? In Nom de Plume: A (Secret) History of Pseudonyms Carmela Ciuraru examines this issue.  The book looks at the lives of of authors who used pen names.   In addition to Twain and Eliot, there are chapters on the Bronte sisters, Lewis Carroll, O. Henry, George Orwell and others.
Exploring the fascinating stories of more than a dozen authorial impostors across several centuries and cultures, Carmela Ciuraru plumbs the creative process and the darker, often crippling aspects of fame. Part detective story, part exposé, part literary history, Nom de Plume is an absorbing psychological meditation on identity and creativity.
Learn More – Nom de Plume: A (Secret) History of Pseudonyms