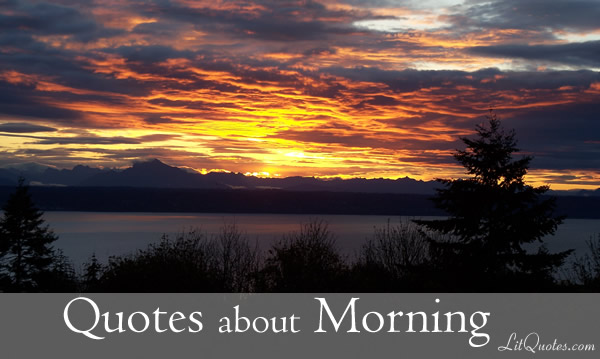 The sun comes out, a golden huzzar, from his tent, flashing his helm on the world. ~ The Confidence-Man by Herman Melville
The longest way must have its close,—the gloomiest night will wear on to a morning. ~ Uncle Tom's Cabin by Harriet Beecher Stowe
Saturday morning was come, and all the summer world was bright and fresh, and brimming with life. There was a song in every heart; and if the heart was young the music issued at the lips. There was cheer in every face and a spring in every step. ~ The Adventures of Tom Sawyer by Mark Twain
Morning made a considerable difference in my general prospect of Life, and brightened it so much that it scarcely seemed the same. ~ Great Expectations by Charles Dickens
"I like breakfast-time better than any other moment in the day," said Mr. Irwine. "No dust has settled on one's mind then, and it presents a clear mirror to the rays of things." ~ Adam Bede by George Eliot
Rays from the sunrise drew forth the buds and stretched them into long stalks, lifted up sap in noiseless streams, opened petals, and sucked out scents in invisible jets and breathings. ~ Tess of the D'Urbervilles by Thomas Hardy
From the east to the west sped the angels of the Dawn, from sea to sea, from mountain-top to mountain-top, scattering light with both their hands. ~ She by H. Rider Haggard
No man knows till he has suffered from the night how sweet and dear to his heart and eye the morning can be. ~ Dracula by Bram Stoker
Our thoughts on this day go to those affected by the Manchester bombing.
Heaven knows we need never be ashamed of our tears, for they are rain upon the blinding dust of earth, overlying our hard hearts. ~ Great Expectations by Charles Dickens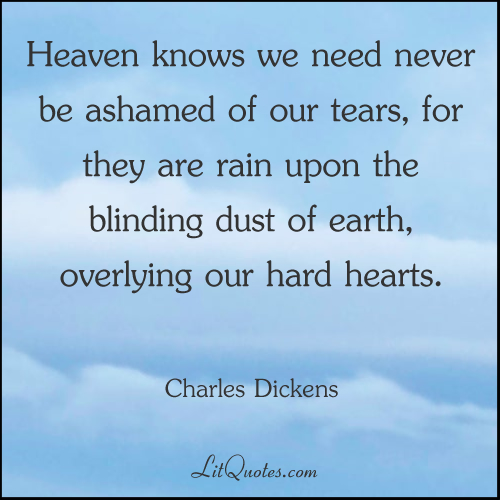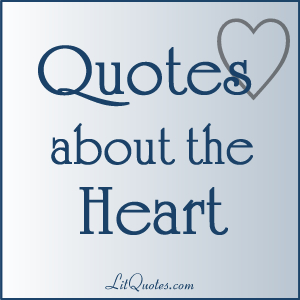 These are some of the sweetest quotes about hearts from literature.
"Friendship, I fancy, means one heart between two." ~ Diana of the Crossways by George Meredith
Life's more than breath and the quick round of blood;
It is a great spirit and a busy heart. ~ Festus by Philip James Bailey
Men who look on nature, and their fellow-men, and cry that all is dark and gloomy, are in the right; but the sombre colours are reflections from their own jaundiced eyes and hearts. The real hues are delicate, and need a clearer vision. ~ Oliver Twist by Charles Dickens
Maybe, he thought, there aren't any such things as good or bad friends – maybe there are just friends, people who stand by you when you're hurt and who help you feel not so lonely. Maybe they're always worth being scared for, and hoping for, and living for. Maybe worth dying for, too, if that's what has to be. No good friends. No bad friends. Only people you want, need to be with; people who build their houses in your heart. ~ It by Stephen King
She had found her heart at last. Never having known its worth till now, she had never known the worth of his. ~ Barnaby Rudge by Charles Dickens
"I carry my own church about under my own hat," said I. "Bricks and mortar won't make a staircase to heaven. I believe with your Master that the human heart is the best temple." ~ The Stark Munro Letters by Sir Arthur Conan Doyle
Heaven knows we need never be ashamed of our tears, for they are rain upon the blinding dust of earth, overlying our hard hearts. ~ Great Expectations by Charles Dickens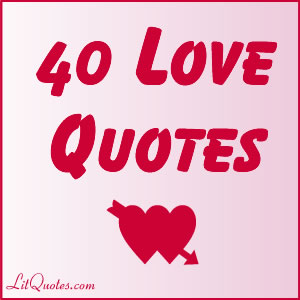 Love looks not with the eyes, but with the mind;
And therefore is wing'd Cupid painted blind. ~ A Midsummer Night's Dream by William Shakespeare

"I do love you surely in a better way than he does." He thought. "Yes—really in a better way. I want you to have your own thoughts even when I hold you in my arms." ~ A Room With A View by E. M. Forster
"God's law is only Love." ~ A Woman of No Importance by Oscar Wilde
I ask you to pass through life at my side—to be my second self, and best earthly companion. ~ Jane Eyre by Charlotte Bronte
Doubt thou the stars are fire;
Doubt that the sun doth move;
Doubt truth to be a liar;
But never doubt I love. ~ Hamlet, Prince of Denmark by William Shakespeare
Love is a flower that grows in any soil, works its sweet miracles undaunted by autumn frost or winter snow, blooming fair and fragrant all the year, and blessing those who give and those who receive. ~ Little Men by Louisa May Alcott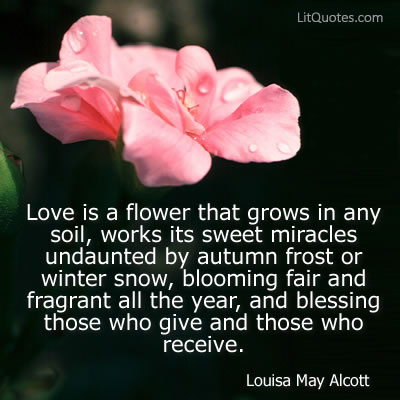 Every atom of your flesh is as dear to me as my own: in pain and sickness it would still be dear. ~ Jane Eyre by Charlotte Bronte
Lovers and madmen have such seething brains,
Such shaping fantasies, that apprehend
More than cool reason ever comprehends. ~ A Midsummer Night's Dream by William Shakespeare
"I don't want sunbursts and marble halls. I just want you." ~ Anne of the Island by Lucy Maud Montgomery
That which is loved may pass, but love hath no end. ~ Parables Of A Province by Gilbert Parker
The winds were warm about us, the whole earth seemed the wealthier for our love. ~ The Amber Gods by Harriet Prescott Spofford
"I hope that real love and truth are stronger in the end than any evil or misfortune in the world." ~  David Copperfield by Charles Dickens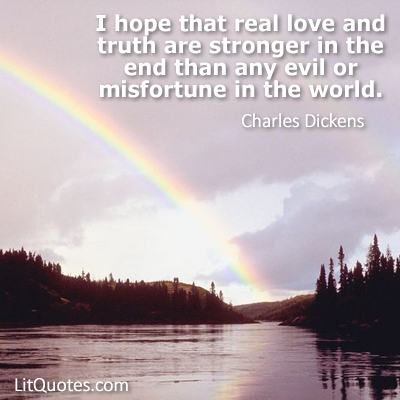 I loved her against reason, against promise, against peace, against hope, against happiness, against all discouragement that could be. ~ Great Expectations by Charles Dickens
Young men's love, then, lies
Not truly in their hearts, but in their eyes. ~ Romeo and Juliet by William Shakespeare
She had found her heart at last. Never having known its worth till now, she had never known the worth of his. ~ Barnaby Rudge by Charles Dickens
It is best to love wisely, no doubt: but to love foolishly is better than not to be able to love at all. ~ The History of Pendennis by William Makepeace Thackeray
"Love has no age, no limit; and no death." ~ The Forsyte Saga by John Galsworthy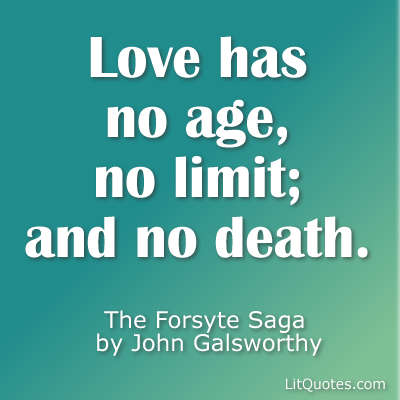 Maggie said that love was the flower of life, and blossomed unexpectedly and without law, and must be plucked where it was found, and enjoyed for the brief hour of its duration. ~ The Rainbow by D. H. Lawrence
"Love comforteth like sunshine after rain." ~ Venus and Adonis by William Shakespeare
"Love knows not distance; it hath no continent; its eyes are for the stars." ~ Parables Of A Province by Gilbert Parker
How is it that the poets have said so many fine things about our first love, so few about our later love? Are their first poems their best? Or are not those the best which come from their fuller thought, their larger experience, their deeper-rooted affections? ~ Adam Bede by George Eliot
Love, it is said, is blind, but love is not blind. It is an extra eye, which shows us what is most worthy of regard. To see the best is to see most clearly, and it is the lover's privilege. ~ The Little Minister by James M. Barrie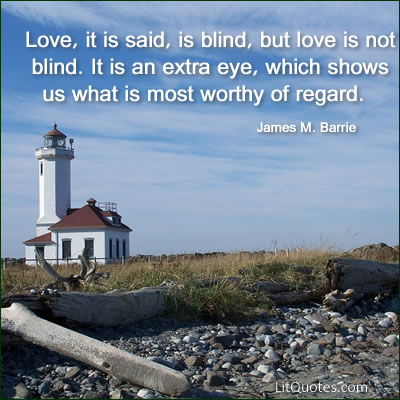 "Love of man for woman–love of woman for man. That's the nature, the meaning, the best of life itself." ~ Riders of the Purple Sage by Zane Grey
"I loved you madly; in the distasteful work of the day, in the wakeful misery of the night, girded by sordid realities, or wandering through Paradises and Hells of visions into which I rushed, carrying your image in my arms, I loved you madly." ~ The Mystery of Edwin Drood by Charles Dickens
"We are all born for love," said Morley. "It is the principle of existence, and its only end." ~ Sybil by Benjamin Disraeli
He knew that when he kissed this girl, and forever wed his unutterable visions to her perishable breath, his mind would never romp again like the mind of God. So he waited, listening for a moment longer to the tuning fork that had been struck upon a star. Then he kissed her. At his lips' touch she blossomed for him like a flower and the incarnation was complete. ~ The Great Gatsby by F. Scott Fitzgerald
"My bounty is as boundless as the sea,
My love as deep; the more I give to thee,
The more I have, for both are infinite." ~ Romeo and Juliet by William Shakespeare
"The best of life is built on what we say when we're in love. It isn't nonsense, Katharine," she urged, "it's the truth, it's the only truth." ~ Night and Day by Virginia Woolf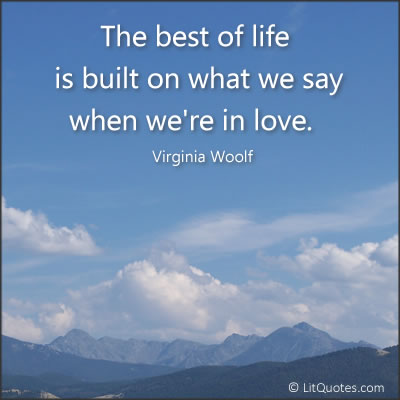 Love is no hot-house flower, but a wild plant, born of a wet night, born of an hour of sunshine; sprung from wild seed, blown along the road by a wild wind. A wild plant that, when it blooms by chance within the hedge of our gardens, we call a flower; and when it blooms outside we call a weed; but, flower or weed, whose scent and colour are always, wild! ~ The Forsyte Saga by John Galsworthy
She lifted her face to him, and he bent forward and kissed her on the mouth, gently, with the one kiss that is an eternal pledge. And as he kissed her his heart strained again in his breast. He never intended to love her. But now it was over. He had crossed over the gulf to her, and all that he had left behind had shrivelled and become void. ~ The Horse Dealer's Daughter by D. H. Lawrence
"If I loved you less, I might be able to talk about it more." ~ Emma by Jane Austen
"Men always want to be a woman's first love. That is their clumsy vanity. We women have a more subtle instinct about things. What we like is to be a man's last romance." ~ A Woman of No Importance by Oscar Wilde
She loved him with too clear a vision to fear his cloudiness. ~ Howards End by E. M. Forster
"I see you everywhere, in the stars, in the river; to me you're everything that exists; the reality of everything." ~ Night and Day by Virginia Woolf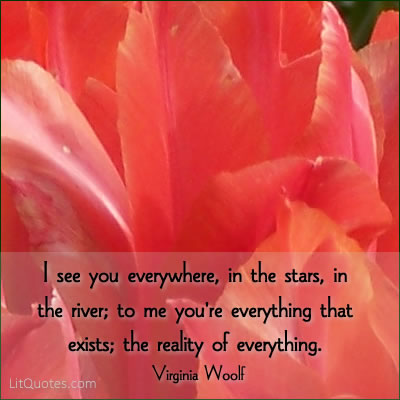 "Is love a tender thing? It is too rough,
Too rude, too boist'rous; and it pricks like thorn." ~ Romeo and Juliet by William Shakespeare
"He's more myself than I am. Whatever our souls are made of, his and mine are the same, and Linton's is as different as a moonbeam from lightning, or frost from fire." ~ Wuthering Heights by Emily Bronte
The course of true love never did run smooth. ~ A Midsummer Night's Dream by William Shakespeare
"Those who speak of love most promiscuously are the ones who've never felt it. They make some sort of feeble stew out of sympathy, compassion, contempt and general indifference, and they call it love. Once you've felt what it means to love as you and I know it–the total passion for the total height–you're incapable of anything less." ~ The Fountainhead by Ayn Rand
"You are my heart, my life, my one and only thought." ~ The White Company by Sir Arthur Conan Doyle
"Who, being loved, is poor?" ~ A Woman of No Importance by Oscar Wilde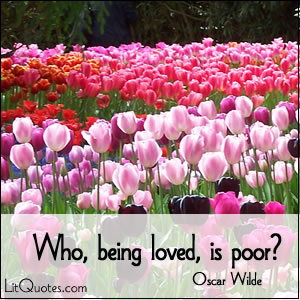 Ready for more?  See our entire love quote collection.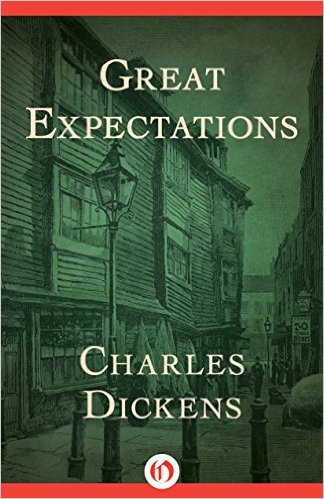 Great Expectations was the thirteenth novel that Charles Dickens wrote.  In the UK the novel was published in weekly installments in All the Year Round from December of 1860 until August 1861.  Harper's Weekly, in the United States, published installments of the novel from November 1860 through August of 1861.
All the Year Round was founded by Dickens. Its first issue was printed on April 30, 1859. The publication featured serialized novels.  In fact, the first novel it featured was Dickens's A Tale of Two Cities.
In October of 1860 sales of All the Year Round were declining.  The featured novel, A Day's Ride by Charles Lever, wasn't very popular.  In order to boost sales, Dickens adapted Great Expectations, originally planned for publication in another format, to be published in All the Year Round.  His plan worked and sales for the publication increased.
"Suffering has been stronger than all other teaching, and has taught me to understand what your heart used to be. I have been bent and broken, but – I hope – into a better shape." ~ Great Expectations by Charles Dickens
More About Great Expectations
"Now, I return to this young fellow. And the communication I have got to make is, that he has great expectations." ~ Great Expectations by Charles Dickens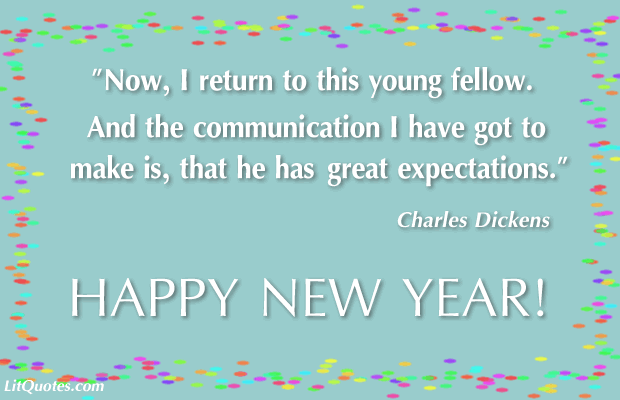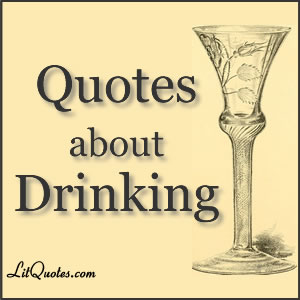 Does it mean anything that three out of the five quotes are from Charles Dickens?
Late hours, nocturnal cigars, and midnight drinkings, pleasurable though they may be, consume too quickly the free-flowing lamps of youth, and are fatal at once to the husbanded candle-ends of age. ~ Phineas Redux by Anthony Trollope
"Fan the sinking flame of hilarity with the wing of friendship; and pass the rosy wine." ~ The Old Curiosity Shop by Charles Dickens
There are two things that will be believed of any man whatsoever, and one of them is that he has taken to drink. ~ Penrod by Booth Tarkington
In particular, there was a butler in a blue coat and bright buttons, who gave quite a winey flavour to the table beer; he poured it out so superbly. ~ Dombey and Son by Charles Dickens
"Take another glass of wine, and excuse my mentioning that society as a body does not expect one to be so strictly conscientious in emptying one's glass, as to turn it bottom upwards with the rim on one's nose."  ~ Great Expectations by Charles Dickens
More Quotes about Drinking from Literature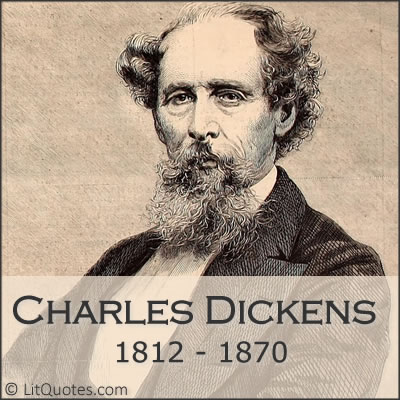 Charles Dickens was born on February 7, 1812 and died in 1870.  He's the author of A Christmas Carol, Great Expectations and other classic novels.  Now here are some things you may not know about Charles Dickens.
1 – As a child, his family was always on the verge of economic collapse. Everything fell apart for the family in 1827. Dickens' father was sent the Marshalsea debtors' prison and young Charles was sent to work in Warren's Blacking Factory. These incidents would haunt Dickens for the rest of his life.
2 – Dickens worked as law clerk, a court stenographer and even contemplated becoming an actor. Luckily for us, Dickens was ill on the day of his audition at the Lyceum Theater and couldn't go. Can you imagine a life without Scrooge?  If Dickens, who was a talented actor, had attended his audition he might not have written A Christmas Carol.
3 – In his early writing he called himself Boz. Boz? You see, one of his favorite characters in Goldsmith's Vicar of Wakefield was called Moses. Moses became Boses which became Boz.
4 – Dickens married Catherine Hogarth in 1835. There were some happy years, but in 1958 they were legally separated. One of the reasons for the separation was Dickens' interest in the actress, Ellen Ternan.
Dickens met Ellen in 1857. Matters came to a head the next year when a bracelet that Dickens bought as a present for Ellen was accidentally delivered to the Dickens household. In a scene straight from a soap opera, Catherine discovered the bracelet and accused Charles of having an affair.
5 – One of the most fascinating aspects of Charles Dickens is that he understood the power of the media. Yes, even in the Victorian Era people had to worry about the press. In September of 1860, behind his home at Gad's Hill Place, Charles Dickens tried to cover his tracks. He gathered "the accumulated letters and papers of twenty years" and set them ablaze in his backyard. What could we have learned had he not taken this action? We'll never know.
More About Charles Dickens
The dictionary tells us that sympathy is a felling of pity or sorrow for someone else's misfortune. And here's how it's used in quotes by the masters of literature.
My heart was fashioned to be susceptible of love and sympathy, and when wrenched by misery to vice and hatred, it did not endure the violence of the change without torture such as you cannot even imagine. ~ Frankenstein by Mary Shelley
I don't know if it be a peculiarity in me, but I am seldom otherwise than happy while watching in the chamber of death, should no frenzied or despairing mourner share the duty with me. I see a repose that neither earth nor hell can break; and I feel an assurance of the endless and shadowless hereafter – the Eternity they have entered – where life is boundless in its duration, and love in its sympathy, and joy in its fulness. ~ Wuthering Heights by Emily Bronte
"Oh! I have a heart to be stabbed in or shot in, I have no doubt," said Estella, "and of course if it ceased to beat I should cease to be. But you know what I mean. I have no softness there, no—sympathy—sentiment—nonsense." ~ Great Expectations by Charles Dickens
He spoke wistfully of a sudden leaving, a breaking of old ties, a flight into a strange world, ending in this dreary valley, and Ettie listened, her dark eyes gleaming with pity and with sympathy – those two qualities which may turn so rapidly and so naturally to love. ~ The Valley of Fear by Sir Arthur Conan Doyle
more sympathy quotes from literature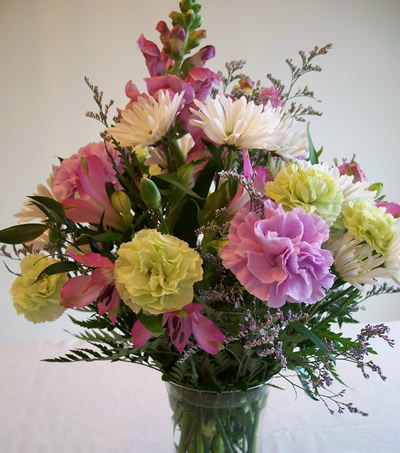 Is someone on your holiday shopping list a fan of Charles Dickens?  If so, may I humbly suggest you visit the Charles Dickens section of the LitQuotes Gift Shop.  One of the most popular items in the Charles Dickens section is the Novels of Charles Dickens mug.   One side features the image of the ever-popular author  of A Christmas Carol.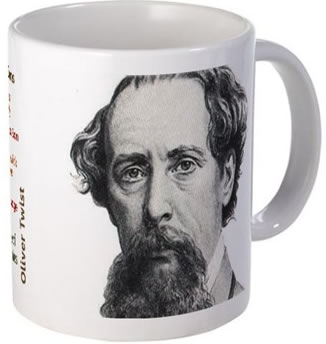 The other side lists the titles of his novels.