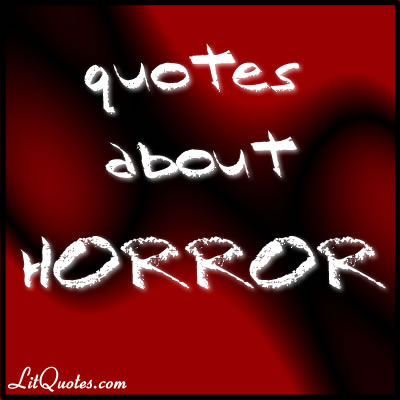 Dark, dark! The horror of darkness, like a shroud, wraps me and bears me on through mist and cloud. ~ Oedipus Rex by Sophocles
"'The horror! The horror!" ~ Heart of Darkness by Joseph Conrad
In victory one does not understand the horror of war. It is only in the cold chill of defeat that it is brought home to you. ~ The Adventures of Gerard by Sir Arthur Conan Doyle
For a moment he paused there, the wind blowing his long grey locks about his head, and twisting into grotesque and fantastic folds the nameless horror of the dead man's shroud. ~ The Canterville Ghost by Oscar Wilde
There are horrors beyond horrors, and this was one of those nuclei of all dreamable hideousness which the cosmos saves to blast an accursed and unhappy few. ~ The Shunned House by H. P. Lovecraft
Beyond this place of wrath and tears
Looms but the Horror of the shade,
And yet the menace of the years
Finds, and shall find, me unafraid. ~ Invictus by William Ernest Henley
It was worse than anything. Mrs. Hall, standing open-mouthed and horror-struck, shrieked at what she saw, and made for the door of the house. Everyone began to move. They were prepared for scars, disfigurements, tangible horrors, but nothing! The bandages and false hair flew across the passage into the bar, making a hobbledehoy jump to avoid them. Everyone tumbled on everyone else down the steps. For the man who stood there shouting some incoherent explanation, was a solid gesticulating figure up to the coat-collar of him, and then—nothingness, no visible thing at all! ~ The Invisible Man by H. G. Wells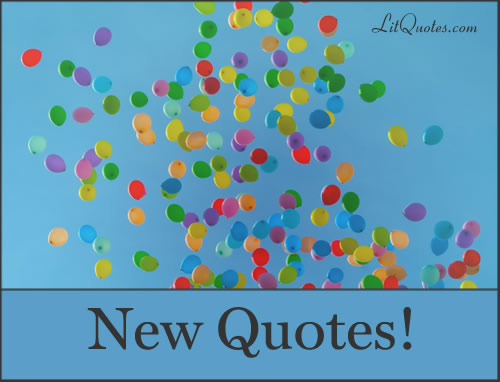 We added new quotes to the site today.  All of the quotes on this site list an author and a source. Over the next few weeks we'll add these quotes to topics.  With these new quotes we've got more than 2,800 quotes.
Here are some quotes from the new additions, but you can see them all on the new quotes page.  If you have a quote that you'd like to see added to the site, you can contribute a quote.
"I'm tired of hearing you men say that this and that and the other isn't woman's work. Any work is woman's work that a woman can do well." ~ Roast Beef, Medium by Edna Ferber
The sense of humor dies hard. ~ Personality Plus by Edna Ferber
They were strange, the facts about them: their staying inside by day, their avoidance of garlic, their death by stake, their reputed fear of crosses, their supposed dread of mirrors. ~ I Am Legend by Richard Matheson
"I say alone, for one who sits by a sleeper is indeed alone; perhaps more alone than he can realize." ~ The Shunned House by H. P. Lovecraft
There were a Rattling and Rolling, Groaning, Screeching, and Hissing, such as no Things of this Earth cou'd raise up, and which must needs have come from those Caves that only black Magick can discover, and only the Divell unlock. ~ The Dunwich Horror by H. P. Lovecraft
The ghostly winter silence had given way to the great spring murmur of awakening life. ~ The Call of the Wild by Jack London
"Didst thou ever see a lark in a cage? Such is the soul in the body." ~ The Duchess of Malfi by John Webster
"Don't think of what's past!" said she. "I am not going to think outside of now. Why should we! Who knows what to-morrow has in store?" ~ Tess of the D'Urbervilles by Thomas Hardy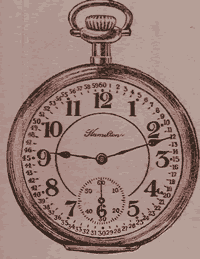 The old year is slipping away fast!  Where did the time go? Here are quotes about time from literature that may, or may not,  answer that question.
Men live their lives trapped in an eternal present, between the mists of memory and the sea of shadow that is all we know of the days to come. ~ A Dance with Dragons by George R. R. Martin
We live on a placid island of ignorance in the midst of black seas of infinity, and it was not meant that we should voyage far. ~ The Call of Cthulhu by H. P. Lovecraft
"All we have to decide is what to do with the time that is given us." ~ The Fellowship of the Ring by J. R. R. Tolkien
The very stone one kicks with one's boot will outlast Shakespeare. ~ To the Lighthouse by Virginia Woolf
"I cannot fix on the hour, or the spot, or the look, or the words, which laid the foundation. It is too long ago. I was in the middle before I knew that I had begun." ~ Pride and Prejudice by Jane Austen
You are here for but an instant, and you mustn't take yourself too seriously. ~ The Land That Time Forgot by Edgar Rice Burroughs
That which is loved may pass, but love hath no end. ~ Parables Of A Province by Gilbert Parker
Looking at these stars suddenly dwarfed my own troubles and all the gravities of terrestrial life. I thought of their unfathomable distance, and the slow inevitable drift of their movements out of the unknown past into the unknown future. ~ The Time Machine by H. G. Wells
The right time is ANY time that one is still so lucky as to have. ~ The Ambassadors by Henry James
"The past and the present are within the field of my inquiry, but what a man may do in the future is a hard question to answer." ~ The Hound of the Baskervilles by Sir Arthur Conan Doyle
More Quotes From Literature About Time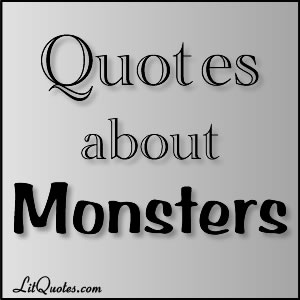 Eddie discovered one of his childhood's great truths. Grownups are the real monsters, he thought. ~ It by Stephen King
It seemed to be a sort of monster, or symbol representing a monster, of a form which only a diseased fancy could conceive. If I say that my somewhat extravagant imagination yielded simultaneous pictures of an octopus, a dragon, and a human caricature, I shall not be unfaithful to the spirit of the thing. A pulpy, tentacled head surmounted a grotesque and scaly body with rudimentary wings; but it was the general outline of the whole which made it most shockingly frightful. ~ The Call of Cthulhu by H. P. Lovecraft
It was the incarnation of blind and insensate Greed. It was a monster devouring with a thousand mouths, trampling with a thousand hoofs; it was the Great Butcher–it was the spirit of Capitalism made flesh. ~ The Jungle by Upton Sinclair
"O, beware, my lord, of jealousy! It is the green-eyed monster, which doth mock the meat it feeds on." ~ Othello by William Shakespeare
It's October 1st!  Halloween is coming!
The Call of Cthulhu was written by H. P. Lovecraft in 1926. It was first published in 1928, in the magazine Weird Tales.
We live on a placid island of ignorance in the midst of black seas of infinity, and it was not meant that we should voyage far. ~ The Call of Cthulhu by H. P. Lovecraft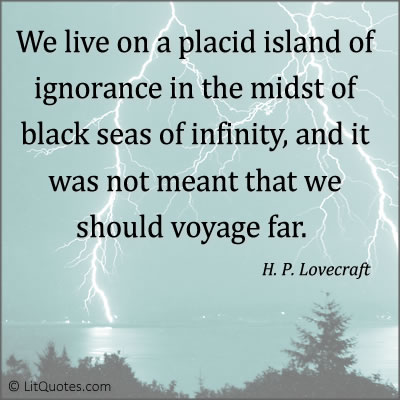 Feel free to share this quote photo with others.  I've posted this quote photo on the LitQuotes Facebook page as well as the LitQuotes Google Plus page to make that easy.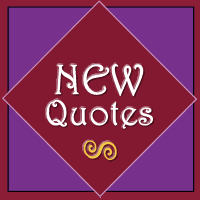 I'm thinking about literature this Labor Day weekend.  OK, who am I kidding?  One look at my numerous bookshelves shows that I'm always thinking about literature.
Anyway, the point is that I've added new quotes to the collection.  Here are my favorites.  Remember that if you have a quote that you'd like to see added, you can contribute a quote.
The world is full enough of hurts and mischances without wars to multiply them. ~ The Return of the King by J. R. R. Tolkien
There is no charm equal to tenderness of heart. ~ Emma by Jane Austen
Could I come near your beauty with my nails,
I could set my ten commandments in your face. ~ Henry VI, Part Two by William Shakespeare
The revenge of an elder sister may be long in coming, but, like a South-Eastern express, it arrives in its own good time. ~ Reginald by Saki
He had, in fact, got everything from the church and Sunday School, except, perhaps, any longing whatever for decency and kindness and reason. ~ Elmer Gantry by Sinclair Lewis
Who knows the end? What has risen may sink, and what has sunk may rise. Loathsomeness waits and dreams in the deep, and decay spreads over the tottering cities of men. ~ The Call of Cthulhu by H. P. Lovecraft
Other LitQuotes Features