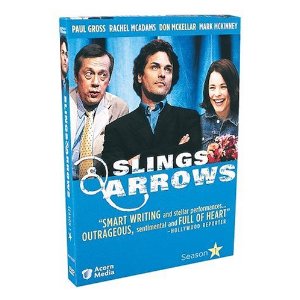 One evening I was looking through the TV comedies section of Netflix and I found this gem.  The first season of Slings & Arrows focuses on a production of Hamlet by a Shakespearean theater troupe.  There are artistic differences, personal issues, romantic problems, corporate drama and, last but not least, a ghost.
"To be, or not to be,–that is the question:–whether 'tis nobler in the mind to suffer the slings and arrows of outrageous fortune or to take arms against a sea of troubles, and by opposing end them?" ~ Hamlet by William Shakespeare


We've added over 20 new quotes to our collection.   I'm not quite sure how it happened, but all the new quotes are from two titles.  There are Hamlet quotes and Heart of Darkness quotes.