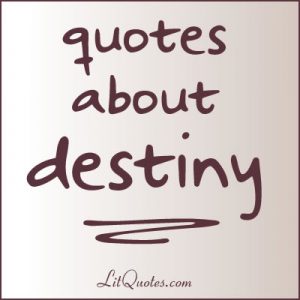 History is a wheel, for the nature of man is fundamentally unchanging. What has happened before will perforce happen again. ~ A Feast for Crows by George R. R. Martin
Can we outrun the heavens? ~ Henry VI, Part Two by William Shakespeare
Were we no better than chessmen, moved by an unseen power, vessels the potter fashions at his fancy, for honour or for shame? ~ Lord Arthur Savile's Crime by Oscar Wilde
Destiny has a constant passion for the incongruous. ~ The Magnificent Ambersons by Booth Tarkington
But often the great cat Fate lets us go only to clutch us again in a fiercer grip. ~ The Curse of Eve by Sir Arthur Conan Doyle
"This whole act's immutably decreed. 'Twas rehearsed by thee and me a billion years before this ocean rolled. Fool! I am the Fates' lieutenant; I act under orders." ~ Moby Dick by Herman Melville
"Men's courses will foreshadow certain ends, to which, if persevered in, they must lead," said Scrooge. "But if the courses be departed from, the ends will change. Say it is thus with what you show me!" ~ A Christmas Carol by Charles Dickens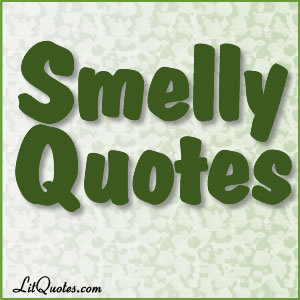 "I love to smell flowers in the dark," she said. "You get hold of their soul then." ~ Anne's House of Dreams by Lucy Maud Montgomery
It smells like the left wing of the day of judgment. ~ Moby Dick by Herman Melville
The mutable, rank-scented many . . . ~ Coriolanus by William Shakespeare
"I wish we could see perfumes as well as smell them. I'm sure they would be very beautiful." ~ Anne of the Island by Lucy Maud Montgomery
"The rankest compound of villainous smell that ever offended nostril." ~ The Merry Wives of Windsor by William Shakespeare
"Don't you love heavy fragrances, faint with sweetness, ravishing juices of odor, heliotropes, violets, water-lilies,–powerful attars and extracts that snatch your soul off your lips?" ~ The Amber Gods by Harriet Prescott Spofford
"What's in a name? That which we call a rose
By any other name would smell as sweet." ~ Romeo and Juliet by William Shakespeare
"Our highest assurance of the goodness of Providence seems to me to rest in the flowers. All other things, our powers, our desires, our food, are all really necessary for our existence in the first instance. But this rose is an extra. Its smell and its color are an embellishment of life, not a condition of it. It is only goodness which gives extras, and so I say again that we have much to hope from the flowers." ~ The Naval Treaty by Sir Arthur Conan Doyle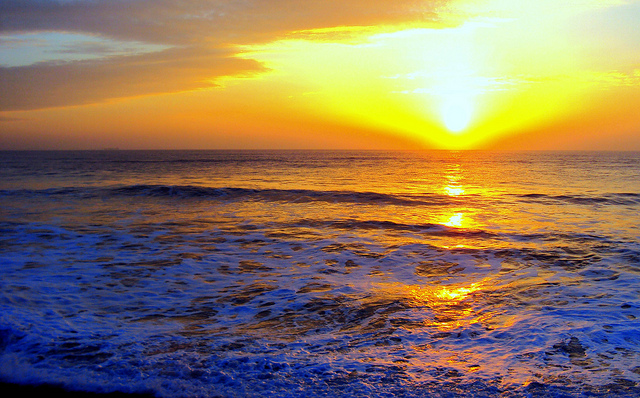 "The sea is everything. It covers seven tenths of the terrestrial globe. Its breath is pure and healthy. It is an immense desert, where man is never lonely, for he feels life stirring on all sides." ~ 20,000 Leagues Under the Sea by Jules Verne
No mercy, no power but its own controls it. Panting and snorting like a mad battle steed that has lost its rider, the masterless ocean overruns the globe. ~ Moby Dick by Herman Melville
And then, the unspeakable purity – and freshness of the air! There was just enough heat to enhance the value of the breeze, and just enough wind to keep the whole sea in motion, to make the waves come bounding to the shore, foaming and sparkling, as if wild with glee. ~ Agnes Grey by Anne Bronte
The sigh of all the seas breaking in measure round the isles soothed them; the night wrapped them; nothing broke their sleep, until, the birds beginning and the dawn weaving their thin voices in to its whiteness. ~ To the Lighthouse by Virginia Woolf
"Look at that sea, girls–all silver and shadow and vision of things not seen. We couldn't enjoy its loveliness any more if we had millions of dollars and ropes of diamonds." ~ Anne of Green Gables by Lucy Maud Montgomery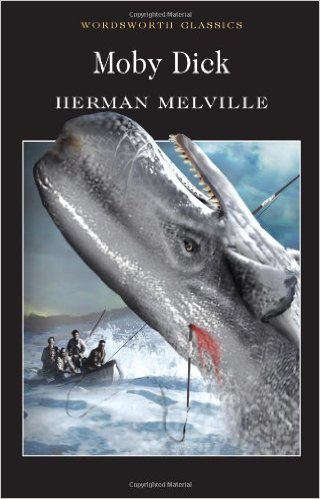 Moby Dick was written by Herman Melville. The work was first published as The Whale in London in October 1851.   The next month New York publishers issued the novel as Moby-Dick.
Moby Dick is based in part on Melville's experience on a whaler. On December 30, 1840, he signed on as a green hand on the Acushnet.
The sinking of the Nantucket ship Essex in 1820 was another inspiration for the novel.  The ship sank after it was rammed by an enraged sperm whale.
Melville also drew on one other true-life event for the tale. An article in the May 1839 issue of The Knickerbocker told about an albino whale known as Mocha Dick.  The whale was rumored to have 20 or so harpoons in his back from other whalers, and appeared to attack ships with premeditated ferocity.
Despite the popularity of the novel today, only about 3,200 copies were sold during the Melville's life.  He earned a little more than $1,200 for writing the book.
Though amid all the smoking horror and diabolism of a sea-fight, sharks will be seen longingly gazing up to the ship's decks, like hungry dogs round a table where red meat is being carved, ready to bolt down every killed man that is tossed to them. ~ Moby Dick by Herman Melville
Learn More about Moby Dick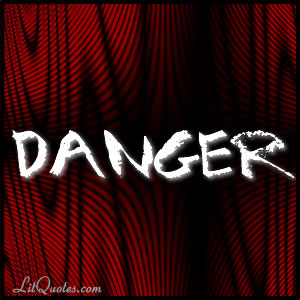 Fear of danger is ten thousand times more terrifying than danger itself. ~ Robinson Crusoe by Daniel Defoe
"You have plenty of courage, I am sure," answered Oz. "All you need is confidence in yourself. There is no living thing that is not afraid when it faces danger. The true courage is in facing danger when you are afraid, and that kind of courage you have in plenty." ~ The Wonderful Wizard of Oz by L. Frank Baum
"Do you know anything on earth which has not a dangerous side if it is mishandled and exaggerated? " ~ The Land of Mist by Sir Arthur Conan Doyle
It is in the uncompromisingness with which dogma is held and not in the dogma or want of dogma that the danger lies. ~ The Way of All Flesh by Samuel Butler
By this, he seemed to mean, not only that the most reliable and useful courage was that which arises from the fair estimation of the encountered peril, but that an utterly fearless man is a far more dangerous comrade than a coward. ~ Moby Dick by Herman Melville
A man will tell you that he has worked in a mine for forty years unhurt by an accident as a reason why he should apprehend no danger, though the roof is beginning to sink. ~ Silas Marner by George Eliot
More Danger Quotes from Literature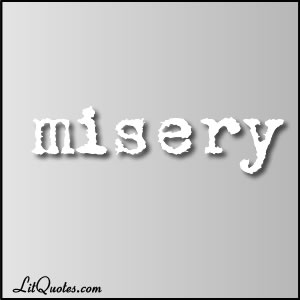 It's not fun to think about, but misery is part of the human condition.
Ah, happiness courts the light, so we deem the world is gay; but misery hides aloof, so we deem that misery there is none. ~ Bartleby, the Scrivener by Herman Melville

The agony of my feelings allowed me no respite; no incident occurred from which my rage and misery could not extract its food. ~ Frankenstein by Mary Shelley
Passion takes no count of time; peril marks no hours or minutes; wrong makes its own calendar; and misery has solar systems peculiar to itself. ~ The True Story of Guenever by Elizabeth Stuart Phelps
Yes, I was a fool, but I was in love, and though I was suffering the greatest misery I had ever known I would not have had it otherwise for all the riches of Barsoom. Such is love, and such are lovers wherever love is known. ~ A Princess of Mars by Edgar Rice Burroughs
There are a set of religious, or rather moral writers, who teach that virtue is the certain road to happiness, and vice to misery, in this world. A very wholesome and comfortable doctrine, and to which we have but one objection, namely, that it is not true. ~ Tom Jones by Henry Fielding
More Quotes from Literature about Misery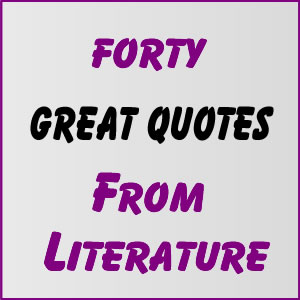 Need some advice or perspective?  Here are 40 great quotes from literature that may help.  These are some of our favorites from our words of wisdom quote collection.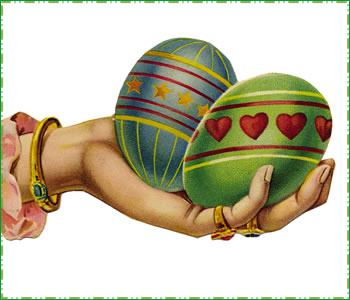 First of all, for those of you that celebrate the holiday, Happy Easter!
Secondly, I've added new quotes to the site. We're now over 2,500 quotes! If you have a quote that you'd like to see added to the site, you can submit your quote here.
Power resides where men believe it resides. No more and no less. ~ A Clash of Kings by George R. R. Martin
My civilization is not even skin deep—it does not go deeper than my clothes. ~ The Return of Tarzan by Edgar Rice Burroughs
We have only one story. All novels, all poetry, are built on the never-ending contest in ourselves of good and evil. ~ East of Eden by John Steinbeck
He lives, then, on ginger-nuts, thought I; never eats a dinner, properly speaking; he must be a vegetarian then; but no; he never eats even vegetables, he eats nothing but ginger-nuts. My mind then ran on in reveries concerning the probable effects upon the human constitution of living entirely on ginger-nuts. ~ Bartleby, the Scrivener by Herman Melville
I have never understood this quote.  If this makes sense to anyone please explain it to me.
Hell is an idea first born on an undigested apple-dumpling; and since then perpetuated through the hereditary dyspepsias nurtured by Ramadans. ~ Moby Dick by Herman Melville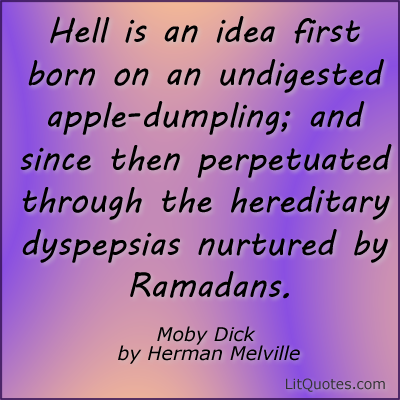 I've posted this on the LitQuotes Facebook page as well as the LitQuotes Twitter Feed for easier sharing.
"We are plain quiet folk and have no use for adventures. Nasty disturbing uncomfortable things! Make you late for dinner!" ~ The Hobbit by J. R. R. Tolkien
"Adventurer" — he that goes out to meet whatever may come. Well, that is what we all do in the world one way or another. ~ Allan Quatermain by H. Rider Haggard
His love of danger, his intense appreciation of the drama of an adventure–all the more intense for being held tightly in–his consistent view that every peril in life is a form of sport, a fierce game betwixt you and Fate, with Death as a forfeit, made him a wonderful companion at such hours. ~ The Lost World by Sir Arthur Conan Doyle
It is in vain to say human beings ought to be satisfied with tranquillity: they must have action; and they will make it if they cannot find it. ~ Jane Eyre by Charlotte Bronte
By this, he seemed to mean, not only that the most reliable and useful courage was that which arises from the fair estimation of the encountered peril, but that an utterly fearless man is a far more dangerous comrade than a coward. ~ Moby Dick by Herman Melville
See More Adventure Quotes from Literature