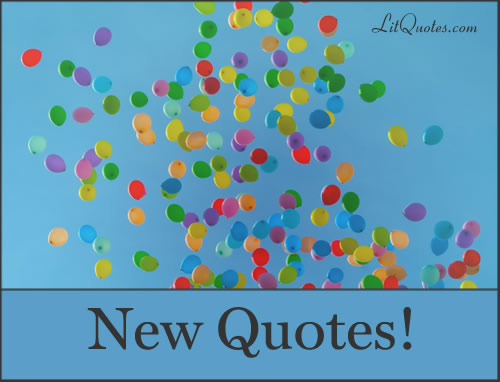 We added new quotes to the site today.  All of the quotes on this site list an author and a source. Over the next few weeks we'll add these quotes to topics.  With these new quotes we've got more than 2,800 quotes.
Here are some quotes from the new additions, but you can see them all on the new quotes page.  If you have a quote that you'd like to see added to the site, you can contribute a quote.
"I'm tired of hearing you men say that this and that and the other isn't woman's work. Any work is woman's work that a woman can do well." ~ Roast Beef, Medium by Edna Ferber
The sense of humor dies hard. ~ Personality Plus by Edna Ferber
They were strange, the facts about them: their staying inside by day, their avoidance of garlic, their death by stake, their reputed fear of crosses, their supposed dread of mirrors. ~ I Am Legend by Richard Matheson
"I say alone, for one who sits by a sleeper is indeed alone; perhaps more alone than he can realize." ~ The Shunned House by H. P. Lovecraft
There were a Rattling and Rolling, Groaning, Screeching, and Hissing, such as no Things of this Earth cou'd raise up, and which must needs have come from those Caves that only black Magick can discover, and only the Divell unlock. ~ The Dunwich Horror by H. P. Lovecraft
The ghostly winter silence had given way to the great spring murmur of awakening life. ~ The Call of the Wild by Jack London
"Didst thou ever see a lark in a cage? Such is the soul in the body." ~ The Duchess of Malfi by John Webster
"Don't think of what's past!" said she. "I am not going to think outside of now. Why should we! Who knows what to-morrow has in store?" ~ Tess of the D'Urbervilles by Thomas Hardy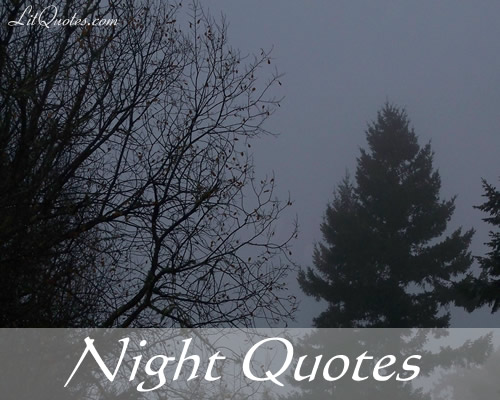 No man knows till he has suffered from the night how sweet and dear to his heart and eye the morning can be. ~ Dracula by Bram Stoker
"The owl, night's herald." ~ Venus and Adonis by William Shakespeare
They never pulled the curtains till it was too dark to see, nor shut the windows till it was too cold. Why shut out the day before it was over? The flowers were still bright; the birds chirped. You could see more in the evening often when nothing interrupted, when there was no fish to order, no telephone to answer. ~ Between the Acts by Virginia Woolf
The longest way must have its close,—the gloomiest night will wear on to a morning. ~ Uncle Tom's Cabin by Harriet Beecher Stowe
In the dead vast and middle of the night. ~ Hamlet, Prince of Denmark by William Shakespeare
At the enchanted metropolitan twilight I felt a haunting loneliness sometimes, and felt it in others–poor young clerks who loitered in front of windows waiting until it was time for a solitary restaurant dinner–young clerks in the dusk, wasting the most poignant moments of night and life. ~ The Great Gatsby by F. Scott Fitzgerald
The cool peace and dewy sweetness of the night filled me with a mood of hope: not hope on any definite point, but a general sense of encouragement and heart-ease. ~ Villette by Charlotte Bronte
Night, the mother of fear and mystery, was coming upon me. ~ The War of the Worlds by H. G. Wells
Once upon a midnight dreary, while I pondered, weak and weary,
Over many a quaint and curious volume of forgotten lore– ~ The Raven by Edgar Allan Poe
With a fierce action of her hand, as if she sprinkled hatred on the ground, and with it devoted those who were standing there to destruction, she looked up once at the black sky, and strode out into the wild night. ~ Dombey and Son by Charles Dickens
Leonard looked at her wondering, and had the sense of great things sweeping out of the shrouded night. But he could not receive them, because his heart was still full of little things. ~ Howards End by E. M. Forster
And when, on the still cold nights, he pointed his nose at a star and howled long and wolflike, it was his ancestors, dead and dust, pointing nose at star and howling down through the centuries and through him. ~ The Call of the Wild by Jack London
"Lead on!" said Scrooge. "Lead on! The night is waning fast, and it is precious time to me, I know. Lead on, Spirit!" ~ A Christmas Carol by Charles Dickens
"Good night, sweet prince, and flights of angels sing thee to thy rest!" ~ Hamlet, Prince of Denmark by William Shakespeare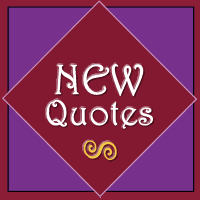 Today I added two dozen new quotes to the collection.  Some of my favorites are:
It has been said that the love of money is the root of all evil. The want of money is so quite as truly. ~ Erewhon by Samuel Butler
I am I, and I won't subordinate my taste to the unanimous judgment of mankind. ~ Martin Eden by Jack London
"Death and taxes and childbirth! There's never any convenient time for any of them!" ~ Gone With The Wind by Margaret Mitchell
"No one believes more firmly than Comrade Napoleon that all animals are equal. He would be only too happy to let you make your decisions for yourselves. But sometimes you might make the wrong decisions, comrades, and then where should we be?" ~ Animal Farm by George Orwell
The big round tears
Coursed one another down his innocent nose
In piteous chase. ~ As You Like It by William Shakespeare
"Miss Taggart, do you know the hallmark of the second-rater? It's resentment of another man's achievement." ~ Atlas Shrugged by Ayn Rand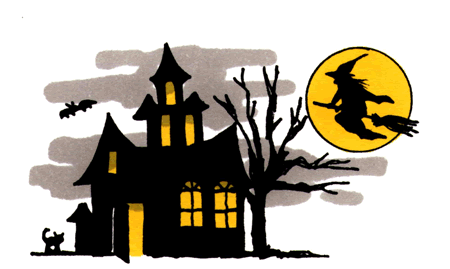 I hope you all have a fun and spooky Halloween.  Here are some of my favorite scary quotes in honour of the day . . . .
"Never walk near the bed; to a ghost your ankle is your most vulnerable part–once in bed, you're safe; he may lie around under the bed all night, but you're safe as daylight. If you still have doubts pull the blanket over your head." ~ This Side of Paradise by F. Scott Fitzgerald
All things pass. Only remain cosmic force and matter, ever in flux, ever acting and reacting and realizing the eternal types—the priest, the soldier, and the king. Out of the mouths of babes comes the wisdom of all the ages. Some will fight, some will rule, some will pray; and all the rest will toil and suffer sore while on their bleeding carcasses is reared again, and yet again, without end, the amazing beauty and surpassing wonder of the civilized state. ~ The Scarlet Plague by Jack London
'Tis now the very witching time of night,
When churchyards yawn, and hell itself breathes out
Contagion to this world. ~ Hamlet, Prince of Denmark by William Shakespeare
One disagreeable result of whispering is that it seems to evoke an atmosphere of silence, haunted by the ghosts of sound-strange cracks and tickings, the rustling of garments that have no substance in them, and the tread of dreadful feet that would leave no mark on the sea-sand or the winter snow. ~ Bleak House by Charles Dickens
It used to puzzle him that, after dark, someone would look in round the edge of the bedroom door, and withdraw again too rapidly for him to see the face. ~ The Other Wing by Algernon Blackwood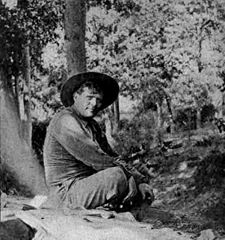 I'm reading The Scarlet Plague by Jack London.  (pictured on the left)  It's a post-apocalyptic novel written published in 1912.  The Scarlet Plague is available for free from Project Gutenberg and Amazon.
The novel has presented two shocks so far.  The first one was that the author of White Fang and Call of the Wild also wrote science fiction.  I received my second shock when I read the details of the apocalypse.   In the world of The Scarlet Plague we don't have much time left.
"2012," he shrilled, and then fell to cackling grotesquely. "That was the year Morgan the Fifth was appointed President of the United States by the Board of Magnates. It must have been one of the last coins minted, for the Scarlet Death came in 2013. Lord! Lord!—think of it!"