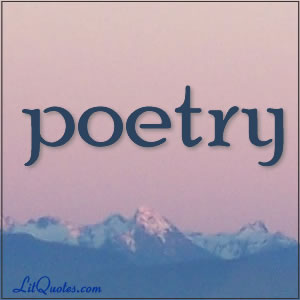 We have only one story. All novels, all poetry, are built on the never-ending contest in ourselves of good and evil. ~ East of Eden by John Steinbeck
She carried her pocket Shakespeare about with her, and met life fortified by the words of the poets. ~ Night and Day by Virginia Woolf
How is it that the poets have said so many fine things about our first love, so few about our later love? Are their first poems their best? Or are not those the best which come from their fuller thought, their larger experience, their deeper-rooted affections? ~ Adam Bede by George Eliot
"She dotes on poetry, sir. She adores it; I may say that her whole soul and mind are wound up, and entwined with it. She has produced some delightful pieces, herself, sir. You may have met with her `Ode to an Expiring Frog,' sir."  ~ The Pickwick Papers by Charles Dickens
More Quotes About Poetry from Literature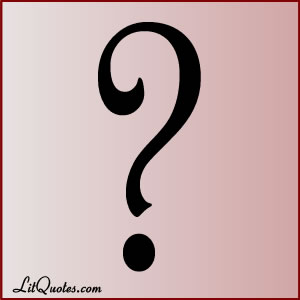 Have you ever thought about questions?  Questions are very, very important.  Without questions we'd have no answers.
Those are my thoughts on questions.  Now here are five quotes from literature about questions:
There are no ugly questions except those clothed in condescension. ~ East of Eden by John Steinbeck
Aunt Polly asked him questions that were full of guile, and very deep—for she wanted to trap him into damaging revealments. Like many other simple-hearted souls, it was her pet vanity to believe she was endowed with a talent for dark and mysterious diplomacy, and she loved to contemplate her most transparent devices as marvels of low cunning. ~ The Adventures of Tom Sawyer by Mark Twain
"What is any public question but a conglomeration of private interests?" ~ The Warden by Anthony Trollope
"Questions are never indiscreet. Answers sometimes are." ~ An Ideal Husband by Oscar Wilde
"I feel very strongly about putting questions; it partakes too much of the style of the day of judgment." ~ The Strange Case of Dr. Jekyll and Mr. Hyde by Robert Louis Stevenson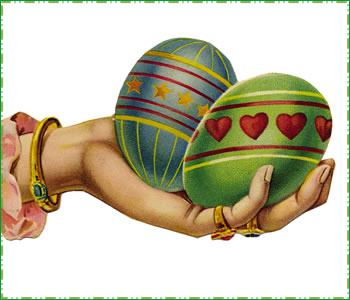 First of all, for those of you that celebrate the holiday, Happy Easter!
Secondly, I've added new quotes to the site. We're now over 2,500 quotes! If you have a quote that you'd like to see added to the site, you can submit your quote here.
Power resides where men believe it resides. No more and no less. ~ A Clash of Kings by George R. R. Martin
My civilization is not even skin deep—it does not go deeper than my clothes. ~ The Return of Tarzan by Edgar Rice Burroughs
We have only one story. All novels, all poetry, are built on the never-ending contest in ourselves of good and evil. ~ East of Eden by John Steinbeck
He lives, then, on ginger-nuts, thought I; never eats a dinner, properly speaking; he must be a vegetarian then; but no; he never eats even vegetables, he eats nothing but ginger-nuts. My mind then ran on in reveries concerning the probable effects upon the human constitution of living entirely on ginger-nuts. ~ Bartleby, the Scrivener by Herman Melville