Guest post by Lucy Adams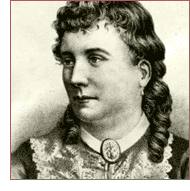 Literature has a way of preserving memories, entertaining a reader, and teaching valuable lessons to generations. People who have written it may have long been dead yet living because of their captivating pieces. Such was the case of Mary Elizabeth Braddon (1835-1915), an English novelist in the Victorian era. Here are more facts about her life and work:
Braddon's parents were separated – Her mother, Fanny, left her husband when Braddon was only four. The major reason for the move was infidelity. During that time, being a single mother was very rare.
She was well educated – Braddon was privately educated in England and France.
Mary Elizabeth Braddon was also an actress – Besides writing, Braddon was an actor. Her motivation was the fact that her family was going through financial difficulties. She supported her mother with the money that she raised. The acting career lasted for 8 years. Because of the controversy involved in being an actress,   she took a stage name-Mary Seyton.
She had famous mentors – Just like many great people, Braddon had mentors to offer her the advice and help that she needed to thrive in her career. The most prominent ones were John Gilby and Edward Bulwer-Lytton.
Braddon was one of the founders of "sensation fiction" – Along with Willkie Collins and Ellen Wood (Mrs. Henry Wood), Braddon was responsible for the genre of sensation fiction. Her most popular sensational novel was the Lady Audrey's Secret (1862).
She founded a magazine – In 1866, Braddon founded the Belgravia magazine. She presented sensational novels, travel narratives fashion its and poems among other literary works to the audience.
She had a controversial love life – In 1860, Braddon met John Maxwell. She moved in with him the next year, despite the fact that he was already married. Upon the death of the first wife, in 1874, the couple got married.
Certainly, Mary Elizabeth Braddon was a great writer and was able to overcome many odds in her life. She rose above these problems and is still famous today.
Phoebe Marks was a person who never lost her individuality. Silent and self-constrained, she seemed to hold herself within herself, and take no color from the outer world. ~ Lady Audley's Secret by Mary Elizabeth Braddon
---
Guest Author Bio:
Lucy Adams is a blogger from edublogawards.org. She's an author that never refuses to cover intriguing topics. Lucy is always in touch and very responsive so that you can expect a fast reply to your each and every request. Share the ideas you have in mind and start a mutually beneficial collaboration right away!