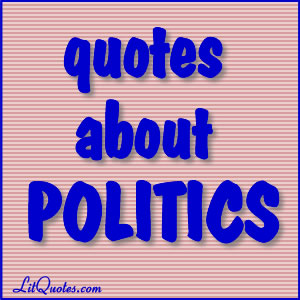 Often I must speak other than I think. That is called diplomacy. ~ Dune Messiah by Frank Herbert
"There is no act of treachery or meanness of which a political party is not capable; for in politics there is no honour." ~ Vivian Grey by Benjamin Disraeli
A drunkard or a gambler may be weaned from his ways, but not a politician. ~ Phineas Redux by Anthony Trollope
He was born to be a senator. He never said anything important, and he always said it sonorously. ~ Elmer Gantry by Sinclair Lewis
"There is no gambling like politics." ~ Endymion by Benjamin Disraeli
"You see my kind of loyalty was loyalty to one's country, not to its institutions or its office-holders. The country is the real thing, the substantial thing, the eternal thing; it is the thing to watch over, and care for, and be loyal to; institutions are extraneous." ~ A Connecticut Yankee in King Arthur's Court by Mark Twain
A drunkard or a gambler may be weaned from his ways, but not a politician. ~ Phineas Redux by Anthony Trollope
From politics, it was an easy step to silence. ~ Northanger Abbey by Jane Austen
"The world is wearied of statesmen; whom democracy has degraded into politicians." ~ Lothair by Benjamin Disraeli
And he gave it for his opinion, "that whoever could make two ears of corn, or two blades of grass, to grow upon a spot of ground where only one grew before, would deserve better of mankind, and do more essential service to his country, than the whole race of politicians put together." ~ Gulliver's Travels by Jonathan Swift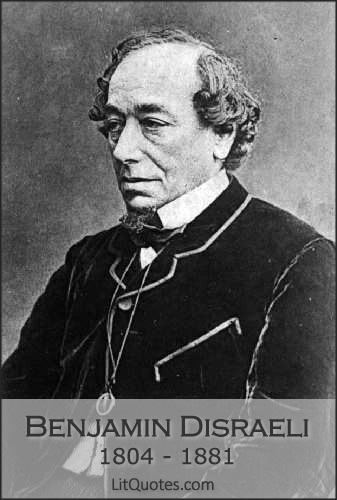 Benjamin Disraeli was born on December 21, 1804  and died on April 19, 1881.  He was a talented writer as well as a politician.  He twice served as Prime Minister. His works include Sybil, Coningsby and Vivian Grey.
While Disraeli was British, all of his grandparents and great grandparents were born in Italy
He was of Jewish birth, but later converted to Christianity.  As of this writing, he's the only person to hold the office of British Prime Minister who was born Jewish.
In 1839 Disraeli married Mary Anne Lewis.  She was twelve years older than Disraeli and had an income of £5,000 a year. "Dizzy married me for my money," his wife later said, "But, if he had the chance again, he would marry me for love."
He served as Prime Minister twice.  The first time was from February 27 to 1 December of 1868.  The second time Disraeli was Prime Minister was from February 20, 1874 to April 21, 1880.
Disraeli is remembered for his political battles with the Liberal leader, William Ewart Gladstone.
Hughenden Manor, a red brick Victorian mansion, located in High Wycombe, Buckinghamshire, England was Disraeli's country house.  In 1862 the Disraelis had the house remodelled by the architect Edward Buckton Lamb. Today, it is owned by the National Trust and open to the public.
Disraeli had a close friendship with Queen Victoria, who in 1876 created him Earl of Beaconsfield.
"There is no act of treachery or meanness of which a political party is not capable; for in politics there is no honour." ~ Vivian Grey by Benjamin Disraeli
"We are all born for love," said Morley. "It is the principle of existence, and its only end." ~ Sybil by Benjamin Disraeli
"Nurture your mind with great thoughts. To believe in the heroic makes heroes." ~ Coningsby by Benjamin Disraeli
Novels by Benjamin Disraeli
Vivian Grey
Popanilla
The Young Duke
Contarini Fleming
Ixion in Heaven
The Wondrous Tale of Alroy
The Rise of Iskander
The Infernal Marriage
Henrietta Temple
Venetia
Coningsby, or the New Generation
Sybil, or The Two Nations
Tancred, or the New Crusade
Lothair
Endymion
Falconet (unfinished)
More About Benjamin Disraeli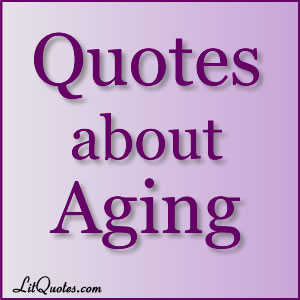 "At forty you stand upon the threshold of life, with values learned and rubbish cleared away. " ~ A Prisoner in Fairyland by Algernon Blackwood
"Anybody is liable to rheumatism in her legs, Anne. It's only old people who should have rheumatism in their souls, though. Thank goodness, I never have. When you get rheumatism in your soul you might as well go and pick out your coffin." ~ Anne of the Island by Lucy Maud Montgomery
At last, however, his conversation became unbearable–a foul young man is odious, but a foul old one is surely the most sickening thing on earth. One feels that the white upon the hair, like that upon the mountain, should signify a height attained. ~ The Stark Munro Letters by Sir Arthur Conan Doyle
When one grew old, the whole world was in conspiracy to limit freedom, and for what reason?–just to keep the breath in him a little longer. He did not want it at such cost. ~ The Forsyte Saga by John Galsworthy
Indeed, he would sometimes remark, when a man fell into his anecdotage, it was a sign for him to retire from the world. ~ Lothair by Benjamin Disraeli
"No one is ever too old to do a foolish thing." ~ Uncle Silas by J. Sheridan Le Fanu
"As I said just now, the world has gone past me. I don't blame it; but I no longer understand it. Tradesmen are not the same as they used to be, apprentices are not the same, business is not the same, business commodities are not the same. Seven-eighths of my stock is old-fashioned. I am an old-fashioned man in an old-fashioned shop, in a street that is not the same as I remember it. I have fallen behind the time, and am too old to catch it again." ~ Dombey and Son by Charles Dickens
"The young have aspirations that never come to pass, the old have reminiscences of what never happened. It's only the middle-aged who are really conscious of their limitations–that is why one should be so patient with them." ~ Reginald by Saki
Don't ever think the poetry is dead in an old man because his forehead is wrinkled, or that his manhood has left him when his hand trembles! If they ever WERE there, they ARE there still! ~ The Autocrat of the Breakfast Table by Oliver Wendell Holmes, Sr.
There comes with old age a time when the heart is no longer fusible or malleable, and must retain the form in which it has cooled down. ~ Uncle Silas by J. Sheridan Le Fanu
What is the meaning of life? That was all–a simple question; one that tended to close in on one with years. The great revelation had never come. The great revelation perhaps never did come. Instead there were little daily miracles, illuminations, matches struck unexpectedly in the dark. ~ To the Lighthouse by Virginia Woolf
More Quotes About Aging from Literature 

Classic literature can be inspirational.  It can be poetic.  It can be educational.  Classic literature can also be really funny!  Check out these ten funny quotes from literature:
1 – "How dreadful!" cried Lord Henry. "I can stand brute force, but brute reason is quite unbearable. There is something unfair about its use. It is hitting below the intellect." ~  The Picture of Dorian Gray by Oscar Wilde
2 – "If you could see my legs when I take my boots off, you'd form some idea of what unrequited affection is."  ~  Dombey and Son by Charles Dickens
3 – Indeed, he would sometimes remark, when a man fell into his anecdotage, it was a sign for him to retire from the world. ~  Lothair by Benjamin Disraeli
4 – You cannot make a man by standing a sheep on its hind-legs. But by standing a flock of sheep in that position you can make a crowd of men. ~  Zuleika Dobson by Sir Max Beerbohm
5 – The bishop did not whistle: we believe that they lose the power of doing so on being consecrated. ~  The Warden by Anthony Trollope
6 – A story with a moral appended is like the bill of a mosquito. It bores you, and then injects a stinging drop to irritate your conscience. ~  Strictly Business by O. Henry
7  – From politics, it was an easy step to silence. ~  Northanger Abbey by Jane Austen
8 – Few things are harder to put up with than the annoyance of a good example. ~  The Tragedy of Pudd'nhead Wilson by Mark Twain
9 – It is not that I object to the work, mind you; I like work: it fascinates me. I can sit and look at it for hours. ~  Three Men in a Boat by Jerome K. Jerome
10 – I don't want to repeat my innocence. I want the pleasure of losing it again. ~  This Side of Paradise by F. Scott Fitzgerald
If you enjoyed these quotes check out our humorous quotes page or our random funny quote feature.