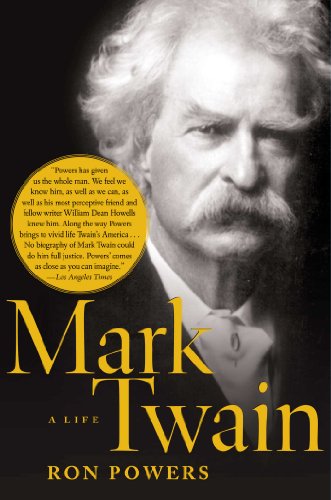 Check out the Kindle version of Mark Twain: A Life
 :
 In Mark Twain, Ron Powers consummates years of thought and research with a tour de force on the life of our culture's founding father, re-creating the 19th century's vital landscapes and tumultuous events while restoring the human being at their center. He offers Sam Clemens as he lived, breathed, and wrote — drawing heavily on the preserved viewpoints of the people who knew him best (especially the great William Dean Howells, his most admiring friend and literary co-conspirator), and on the annals of the American 19th century that he helped shape. Powers's prose rivals Mark Twain's own in its blend of humor, telling detail, and flights of lyricism. With the assistance of the Mark Twain Project at Berkeley, he has been able to draw on thousands of letters and notebook entries, many only recently discovered.
Nothing so needs reforming as other people's habits. ~ The Tragedy of Pudd'nhead Wilson by Mark Twain
Now he found out a new thing–namely, that to promise not to do a thing is the surest way in the world to make a body want to go and do that very thing. ~ The Adventures of Tom Sawyer by Mark Twain
Old habit of mind is one of the toughest things to get away from in the world. It transmits itself like physical form and feature. ~ A Connecticut Yankee in King Arthur's Court by Mark Twain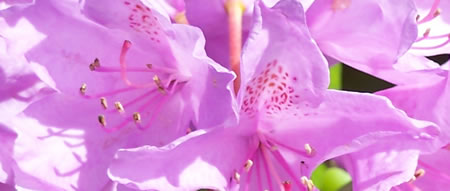 Today is the first day of summer.  Enjoy!  Here are five literary quotes about summer to help you savor the moment.
And so with the sunshine and the great bursts of leaves growing on the trees–just as things grow in fast movies–I had that familiar conviction that life was beginning over again with the summer. ~ The Great Gatsby by F. Scott Fitzgerald
Saturday morning was come, and all the summer world was bright and fresh, and brimming with life. There was a song in every heart; and if the heart was young the music issued at the lips. There was cheer in every face and a spring in every step. ~ The Adventures of Tom Sawyer by Mark Twain
Her love was entire as a child's, and though warm as summer it was fresh as spring. ~ Far From The Madding Crowd by Thomas Hardy
A tranquil summer sunset shone upon him as he approached the end of his walk, and passed through the meadows by the river side. He had that sense of peace, and of being lightened of a weight of care, which country quiet awakens in the breasts of dwellers in towns. ~ Little Dorrit by Charles Dickens
He has been eight years upon a project for extracting sunbeams out of cucumbers, which were to be put in phials hermetically sealed, and let out to warm the air in raw inclement summers. ~ Gulliver's Travels by Jonathan Swift
Check out the entire collection of summer quotes from literature.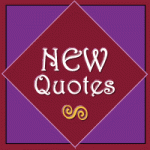 Today I added new quotes to the database.  This brings the collection to 2,259, sourced quotes from literature.  Will 2013 be the year that the collection grows to 3,000 quotes?  Here's hoping!  If you'd like to help make that happen, feel free to contribute a quote. In the meantime, here are my favorite quotes from the new batch.
Scattered wits take a long time picking up. ~ Great Expectations by Charles Dickens
Work consists of whatever a body is obliged to do, and that Play consists of whatever a body is not obliged to do. ~ The Adventures of Tom Sawyer by Mark Twain
That which is loved may pass, but love hath no end. ~ Parables Of A Province by Gilbert Parker
Wit is always at the elbow of want. ~ No Defense by Gilbert Parker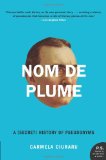 We all know that Samuel Clemens wrote under  the name of Mark Twain and that George Eliot was really Marian Evans.  But did you ever wonder about the back-story? In Nom de Plume: A (Secret) History of Pseudonyms Carmela Ciuraru examines this issue.  The book looks at the lives of of authors who used pen names.   In addition to Twain and Eliot, there are chapters on the Bronte sisters, Lewis Carroll, O. Henry, George Orwell and others.
Exploring the fascinating stories of more than a dozen authorial impostors across several centuries and cultures, Carmela Ciuraru plumbs the creative process and the darker, often crippling aspects of fame. Part detective story, part exposé, part literary history, Nom de Plume is an absorbing psychological meditation on identity and creativity.
Learn More – Nom de Plume: A (Secret) History of Pseudonyms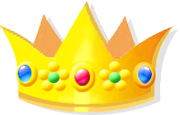 Over the weekend I added a new quote topic, king quotes.  You can see all of the king quotes here.  In the meantime here are a few of my favorites:
"All I say is, kings is kings, and you got to make allowances. Take them all around, they're a mighty ornery lot. It's the way they're raised." ~  The Adventures of Huckleberry Finn by Mark Twain
A well proportioned mind is one which shows no particular bias; one of which we may safely say that it will never cause its owner to be confined as a madman, tortured as a heretic, or crucified as a blasphemer. Also, on the other hand, that it will never cause him to be applauded as a prophet, revered as a priest, or exalted as a king. Its usual blessings are happiness and mediocrity. ~  Return of the Native by Thomas Hardy
"When I am king, they shall not have bread and shelter only, but also teachings out of books; for a full belly is little worth where the mind is starved." ~  The Prince and The Pauper by Mark Twain

Classic literature can be inspirational.  It can be poetic.  It can be educational.  Classic literature can also be really funny!  Check out these ten funny quotes from literature:
1 – "How dreadful!" cried Lord Henry. "I can stand brute force, but brute reason is quite unbearable. There is something unfair about its use. It is hitting below the intellect." ~  The Picture of Dorian Gray by Oscar Wilde
2 – "If you could see my legs when I take my boots off, you'd form some idea of what unrequited affection is."  ~  Dombey and Son by Charles Dickens
3 – Indeed, he would sometimes remark, when a man fell into his anecdotage, it was a sign for him to retire from the world. ~  Lothair by Benjamin Disraeli
4 – You cannot make a man by standing a sheep on its hind-legs. But by standing a flock of sheep in that position you can make a crowd of men. ~  Zuleika Dobson by Sir Max Beerbohm
5 – The bishop did not whistle: we believe that they lose the power of doing so on being consecrated. ~  The Warden by Anthony Trollope
6 – A story with a moral appended is like the bill of a mosquito. It bores you, and then injects a stinging drop to irritate your conscience. ~  Strictly Business by O. Henry
7  – From politics, it was an easy step to silence. ~  Northanger Abbey by Jane Austen
8 – Few things are harder to put up with than the annoyance of a good example. ~  The Tragedy of Pudd'nhead Wilson by Mark Twain
9 – It is not that I object to the work, mind you; I like work: it fascinates me. I can sit and look at it for hours. ~  Three Men in a Boat by Jerome K. Jerome
10 – I don't want to repeat my innocence. I want the pleasure of losing it again. ~  This Side of Paradise by F. Scott Fitzgerald
If you enjoyed these quotes check out our humorous quotes page or our random funny quote feature.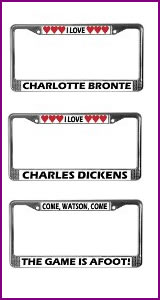 Show the world that you're a fan of literature with out new license plate frames.  We've got them for Charles Dickens, Sir Arthur Conan Doyle, Mark Twain, Edgar Allan Poe and more.