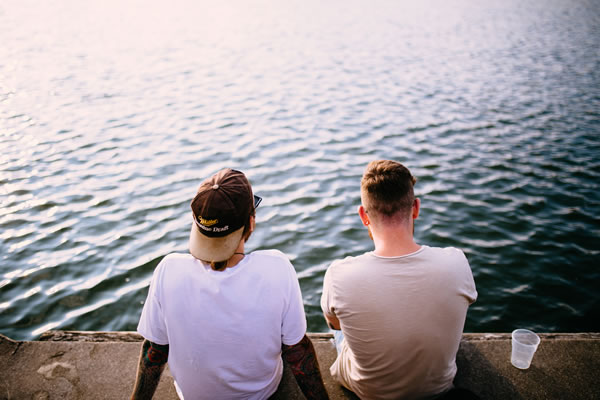 The site has a large collection of literary quotes about communication.  These are some of my favorites.
In reality they all lived in a kind of hieroglyphic world, where the real thing was never said or done or even thought, but only represented by a set of arbitrary signs. ~ The Age of Innocence by Edith Wharton
"Old men only lie in wait for people to ask them to talk. Then they rattle on like a rusty elevator wheezing up a shaft." ~ Dandelion Wine by Ray Bradbury
Often I must speak other than I think. That is called diplomacy. ~ Dune Messiah by Frank Herbert
"With no intention to take offence, I deny your right to put words into my mouth." ~ Treasure Island by Robert Louis Stevenson
Our words are giants when they do us an injury, and dwarfs when they do us a service. ~ The Woman in White by Wilkie Collins
"Words," said the host, at length, "is worse'n bullets. You never know what they'll hit." ~ The Night Horseman by Max Brand
Fair speech may hide a foul heart. ~ The Two Towers by J. R. R. Tolkien
We are never half so interesting when we have learned that language is given us to enable us to conceal our thoughts. ~ Anne of the Island by Lucy Maud Montgomery
"I make no manner of doubt that you threw a very diamond of truth at me, though you see it hit me so directly in the face that it wasn't exactly appreciated, at first." ~ Uncle Tom's Cabin by Harriet Beecher Stowe
Never tell all you know—not even to the person you know best. ~ The Secret Adversary by Agatha Christie
Fine, large, meaningless, general terms like romance and business can always be related. They take the place of thinking, and are highly useful to optimists and lecturers. ~ The Job by Sinclair Lewis
The fool wonders, the wise man asks. ~ Count Alarcos: A Tragedy by Benjamin Disraeli
A slight throbbing about the temples told me that this discussion had reached saturation point. ~ Right Ho, Jeeves by P. G. Wodehouse
Mrs. Bittacy rustled ominously, holding her peace meanwhile. She feared long words she did not understand. Beelzebub lay hid among too many syllables. ~ The Man Whom the Trees Loved by Algernon Blackwood
To read between the lines was easier than to follow the text. ~ The Portrait of a Lady by Henry James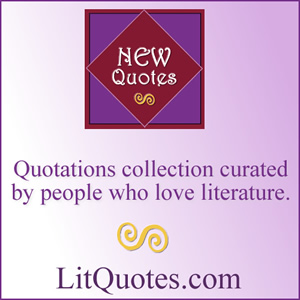 We added some new quotes to the site today.  All of the quotes list an author and a source. Why? This quotation collection is curated by people and NOT by a computer program.
Here are some quotes from the new additions.
It is never quite safe to think we have done with life. When we imagine we have finished our story fate has a trick of turning the page and showing us yet another chapter. ~ Rainbow Valley by Lucy Maud Montgomery
"Pull out from the depths those thoughts that you do not understand, and spread them out in the sunlight and know the meaning of them." ~ A Room With A View by E. M. Forster
"You will be required to do wrong no matter where you go. It is the basic condition of life, to be required to violate your own identity. At some time, every creature which lives must do so. It is the ultimate shadow, the defeat of creation; this is the curse at work, the curse that feeds on all life. Everywhere in the universe." ~ Do Androids Dream of Electric Sheep? by Philip K. Dick
When in doubt, head into the wind. ~ Gunman's Reckoning by Max Brand
"There is no such thing as Death, though there be a thing called Change." ~ She by H. Rider Haggard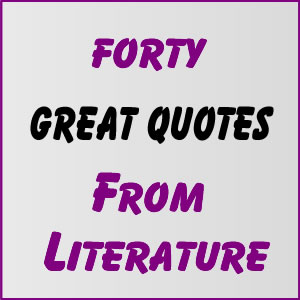 Need some advice or perspective?  Here are 40 great quotes from literature that may help.  These are some of our favorites from our words of wisdom quote collection.
There's love and then there's love that's gone bad. . .
"I loved her till they was a dryness like ashes inside me." ~ The Night Horseman by Max Brand
"Since mine own doors refuse to entertain me,
I'll knock elsewhere, to see if they'll disdain me." ~ The Comedy of Errors by William Shakespeare
He thought her beautiful, believed her impeccably wise; dreamed of her, wrote poems to her, which, ignoring the subject, she corrected in red ink. ~ Mrs. Dalloway by Virginia Woolf
Their lives were ruined,he thought; ruined by the fundamental error of their matrimonial union: that of having based a permanent contract on a temporary feeling. ~ Jude the Obscure by Thomas Hardy
"You said I killed you – haunt me, then! The murdered do haunt their murderers, I believe. I know that ghosts have wandered on earth. Be with me always – take any form – drive me mad! only do not leave me in this abyss, where I cannot find you!" ~ Wuthering Heights by Emily Bronte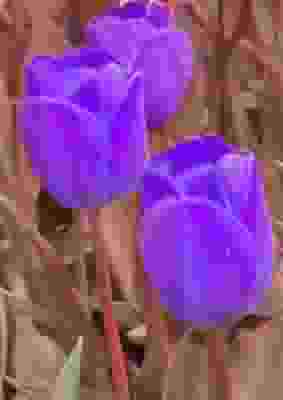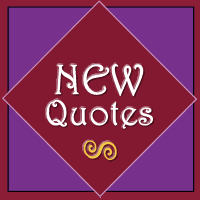 Yesterday I added new quotes to the collection.  Here are my favorites from the new batch.  Remember that if you have a quote that you'd like to see added, you can contribute a quote.
Fair speech may hide a foul heart. ~ The Two Towers by J. R. R. Tolkien
"Why, sometimes I've believed as many as six impossible things before breakfast." ~ Through the Looking-Glass by Lewis Carroll
"Money, you think, is the sole motive to pains and hazard, deception and deviltry, in this world. How much money did the devil make by gulling Eve?" ~ The Confidence-Man by Herman Melville
"Since mine own doors refuse to entertain me,
I'll knock elsewhere, to see if they'll disdain me." ~ The Comedy of Errors by William Shakespeare
"Words," said the host, at length, "is worse'n bullets. You never know what they'll hit." ~ The Night Horseman by Max Brand
Other LitQuotes Features