With fake news running wild, how do we know what's true? Here's what William Shakespeare, Herman Melville, George R. R. Martin and others have to say.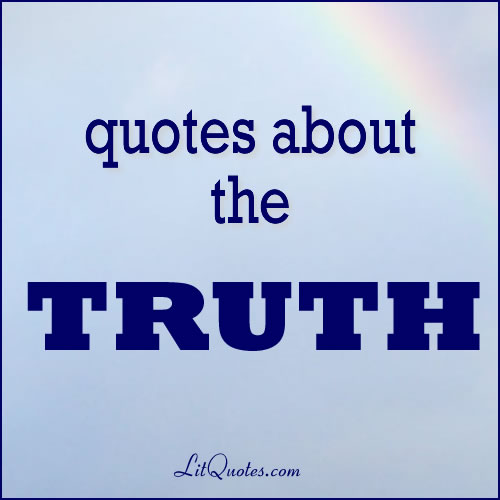 There was a great historian lost in Wolverstone. He had the right imagination that knows just how far it is safe to stray from the truth and just how far to colour it so as to change its shape for his own purposes. ~ Captain Blood by Rafael Sabatini
"Truth is like a thrashing-machine; tender sensibilities must keep out of the way." ~ The Confidence-Man by Herman Melville
You'll find truth in your looking glass, not on the tongues of men. ~ A Feast for Crows by George R. R. Martin
Being in a minority, even a minority of one, did not make you mad. There was truth and there was untruth, and if you clung to the truth even against the whole world, you were not mad. ~ Nineteen Eighty-Four by George Orwell
"It is an old maxim of mine that when you have excluded the impossible, whatever remains, however improbable, must be the truth." ~ The Adventure of the Beryl Coronet by Sir Arthur Conan Doyle
"Journalists say a thing that they know isn't true, in the hope that if they keep on saying it long enough it will be true." ~ The Title by Arnold Bennett
People often claim to hunger for truth, but seldom like the taste when it's served up. ~ A Clash of Kings by George R. R. Martin
"I make no manner of doubt that you threw a very diamond of truth at me, though you see it hit me so directly in the face that it wasn't exactly appreciated, at first." ~ Uncle Tom's Cabin by Harriet Beecher Stowe
Truth is tough. It will not break, like a bubble, at a touch; nay, you may kick it about all day, like a football, and it will be round and full at evening. ~ The Professor at the Breakfast Table by Oliver Wendell Holmes, Sr.
"For truth is truth to the end of reckoning." ~ Measure for Measure by William Shakespeare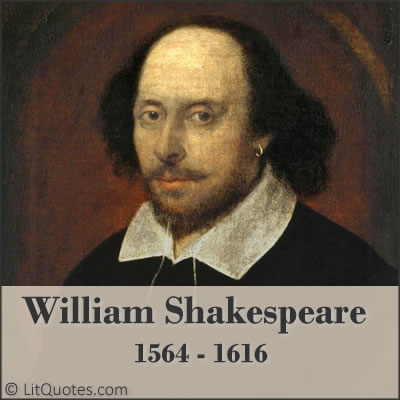 William Shakespeare was an English poet, playwright and actor.  His plays have been translated into every major living language and are performed more often than those of any other playwright.
Shakespeare was baptised on April 26, 1564 and died on April 23, 1616.  While his exact date of birth is unknown, historians believe it to be April 23, 1564.
At the age of 18, Shakespeare married Anne Hathaway.  They had three children: Susanna, and twins Hamnet and Judith. Sometime between 1585 and 1592, Shakespeare began a career in London as an actor, writer, and part-owner of a theatrical company called the Lord Chamberlain's Men.  The company later changed its name to the King's Men.
It's believed that in 1613 Shakespeare retired to Stratford.  He died there three years later.
There are few records of Shakespeare's private life.  That's lead to much speculation about his physical appearance, sexuality, religious beliefs and the authenticity of works attributed to him.
William Shakespeare at Amazon.com
Comedies by William Shakespeare
Histories by William Shakespeare
Tragedies by William Shakespeare
Partial List of Poems by William Shakespeare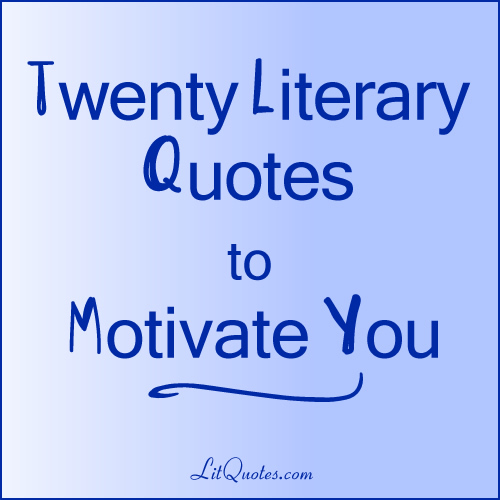 Let's face it.  Life can be tough. To help get you through, here are twenty of the best motivational quotes that literature has to offer . . .
If you need something to worship, then worship life — all life, every last crawling bit of it! We're all in this beauty together! ~ Dune Messiah by Frank Herbert
Even on this small stage we have our two sides, and something might be done by throwing all one's weight on the scale of breadth, tolerance, charity, temperance, peace, and kindliness to man and beast. We can't all strike very big blows, and even the little ones count for something. ~ The Stark Munro Letters by Sir Arthur Conan Doyle
The mind is its own place, and in it self
Can make a Heaven of Hell, a Hell of Heaven. ~ Paradise Lost by John Milton
Out of the night that covers me,
Black as the pit From pole to pole,
I thank whatever gods may be
For my unconquerable soul. ~ Invictus by William Ernest Henley
"I say that the strongest principle of growth lies in human choice." ~ Daniel Deronda by George Eliot
"I hope that real love and truth are stronger in the end than any evil or misfortune in the world." ~ David Copperfield by Charles Dickens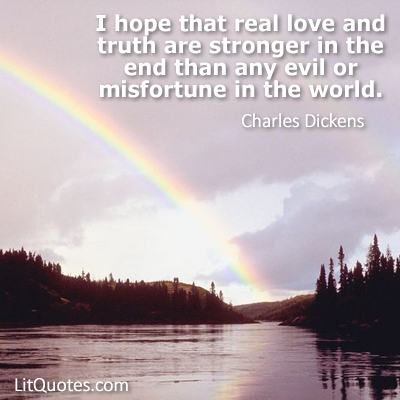 "Look at that sea, girls–all silver and shadow and vision of things not seen. We couldn't enjoy its loveliness any more if we had millions of dollars and ropes of diamonds." ~ Anne of Green Gables by Lucy Maud Montgomery
"I'm not afraid of storms, for I'm learning how to sail my ship." ~ Little Women by Louisa May Alcott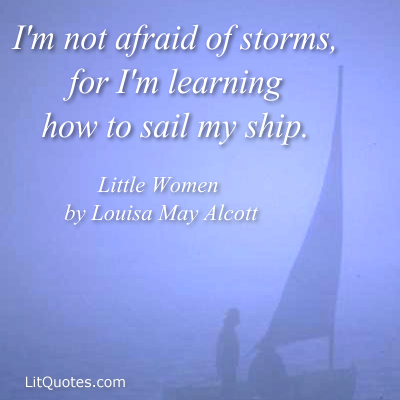 "People are always blaming circumstances for what they are. I don't believe in circumstances. The people who get on in this world are the people who get up and look for the circumstances they want, and, if they can't find them, make them." ~ Mrs. Warren's Profession by George Bernard Shaw
The Sun himself is weak when he first rises, and gathers strength and courage as the day gets on. ~ The Old Curiosity Shop by Charles Dickens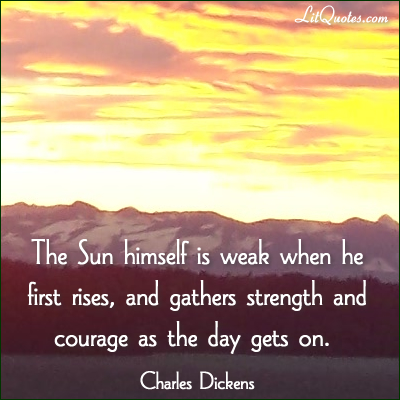 "Nurture your mind with great thoughts. To believe in the heroic makes heroes." ~ Coningsby by Benjamin Disraeli
"As long as the heart beats, as long as body and soul keep together, I cannot admit that any creature endowed with a will has need to despair of life." ~ Journey to the Center of the Earth by Jules Verne
"Love has no age, no limit; and no death." ~ The Forsyte Saga by John Galsworthy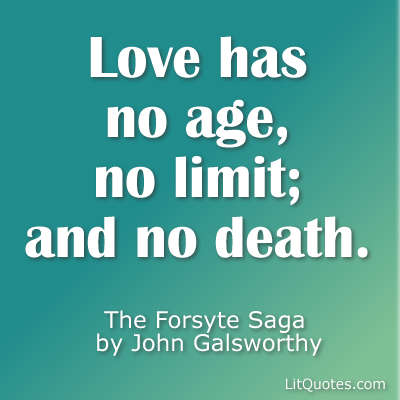 "There are times, young fellah, when every one of us must make a stand for human right and justice, or you never feel clean again." ~ The Lost World by Sir Arthur Conan Doyle
"Virtue is bold, and goodness never fearful." ~ Measure for Measure by William Shakespeare
"The sun does not shine upon this fair earth to meet frowning eyes, depend upon it." ~ Nicholas Nickleby by Charles Dickens
"That is one good thing about this world. . .there are always sure to be more springs." ~ Anne Of Avonlea by Lucy Maud Montgomery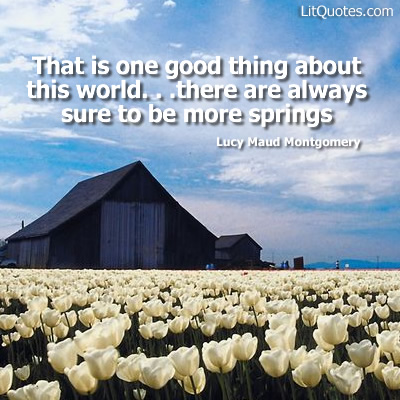 Come what may, I am bound to think that all things are ordered for the best; though when the good is a furlong off, and we with our beetle eyes can only see three inches, it takes some confidence in general principles to pull us through. ~ The Stark Munro Letters by Sir Arthur Conan Doyle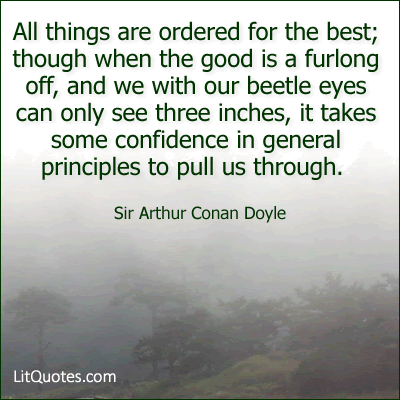 "You know, there are two good things in life, freedom of thought and freedom of action." ~ Of Human Bondage by W. Somerset Maugham
There are dark shadows on the earth, but its lights are stronger in the contrast. ~ The Pickwick Papers by Charles Dickens