"It was as true . . . as turnips is. It was as true . . . as taxes is. And nothing's truer than them." ~ David Copperfield by Charles Dickens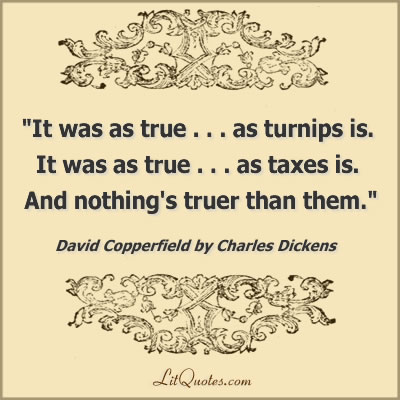 I've posted this at the LitQuotes Facebook page and the LitQuotes Twitter page in case you'd like to share the photo. AND it's on our new Pinterest page.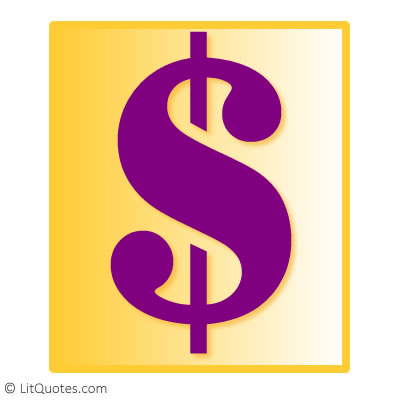 Don't be alarmed, but tax day is coming!  That sad and inevitable fact has got me reviewing my budget and thinking about money.
"Money, you think, is the sole motive to pains and hazard, deception and deviltry, in this world. How much money did the devil make by gulling Eve?" ~ The Confidence-Man by Herman Melville
"Let me give you a tip on a clue to men's characters: the man who damns money has obtained it dishonorably; the man who respects it has earned it." ~ Atlas Shrugged by Ayn Rand
"Death and taxes and childbirth! There's never any convenient time for any of them!" ~ Gone With The Wind by Margaret Mitchell
It has been said that the love of money is the root of all evil. The want of money is so quite as truly. ~ Erewhon by Samuel Butler
I have learned one thing, my friend 'one can get nearly everything with money. It is the hidden machinery which makes the world of success go round. With brains, you say? Yes, money and brains, but without the money brains seldom win alone. ~ No Defense by Gilbert Parker
More Quotes About Money From Literature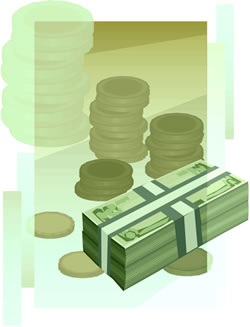 Here are ten quotes from literature about money.
"Simple, generous goodness is the best capital to found the business of this life upon. It lasts when fame and money fail, and is the only riches we can take out of this world with us." ~  Little Men by Louisa May Alcott
But the Law is still, in certain inevitable cases, the pre-engaged servant of the long purse. ~ The Woman in White by Wilkie Collins
"Life and money both behave like loose quicksilver in a nest of cracks. And when they're gone we can't tell where–or what the devil we did with 'em!" ~ The Magnificent Ambersons by Booth Tarkington
Put not your trust in money, but put your money in trust. ~  The Autocrat of the Breakfast Table by Oliver Wendell Holmes, Sr.
"Rich folks may ride on camels, but it an't so easy for 'em to see out of a needle's eye. That is my comfort, and I hope I knows it." ~  Martin Chuzzlewit by Charles Dickens
"Look at that sea, girls–all silver and shadow and vision of things not seen. We couldn't enjoy its loveliness any more if we had millions of dollars and ropes of diamonds." ~ Anne of Green Gables by Lucy Maud Montgomery
"Remuneration! O, that's the Latin word for three farthings." ~ Love's Labour's Lost by William Shakespeare
"Better spend an extra hundred or two on your son's education, than leave it him in your will." ~ The Mill on the Floss by George Eliot
"Money pads the edges of things." ~  Howards End by E. M. Forster
"Ah, nowadays we are all of us so hard up, that the only pleasant things to pay are compliments. They're the only things we can pay." ~ Lady Windermere's Fan by Oscar Wilde
"I call people rich when they're able to meet the requirements of their imagination." ~  The Portrait of a Lady by Henry James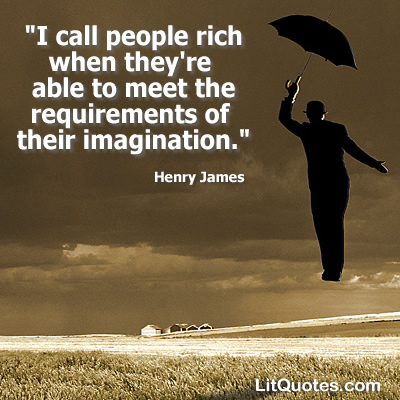 Here's a quote photo to share with friends and family.  I've also posted it on the LitQuotes Facebook page for easier sharing.