The moon gazed on my midnight labours, while, with unrelaxed and breathless eagerness, I pursued nature to her hiding-places. ~ Frankenstein by Mary Shelley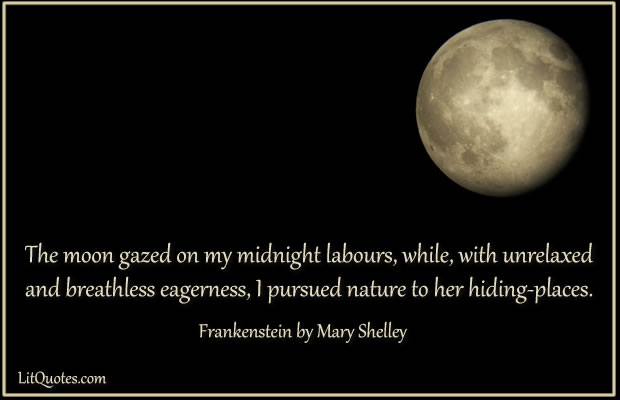 I've posted this at the LitQuotes Facebook page and the LitQuotes Twitter page in case you'd like to share the photo.
Here are five quotes about the moon from literature. . .
May the wind under your wings bear you where the sun sails and the moon walks. ~ The Hobbit by J. R. R. Tolkien
"O, swear not by the moon, the inconstant moon,
That monthly changes in her circled orb,
Lest that thy love prove likewise variable." ~ Romeo and Juliet by William Shakespeare
"I don't remember forms or faces now, but I know the girl was beautiful. I know she was; for in the bright moonlight nights, when I start from my sleep, and all is quiet about me, I see, standing still and motionless in one corner of this cell, a slight and wasted figure with long black hair, which streaming down her back, stirs with no earthly wind, and eyes that fix their gaze on me, and never wink or close." ~ The Pickwick Papers by Charles Dickens
"There is something haunting in the light of the moon; it has all the dispassionateness of a disembodied soul, and something of its inconceivable mystery." ~ Lord Jim by Joseph Conrad
The sky was a midnight-blue, like warm, deep, blue water, and the moon seemed to lie on it like a water-lily, floating forward with an invisible current. ~ One of Ours by Willa Cather