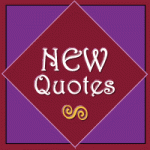 I hope you all had a nice weekend.   I spent some of my spare time adding new quotes to the database.  Here are some of my favorites.  AND if you have a quote that you'd like to see added, feel free to contribute a quote.
The world is a stage, but the play is badly cast. ~ Lord Arthur Savile's Crime by Oscar Wilde
History, like love, is so apt to surround her heroes with an atmosphere of imaginary brightness. ~ The Last of the Mohicans by James Fenimore Cooper
Who controls the past controls the future: who controls the present controls the past. ~ Nineteen Eighty-Four by George Orwell
What is the meaning of life? That was all–a simple question; one that tended to close in on one with years. The great revelation had never come. The great revelation perhaps never did come. Instead there were little daily miracles, illuminations, matches struck unexpectedly in the dark. ~ To the Lighthouse by Virginia Woolf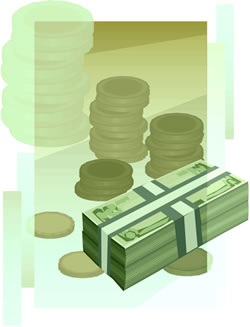 Here are ten quotes from literature about money.
"Simple, generous goodness is the best capital to found the business of this life upon. It lasts when fame and money fail, and is the only riches we can take out of this world with us." ~  Little Men by Louisa May Alcott
But the Law is still, in certain inevitable cases, the pre-engaged servant of the long purse. ~ The Woman in White by Wilkie Collins
"Life and money both behave like loose quicksilver in a nest of cracks. And when they're gone we can't tell where–or what the devil we did with 'em!" ~ The Magnificent Ambersons by Booth Tarkington
Put not your trust in money, but put your money in trust. ~  The Autocrat of the Breakfast Table by Oliver Wendell Holmes, Sr.
"Rich folks may ride on camels, but it an't so easy for 'em to see out of a needle's eye. That is my comfort, and I hope I knows it." ~  Martin Chuzzlewit by Charles Dickens
"Look at that sea, girls–all silver and shadow and vision of things not seen. We couldn't enjoy its loveliness any more if we had millions of dollars and ropes of diamonds." ~ Anne of Green Gables by Lucy Maud Montgomery
"Remuneration! O, that's the Latin word for three farthings." ~ Love's Labour's Lost by William Shakespeare
"Better spend an extra hundred or two on your son's education, than leave it him in your will." ~ The Mill on the Floss by George Eliot
"Money pads the edges of things." ~  Howards End by E. M. Forster
"Ah, nowadays we are all of us so hard up, that the only pleasant things to pay are compliments. They're the only things we can pay." ~ Lady Windermere's Fan by Oscar Wilde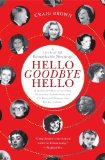 In Hello Goodbye Hello: A Circle of 101 Remarkable Meetings Craig Brown chronicles the encounters of famous people.  What makes the book so interesting, aside from the fact that it's all true, is the way the stories are linked.  In one section Person A will meet Person B.  In the next, Person B will have a chance encounter with Person C.
The book starts and ends with Adolf Hitler.  In between are people like Madonna, Nancy Reagan, Salvador Dali, Sigmund Freud and a slew of others.  I was happy to note that there are numerous writers included in the book.  Some of the authors included are Ernest Hemingway, James Joyce, Oscar Wilde, George  Bernard Shaw and H.G. Wells.
Hello Goodbye Hello is a daisy chain of 101 fascinating true encounters, a book that has been hailed by reviewers in London as "howlingly funny" (The Spectator), "original and a complete delight" (The Sunday Times), and "rich and hugely enjoyable" (The Guardian). Or, as the London Evening Standard put it, "the truth and nothing but the plain, bonkers, howling truth . . . It is partly a huge karmic parlour game, partly a dance to the music of chaos—and only the genius of Craig Brown could have produced it."

I added more quotes Oscar Wilde quotes to the site today.  The quotes are from Lady Windermere's Fan, An Ideal Husband and The Picture of Dorian Gray. I've got a few of my favorites below.
Remember, if you have a quote that you'd like to see in the collection, please feel free to submit a quote.
We are all in the gutter, but some of us are looking at the stars. ~ Lady Windermere's Fan by Oscar Wilde
"My own business always bores me to death. I prefer other people's." ~ Lady Windermere's Fan by Oscar Wilde
"Even you are not rich enough, Sir Robert, to buy back your past. No man is." ~ An Ideal Husband by Oscar Wilde
Here's a new quote photo.  This funny quote is from A Woman of No Importance by Oscar Wilde.   I've also added it to the LitQuotes Facebook page for easier sharing.
"After a good dinner one can forgive anybody, even one's own relations." ~ A Woman of No Importance by Oscar Wilde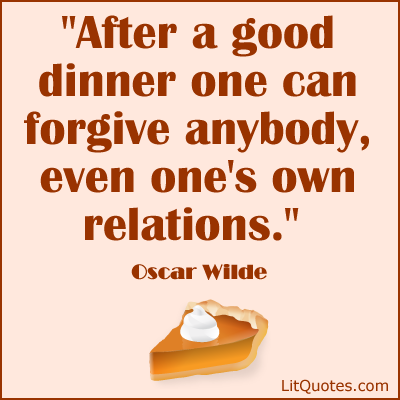 Classic literature can be inspirational.  It can be poetic.  It can be educational.  Classic literature can also be really funny!  Check out these ten funny quotes from literature:
1 – "How dreadful!" cried Lord Henry. "I can stand brute force, but brute reason is quite unbearable. There is something unfair about its use. It is hitting below the intellect." ~  The Picture of Dorian Gray by Oscar Wilde
2 – "If you could see my legs when I take my boots off, you'd form some idea of what unrequited affection is."  ~  Dombey and Son by Charles Dickens
3 – Indeed, he would sometimes remark, when a man fell into his anecdotage, it was a sign for him to retire from the world. ~  Lothair by Benjamin Disraeli
4 – You cannot make a man by standing a sheep on its hind-legs. But by standing a flock of sheep in that position you can make a crowd of men. ~  Zuleika Dobson by Sir Max Beerbohm
5 – The bishop did not whistle: we believe that they lose the power of doing so on being consecrated. ~  The Warden by Anthony Trollope
6 – A story with a moral appended is like the bill of a mosquito. It bores you, and then injects a stinging drop to irritate your conscience. ~  Strictly Business by O. Henry
7  – From politics, it was an easy step to silence. ~  Northanger Abbey by Jane Austen
8 – Few things are harder to put up with than the annoyance of a good example. ~  The Tragedy of Pudd'nhead Wilson by Mark Twain
9 – It is not that I object to the work, mind you; I like work: it fascinates me. I can sit and look at it for hours. ~  Three Men in a Boat by Jerome K. Jerome
10 – I don't want to repeat my innocence. I want the pleasure of losing it again. ~  This Side of Paradise by F. Scott Fitzgerald
If you enjoyed these quotes check out our humorous quotes page or our random funny quote feature.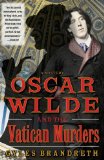 Gyles Brandreth writes a mystery series based on the fictional adventures of Oscar Wilde and Sir Arthur Conan Doyle.  Oscar Wilde and the Vatican Murders is the fifth book in the series.
Oscar Wilde and the Vatican Murders opens in 1892, as an exhausted Arthur Conan Doyle retires to a spa in Germany with a suitcase full of fan mail. But his rest cure does not go as planned. The first person he encounters is Oscar Wilde, and the two friends make a series of macabre discoveries among the letters—a finger; a lock of hair; and, finally, an entire severed hand.

The trail leads the intrepid duo to Rome, and to a case that involves miracles as well as murder. Pope Pius IX has just died—these are uncertain times in the Eternal City. To uncover the mystery and discover why the creator of Sherlock Holmes has been summoned in this way, Wilde and Conan Doyle must penetrate the innermost circle of the Catholic Church and expose the deadly secrets of the six men closest to the pope.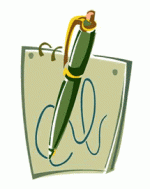 Recently I posted Ten Interesting Facts about Oscar Wilde.  One of the facts talked about his trip to the United States.  Imagine my surprise to find a whole website dedicated to the event.
Oscar Wilde in America has photos, Wilde's itinerary, newspaper clippings and, because it is Oscar Wilde after all,  there's a section of witty things that Wilde said during his trip.
In America the President reigns for four years, and Journalism governs for ever and ever. ~ Oscar Wilde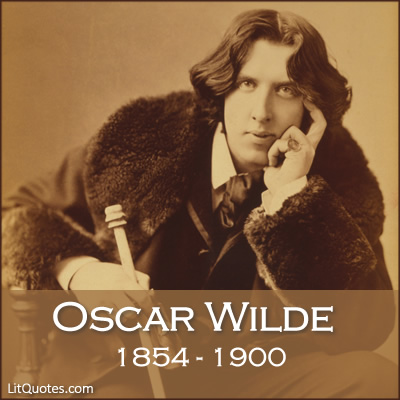 What you Probably Know
Oscar Wilde was an Irish author, playwright and poet. He's remembered for his novel, The Picture of Dorian Gray as well was other works. After writing in different forms throughout the 1880s, he became one of London's most popular playwrights in the early 1890s.  He was born on October 16, 1854 in Dublin.  He died on November 30, 1900 in Paris.
His full name was Oscar Fingal O'Flahertie Wills Wilde.
His father, William Wilde, was an acclaimed doctor.  He was knighted for his work as medical adviser for the Irish censuses.  William Wilde founded St. Mark's Ophthalmic Hospital to treat the city's poor.
An early romantic interest of Oscar Wilde was Florence Balcombe.  She eventually became the wife of Bram Stoker, the author of Dracula.
In 1882 Wilde began a lecture tour of North America. The subject was Aestheticism, a movement that celebrated beauty and art.   During the tour Wilde meet with some of the leading American literary figures of the day, including Henry Longfellow, Oliver Wendell Holmes and Walt Whitman.
Wilde  married Constance Lloyd on May 29, 1884.  The couple had two sons, Cyril and Vyvyan.
In 1891 Wilde met Lord Alfred Douglas.   They became lovers.  Alfred's father was  John Douglas, 9th Marquess of Queensberry.  The elder Douglas did not approve of his son's relationship.  Feuding between John Douglas and Wilde eventually led to Wilde being convicted of "gross indecency" for homosexual acts.  Wilde was sentenced to  two years of hard labor.
Despite Wilde's preference for men and the social scandal caused by his trial and imprisonment, Wilde and his wife never divorced.  However Constance did change her and her sons' last name to Holland.
After his release from prison in 1897 Wilde left England and  moved to France.  He stayed there until his death.
Wilde wrote plays and short stories, but only one novel.  His only novel is The Picture of Dorian Gray.
Wilde died of meningitis on November 30, 1900. He was only 46 years old.
Novel by Oscar Wilde
The Picture of Dorian Gray (1890)
Partial List of Short Stories by Oscar Wilde
Lord Arthur Savile's Crime and Other Stories (1891) Including The Canterville Ghost first published in periodical form in 1887.
Partial List of Plays by Oscar Wilde
The Duchess of Padua (1883)
Lady Windermere's Fan (1892)
A Woman of No Importance (1893)
An Ideal Husband (1895)
The Importance of Being Earnest (1895)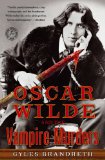 Oscar Wilde and the Vampire Murders – In the latest in the series of Oscar Wilde murder mysteries,  Wilde and his good friend Sir Arthur Conan Doyle face something very odd indeed.  A duchess is found murdered—with two tiny puncture marks on her throat. Hmm . . . I wonder what that could mean?
You May Also Like: