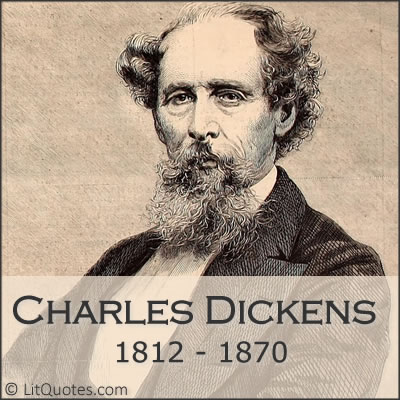 Charles Dickens was born on February 7, 1812 and died in 1870.  He's the author of A Christmas Carol, Great Expectations and other classic novels.  Now here are some things you may not know about Charles Dickens.
1 – As a child, his family was always on the verge of economic collapse. Everything fell apart for the family in 1827. Dickens' father was sent the Marshalsea debtors' prison and young Charles was sent to work in Warren's Blacking Factory. These incidents would haunt Dickens for the rest of his life.
2 – Dickens worked as law clerk, a court stenographer and even contemplated becoming an actor. Luckily for us, Dickens was ill on the day of his audition at the Lyceum Theater and couldn't go. Can you imagine a life without Scrooge?  If Dickens, who was a talented actor, had attended his audition he might not have written A Christmas Carol.
3 – In his early writing he called himself Boz. Boz? You see, one of his favorite characters in Goldsmith's Vicar of Wakefield was called Moses. Moses became Boses which became Boz.
4 – Dickens married Catherine Hogarth in 1835. There were some happy years, but in 1958 they were legally separated. One of the reasons for the separation was Dickens' interest in the actress, Ellen Ternan.
Dickens met Ellen in 1857. Matters came to a head the next year when a bracelet that Dickens bought as a present for Ellen was accidentally delivered to the Dickens household. In a scene straight from a soap opera, Catherine discovered the bracelet and accused Charles of having an affair.
5 – One of the most fascinating aspects of Charles Dickens is that he understood the power of the media. Yes, even in the Victorian Era people had to worry about the press. In September of 1860, behind his home at Gad's Hill Place, Charles Dickens tried to cover his tracks. He gathered "the accumulated letters and papers of twenty years" and set them ablaze in his backyard. What could we have learned had he not taken this action? We'll never know.
More About Charles Dickens
Is someone on your holiday shopping list a fan of Charles Dickens?  If so, may I humbly suggest you visit the Charles Dickens section of the LitQuotes Gift Shop.  One of the most popular items in the Charles Dickens section is the Novels of Charles Dickens mug.   One side features the image of the ever-popular author  of A Christmas Carol.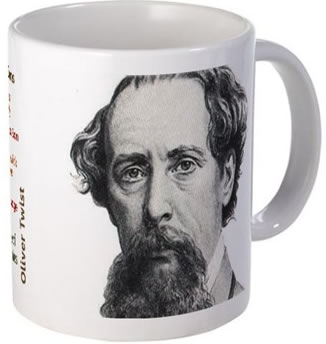 The other side lists the titles of his novels.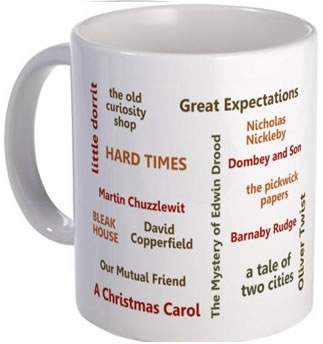 I am wise enough to know that there are some perils from which a man must flee. ~ The Two Towers by J. R. R. Tolkien
"My daughter, there are times of moral danger when the hardest virtuous resolution to form is flight, and when the most heroic bravery is flight." ~ Our Mutual Friend by Charles Dickens
By this, he seemed to mean, not only that the most reliable and useful courage was that which arises from the fair estimation of the encountered peril, but that an utterly fearless man is a far more dangerous comrade than a coward. ~ Moby Dick by Herman Melville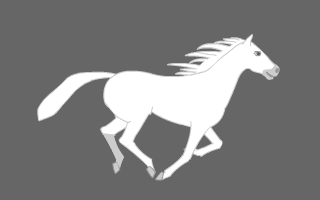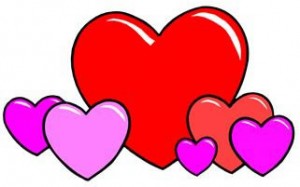 It can sometimes be hard to come up with just the right words.  If you're looking for some quotes to add to a Valentine's Day card or letter, you know just what I mean.   Not to worry.  These ten love  quotes from literature will help.
"Love comforteth like sunshine after rain." ~  Venus and Adonis by William Shakespeare
"Love knows not distance; it hath no continent; its eyes are for the stars." ~  Parables Of A Province by Gilbert Parker
The winds were warm about us, the whole earth seemed the wealthier for our love. ~  The Amber Gods by Harriet Prescott Spofford
Without, the sun shines bright and the birds are singing amid the ivy on the drooping beeches. Their choice is made, and they turn away hand-in-hand, with their backs to the darkness and their faces to the light. ~  The White Company by Sir Arthur Conan Doyle
"Love has no age, no limit; and no death." ~  The Forsyte Saga by John Galsworthy
"A heart well worth winning, and well won. A heart that, once won, goes through fire and water for the winner, and never changes, and is never daunted." ~  Our Mutual Friend by Charles Dickens
"If I loved you less, I might be able to talk about it more." ~  Emma by Jane Austen
"You are my heart, my life, my one and only thought." ~  The White Company by Sir Arthur Conan Doyle
Love is a flower that grows in any soil, works its sweet miracles undaunted by autumn frost or winter snow, blooming fair and fragrant all the year, and blessing those who give and those who receive. ~  Little Men by Louisa May Alcott
Did my heart love till now? forswear it, sight!
For I ne'er saw true beauty till this night.
Romeo and Juliet by William Shakespeare
See All of Our Love Quotes from Literature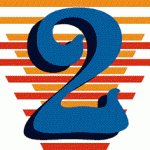 Yesterday I added a new quote topic.  It's called two things as each of the quotes as the  phrase "two things."   You can see all of the two things quotes here.
In the meantime here are some of my favorites:
There are two things that will be believed of any man whatsoever, and one of them is that he has taken to drink. ~  Penrod by Booth Tarkington
"My good fellow," retorted Mr. Boffin, "you have my word; and how you can have that, without my honour too, I don't know. I've sorted a lot of dust in my time, but I never knew the two things go into separate heaps." ~  Our Mutual Friend by Charles Dickens
It is decreed by a merciful Nature that the human brain cannot think of two things simultaneously. ~  The Lost World by Sir Arthur Conan Doyle

It's reassuring to think that we all have a place and a purpose.
"No one is useless in this world," retorted the Secretary, "who lightens the burden of it for any one else." ~ Our Mutual Friend by Charles Dickens
The complex affair we call the world requires a great variety of people to keep it going. ~ The Golden House by Charles Dudley Warner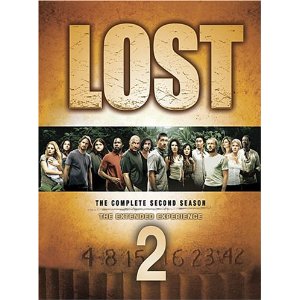 Lost – Season Two, just like all the other seasons,  is filled with so many literary allusions that it's hard to keep track.   In this season:
Ben makes his first appearance claiming to be Henry Gale.  The name is from Dorothy's uncle in the Wizard of Oz series by L. Frank Baum.   Interestingly enough the last name of Gale is not used in the most famous book in the series, The Wonderful Wizard of Oz.
In a major plot point, an orientation video (located on a shelf behind The Turn of the Screw by Henry James) reveals much about the hatch and the Dharma Initiative.
Desmond shows fine taste in literature by saying that Our Mutual Friend by Charles Dickens, my favorite Dickens novel, will be the last book that he ever reads.