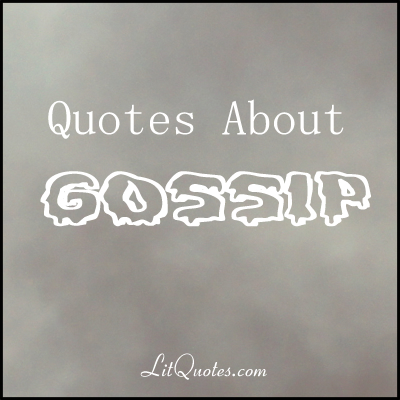 "My own business always bores me to death. I prefer other people's." ~ Lady Windermere's Fan by Oscar Wilde
"Gossip is never fatal, Georgie," he said, "until it is denied." ~ The Magnificent Ambersons by Booth Tarkington
Grace Stepney's mind was like a kind of moral fly-paper, to which the buzzing items of gossip were drawn by a fatal attraction, and where they hung fast in the toils of an inexorable memory. ~ The House of Mirth by Edith Wharton
There was a lady at Santarem–but my lips are sealed. It is the part of a gallant man to say nothing, though he may indicate that he could say a great deal. ~ The Crime of The Brigadier by Sir Arthur Conan Doyle
The talked-about is always the last to hear the talk. ~ Saint's Progress by John Galsworthy
There are two things that will be believed of any man whatsoever, and one of them is that he has taken to drink. ~ Penrod by Booth Tarkington
"There is only one thing in the world worse than being talked about, and that is not being talked about." ~ The Picture of Dorian Gray by Oscar Wilde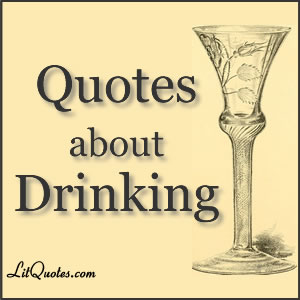 Does it mean anything that three out of the five quotes are from Charles Dickens?
Late hours, nocturnal cigars, and midnight drinkings, pleasurable though they may be, consume too quickly the free-flowing lamps of youth, and are fatal at once to the husbanded candle-ends of age. ~ Phineas Redux by Anthony Trollope
"Fan the sinking flame of hilarity with the wing of friendship; and pass the rosy wine." ~ The Old Curiosity Shop by Charles Dickens
There are two things that will be believed of any man whatsoever, and one of them is that he has taken to drink. ~ Penrod by Booth Tarkington
In particular, there was a butler in a blue coat and bright buttons, who gave quite a winey flavour to the table beer; he poured it out so superbly. ~ Dombey and Son by Charles Dickens
"Take another glass of wine, and excuse my mentioning that society as a body does not expect one to be so strictly conscientious in emptying one's glass, as to turn it bottom upwards with the rim on one's nose."  ~ Great Expectations by Charles Dickens
More Quotes about Drinking from Literature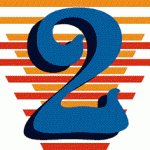 Yesterday I added a new quote topic.  It's called two things as each of the quotes as the  phrase "two things."   You can see all of the two things quotes here.
In the meantime here are some of my favorites:
There are two things that will be believed of any man whatsoever, and one of them is that he has taken to drink. ~  Penrod by Booth Tarkington
"My good fellow," retorted Mr. Boffin, "you have my word; and how you can have that, without my honour too, I don't know. I've sorted a lot of dust in my time, but I never knew the two things go into separate heaps." ~  Our Mutual Friend by Charles Dickens
It is decreed by a merciful Nature that the human brain cannot think of two things simultaneously. ~  The Lost World by Sir Arthur Conan Doyle