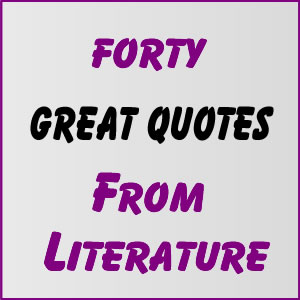 Need some advice or perspective?  Here are 40 great quotes from literature that may help.  These are some of our favorites from our words of wisdom quote collection.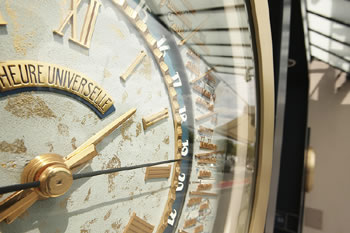 Did you remember to turn your clocks back this morning?   To mark our return to standard time, here are five quotes about time from literature.
For the first time she was vaguely perceiving that life is everlasting movement. ~ Alice Adams by Booth Tarkington
Time will explain. ~ Persuasion by Jane Austen
Passion takes no count of time; peril marks no hours or minutes; wrong makes its own calendar; and misery has solar systems peculiar to itself. ~ The True Story of Guenever by Elizabeth Stuart Phelps
"My advice is, never do tomorrow what you can do today. Procrastination is the thief of time." ~ David Copperfield by Charles Dickens
She had lived solely for the little things of life—the things that pass—forgetting the great things that go onward into eternity, bridging the gulf between the two lives and making of death a mere passing from one dwelling to the other—from twilight to unclouded day. ~ Anne of the Island by Lucy Maud Montgomery
See the Entire Collection of Time Quotes from Literature
The other day I noticed that the site has a lot of great quotes that deal with communication.  Here are a few of my favorites.
"Facts or opinions which are to pass through the hands of so many, to be misconceived by folly in one, and ignorance in another, can hardly have much truth left." ~  Persuasion by Jane Austen
The fool wonders, the wise man asks. ~ Count Alarcos: A Tragedy by Benjamin Disraeli
Mrs. Bittacy rustled ominously, holding her peace meanwhile. She feared long words she did not understand. Beelzebub lay hid among too many syllables. ~ The Man Whom the Trees Loved by Algernon Blackwood
Silence is of different kinds, and breathes different meanings. ~ Villette by Charlotte Bronte


I added more quotes quotes to the site today.  The quotes are from:
Pride and Prejudice by Jane Austen
Persuasion by Jane Austen
The Secret Adversary by Agatha Christie
Ulysses by James Joyce
Remember, if you have a quote that you'd like to see in the collection, please feel free to submit a quote.
Angry people are not always wise. ~ Pride and Prejudice by Jane Austen
She prized the frank, the open-hearted, the eager character beyond all others. Warmth and enthusiasm did captivate her still. She felt that she could so much more depend upon the sincerity of those who sometimes looked or said a careless or a hasty thing, than of those whose presence of mind never varied, whose tongue never slipped. ~ Persuasion by Jane Austen
Every life is many days, day after day. We walk through ourselves, meeting robbers, ghosts, giants, old men, young men, wives, widows, brothers-in-love, but always meeting ourselves. ~ Ulysses by James Joyce