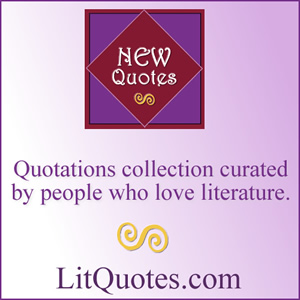 We added some new quotes to the site today.  All of the quotes list an author and a source. Why? This quotation collection is curated by people and NOT by a computer program.
Here are some quotes from the new additions.
It is never quite safe to think we have done with life. When we imagine we have finished our story fate has a trick of turning the page and showing us yet another chapter. ~ Rainbow Valley by Lucy Maud Montgomery
"Pull out from the depths those thoughts that you do not understand, and spread them out in the sunlight and know the meaning of them." ~ A Room With A View by E. M. Forster
"You will be required to do wrong no matter where you go. It is the basic condition of life, to be required to violate your own identity. At some time, every creature which lives must do so. It is the ultimate shadow, the defeat of creation; this is the curse at work, the curse that feeds on all life. Everywhere in the universe." ~ Do Androids Dream of Electric Sheep? by Philip K. Dick
When in doubt, head into the wind. ~ Gunman's Reckoning by Max Brand
"There is no such thing as Death, though there be a thing called Change." ~ She by H. Rider Haggard

Happy New Year's Eve!  I just wanted to let you know that I've added a few more quotes to the site.  Here are my favorites.
There's small choice in rotten apples. ~   The Taming of the Shrew by William Shakespeare
Continual complexity makes it impossible for any of us to know anything outside our own personal field-I can't follow the work of the man sitting at the next desk over from me. Too much knowledge has piled up in each field. And there's too many fields." ~  The Variable Man by Philip K. Dick
It makes your sin no worse, as I conceive, to do it a la mode and stylishly. ~  The Prisoner of Zenda by Anthony Hope
Other LitQuotes Features