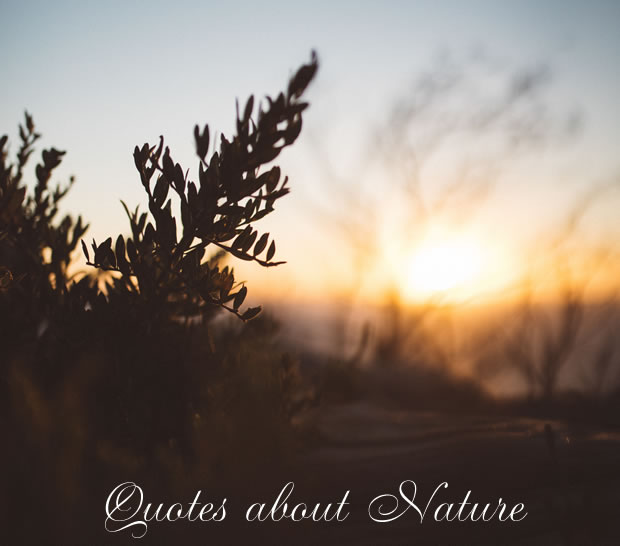 There are many literary quotes about nature.  Here are some of the best.
"There is no such thing as magic, though there is such a thing as a knowledge of the secrets of Nature." ~ She by H. Rider Haggard
"Bees do have a smell, you know, and if they don't they should, for their feet are dusted with spices from a million flowers." ~ Dandelion Wine by Ray Bradbury
If you need something to worship, then worship life — all life, every last crawling bit of it! We're all in this beauty together! ~ Dune Messiah by Frank Herbert
It was October, and the air was cool and sharp, woodsmoke and damp moss exquisitely mingled in it with the subtle odours of the pines. ~ Secret Worship by Algernon Blackwood
The western sky was clear and flushed with vivid crimson, towards which the prairie rolled away in varying tones of blue. ~ Blake's Burden by Harold Bindloss
Sunlight is the life-blood of Nature. Mother Earth looks at us with such dull, soulless eyes, when the sunlight has died away from out of her. It makes us sad to be with her then; she does not seem to know us or to care for us. ~ Three Men in a Boat by Jerome K. Jerome
Have you ever observed a humming-bird moving about in an aerial dance among the flowers–a living prismatic gem that changes its colour with every change of position. ~ Green Mansions by W. H. Hudson
Nature is the true revelation of the Deity to man. The nearest green field is the inspired page from which you may read all that it is needful for you to know. ~ The Stark Munro Letters by Sir Arthur Conan Doyle
Photo by Billy Pasco on Unsplash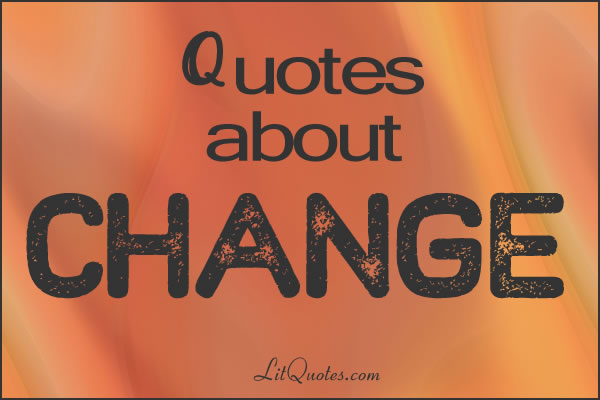 Till we can become divine we must be content to be human, lest in our hurry for change we sink to something lower. ~ Barchester Towers by Anthony Trollope
"There is no such thing as Death, though there be a thing called Change." ~ She by H. Rider Haggard
"I'm not a bit changed–not really. I'm only just pruned down and branched out. The real ME–back here–is just the same." ~ Anne of Green Gables by Lucy Maud Montgomery
Yet birth, and lust, and illness, and death are changeless things, and when one of these harsh facts springs out upon a man at some sudden turn of the path of life, it dashes off for the moment his mask of civilization and gives a glimpse of the stranger and stronger face below. ~ The Curse of Eve by Sir Arthur Conan Doyle
"The natur o' things doesn't change, though it seems as if one's own life was nothing but change. The square o' four is sixteen, and you must lengthen your lever in proportion to your weight, is as true when a man's miserable as when he's happy; and the best o' working is, it gives you a grip hold o' things outside your own lot." ~ Adam Bede by George Eliot
"It is a law of nature we overlook, that intellectual versatility is the compensation for change, danger, and trouble." ~ The Time Machine by H. G. Wells
"Men's courses will foreshadow certain ends, to which, if persevered in, they must lead," said Scrooge. "But if the courses be departed from, the ends will change. Say it is thus with what you show me!" ~ A Christmas Carol by Charles Dickens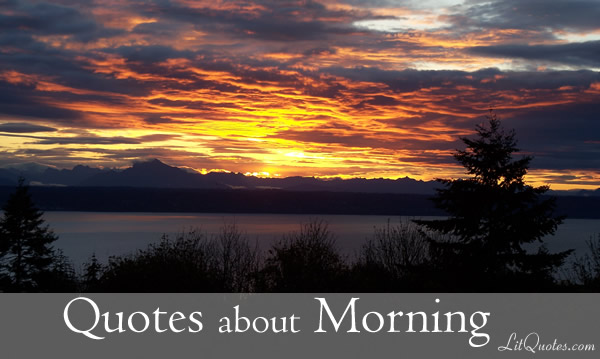 The sun comes out, a golden huzzar, from his tent, flashing his helm on the world. ~ The Confidence-Man by Herman Melville
The longest way must have its close,—the gloomiest night will wear on to a morning. ~ Uncle Tom's Cabin by Harriet Beecher Stowe
Saturday morning was come, and all the summer world was bright and fresh, and brimming with life. There was a song in every heart; and if the heart was young the music issued at the lips. There was cheer in every face and a spring in every step. ~ The Adventures of Tom Sawyer by Mark Twain
Morning made a considerable difference in my general prospect of Life, and brightened it so much that it scarcely seemed the same. ~ Great Expectations by Charles Dickens
"I like breakfast-time better than any other moment in the day," said Mr. Irwine. "No dust has settled on one's mind then, and it presents a clear mirror to the rays of things." ~ Adam Bede by George Eliot
Rays from the sunrise drew forth the buds and stretched them into long stalks, lifted up sap in noiseless streams, opened petals, and sucked out scents in invisible jets and breathings. ~ Tess of the D'Urbervilles by Thomas Hardy
From the east to the west sped the angels of the Dawn, from sea to sea, from mountain-top to mountain-top, scattering light with both their hands. ~ She by H. Rider Haggard
No man knows till he has suffered from the night how sweet and dear to his heart and eye the morning can be. ~ Dracula by Bram Stoker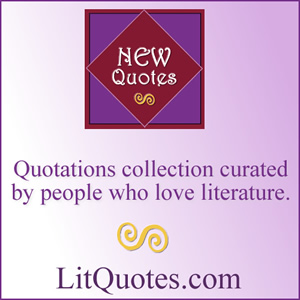 We added some new quotes to the site today.  All of the quotes list an author and a source. Why? This quotation collection is curated by people and NOT by a computer program.
Here are some quotes from the new additions.
It is never quite safe to think we have done with life. When we imagine we have finished our story fate has a trick of turning the page and showing us yet another chapter. ~ Rainbow Valley by Lucy Maud Montgomery
"Pull out from the depths those thoughts that you do not understand, and spread them out in the sunlight and know the meaning of them." ~ A Room With A View by E. M. Forster
"You will be required to do wrong no matter where you go. It is the basic condition of life, to be required to violate your own identity. At some time, every creature which lives must do so. It is the ultimate shadow, the defeat of creation; this is the curse at work, the curse that feeds on all life. Everywhere in the universe." ~ Do Androids Dream of Electric Sheep? by Philip K. Dick
When in doubt, head into the wind. ~ Gunman's Reckoning by Max Brand
"There is no such thing as Death, though there be a thing called Change." ~ She by H. Rider Haggard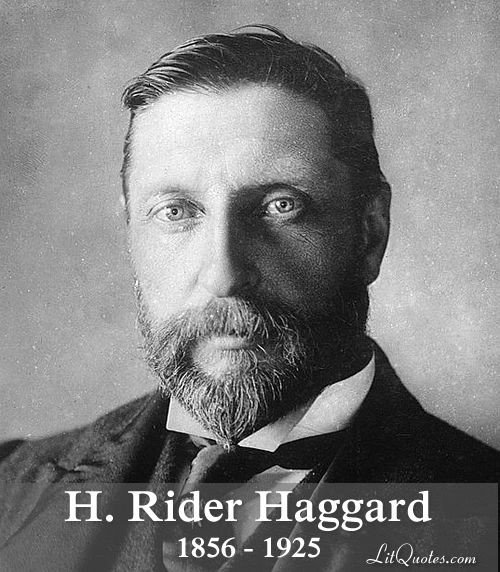 Sir Henry Rider Haggard, better known as H. Rider Haggard, was an English writer of adventure novels.  He was born in 1856 and died in 1925.
He was born at Bradenham, Norfolk.  In his youth Haggard traveled to South Africa to work in the British government.  Later he would draw upon his experiences and knowledge of Africa as a writer.  He married Marianna Louisa Margitson in 1880.  The couple had a son named Jack (who died of measles at age 10) and three daughters, Angela, Dorothy and Lilias.
King Solomon's Mines, one of his most famous books, was published in 1885 and introduced the character of Allan Quatermain.
Out of the dark we came, into the dark we go. Like a storm-driven bird at night we fly out of the Nowhere; for a moment our wings are seen in the light of the fire, and, lo! we are gone again into the Nowhere. ~ King Solomon's Mines by H. Rider Haggard
The Novels of H. Rider Haggard
Dawn
The Witch's Head
King Solomon's Mines
She
Allan Quatermain
Jess
A Tale of Three Lions
Maiwa's Revenge, or the War of the Little Hand
Colonel Quaritch, VC
Cleopatra
Beatrice
The World's Desire
Eric Brighteyes
Nada the Lily
An Heroic Effort
Montezuma's Daughter
The People of the Mist
Heart of the World
Joan Haste
The Wizard
Doctor Therne
Swallow: A Tale of the Great Trek
Lysbeth
Pearl Maiden
Stella Fregelius: A Tale of Three Destinies
The Brethren
Ayesha: The Return of She
The Way of the Spirit
Benita
Fair Margaret
The Ghost Kings
The Yellow God
The Lady of Blossholme
Morning Star
Queen Sheba's Ring
Red Eve
The Mahatma and the Hare
Marie
Child of Storm
The Wanderer's Necklace
The Holy Flower
The Ivory Child
Finished
Love Eternal
Moon of Israel
When the World Shook
The Ancient Allan
She and Allan
The Virgin of the Sun
Wisdom's Daughter
Heu-Heu
Queen of the Dawn
The Treasure of the Lake
Allan and the Ice-gods
Mary of Marion Isle
Belshazzar