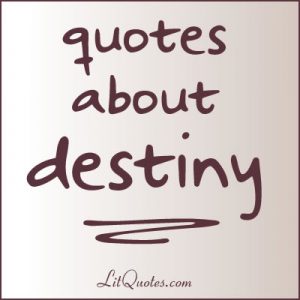 History is a wheel, for the nature of man is fundamentally unchanging. What has happened before will perforce happen again. ~ A Feast for Crows by George R. R. Martin
Can we outrun the heavens? ~ Henry VI, Part Two by William Shakespeare
Were we no better than chessmen, moved by an unseen power, vessels the potter fashions at his fancy, for honour or for shame? ~ Lord Arthur Savile's Crime by Oscar Wilde
Destiny has a constant passion for the incongruous. ~ The Magnificent Ambersons by Booth Tarkington
But often the great cat Fate lets us go only to clutch us again in a fiercer grip. ~ The Curse of Eve by Sir Arthur Conan Doyle
"This whole act's immutably decreed. 'Twas rehearsed by thee and me a billion years before this ocean rolled. Fool! I am the Fates' lieutenant; I act under orders." ~ Moby Dick by Herman Melville
"Men's courses will foreshadow certain ends, to which, if persevered in, they must lead," said Scrooge. "But if the courses be departed from, the ends will change. Say it is thus with what you show me!" ~ A Christmas Carol by Charles Dickens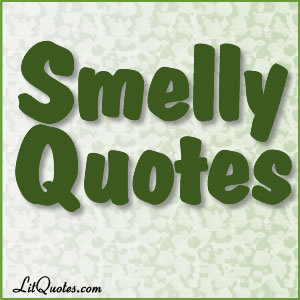 "I love to smell flowers in the dark," she said. "You get hold of their soul then." ~ Anne's House of Dreams by Lucy Maud Montgomery
It smells like the left wing of the day of judgment. ~ Moby Dick by Herman Melville
The mutable, rank-scented many . . . ~ Coriolanus by William Shakespeare
"I wish we could see perfumes as well as smell them. I'm sure they would be very beautiful." ~ Anne of the Island by Lucy Maud Montgomery
"The rankest compound of villainous smell that ever offended nostril." ~ The Merry Wives of Windsor by William Shakespeare
"Don't you love heavy fragrances, faint with sweetness, ravishing juices of odor, heliotropes, violets, water-lilies,–powerful attars and extracts that snatch your soul off your lips?" ~ The Amber Gods by Harriet Prescott Spofford
"What's in a name? That which we call a rose
By any other name would smell as sweet." ~ Romeo and Juliet by William Shakespeare
"Our highest assurance of the goodness of Providence seems to me to rest in the flowers. All other things, our powers, our desires, our food, are all really necessary for our existence in the first instance. But this rose is an extra. Its smell and its color are an embellishment of life, not a condition of it. It is only goodness which gives extras, and so I say again that we have much to hope from the flowers." ~ The Naval Treaty by Sir Arthur Conan Doyle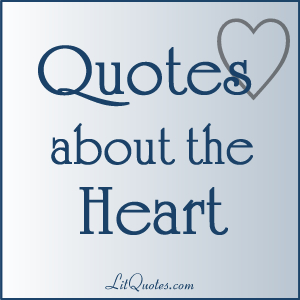 These are some of the sweetest quotes about hearts from literature.
"Friendship, I fancy, means one heart between two." ~ Diana of the Crossways by George Meredith
Life's more than breath and the quick round of blood;
It is a great spirit and a busy heart. ~ Festus by Philip James Bailey
Men who look on nature, and their fellow-men, and cry that all is dark and gloomy, are in the right; but the sombre colours are reflections from their own jaundiced eyes and hearts. The real hues are delicate, and need a clearer vision. ~ Oliver Twist by Charles Dickens
Maybe, he thought, there aren't any such things as good or bad friends – maybe there are just friends, people who stand by you when you're hurt and who help you feel not so lonely. Maybe they're always worth being scared for, and hoping for, and living for. Maybe worth dying for, too, if that's what has to be. No good friends. No bad friends. Only people you want, need to be with; people who build their houses in your heart. ~ It by Stephen King
She had found her heart at last. Never having known its worth till now, she had never known the worth of his. ~ Barnaby Rudge by Charles Dickens
"I carry my own church about under my own hat," said I. "Bricks and mortar won't make a staircase to heaven. I believe with your Master that the human heart is the best temple." ~ The Stark Munro Letters by Sir Arthur Conan Doyle
Heaven knows we need never be ashamed of our tears, for they are rain upon the blinding dust of earth, overlying our hard hearts. ~ Great Expectations by Charles Dickens

"To win back my youth, Gerald, there is nothing I wouldn't do—except take exercise, get up early, or be a useful member of the community." ~ A Woman of No Importance by Oscar Wilde
"I always say beauty is only sin deep." ~ Reginald by Saki
It is the necessary nature of a political party in this country to avoid, as long as it can be avoided, the consideration of any question which involves a great change. ~ Phineas Redux by Anthony Trollope
The world is a stage, but the play is badly cast. ~ Lord Arthur Savile's Crime by Oscar Wilde
"Prophecy is like a half-trained mule," he complained to Jorah Mormont. "It looks as though it might be useful, but the moment you trust in it, it kicks you in the head." ~ A Dance with Dragons by George R. R. Martin
You can't expect the fatted calf to share the enthusiasm of the angels over the prodigal's return. ~ Reginald by Saki
Fox terriers are born with about four times as much original sin in them as other dogs are. ~ Three Men in a Boat by Jerome K. Jerome
Discovering that priests were infinitely more attentive when she was in process of losing or regaining faith in Mother Church, she maintained an enchantingly wavering attitude. ~ This Side of Paradise by F. Scott Fitzgerald
"This looks like one of those unwelcome social summonses which call upon a man either to be bored or to lie." ~ The Adventure of the Noble Bachelor by Sir Arthur Conan Doyle
"Morality is simply the attitude we adopt towards people whom we personally dislike." ~ An Ideal Husband by Oscar Wilde
In one respect at least the Martians are a happy people; they have no lawyers. ~ A Princess of Mars by Edgar Rice Burroughs
"I discovered early that crying makes my nose red, and the knowledge has helped me through several painful episodes." ~ The House of Mirth by Edith Wharton
In all the thousands of times I have asked other people for advice, I never yet got the advice I wanted. ~ Armadale by Wilkie Collins
A story with a moral appended is like the bill of a mosquito. It bores you, and then injects a stinging drop to irritate your conscience. ~ Strictly Business by O. Henry
Mrs. Bittacy rustled ominously, holding her peace meanwhile. She feared long words she did not understand. Beelzebub lay hid among too many syllables. ~ The Man Whom the Trees Loved by Algernon Blackwood
"Unbidden guests
Are often welcomest when they are gone." ~ Henry VI, Part One by William Shakespeare
The bishop did not whistle: we believe that they lose the power of doing so on being consecrated. ~ The Warden by Anthony Trollope
What the eye does not see, the stomach does not get upset over. ~ Three Men in a Boat by Jerome K. Jerome
I don't want to repeat my innocence. I want the pleasure of losing it again. ~ This Side of Paradise by F. Scott Fitzgerald
Unless one is a genius, it is best to aim at being intelligible. ~ Dolly Dialogues by Anthony Hope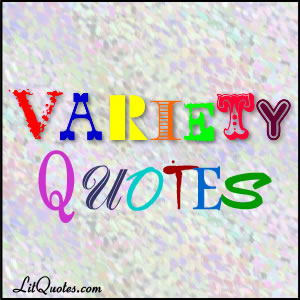 Age cannot wither her, nor custom stale
Her infinite variety. ~ Antony and Cleopatra by William Shakespeare
"I never keep to anything long. Variety is the mother of Enjoyment." ~ Vivian Grey by Benjamin Disraeli
The complex affair we call the world requires a great variety of people to keep it going. ~ The Golden House by Charles Dudley Warner
"I trust that age doth not wither nor custom stale my infinite variety." ~ The Adventure of the Empty House by Sir Arthur Conan Doyle
A difference of taste in jokes is a great strain on the affections. ~ Daniel Deronda by George Eliot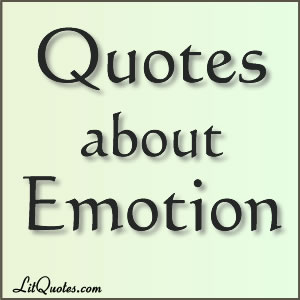 Reason is the first victim of strong emotion. ~ Dune Messiah by Frank Herbert
They came to her, naturally, since she was a woman, all day long with this and that; one wanting this, another that; the children were growing up; she often felt she was nothing but a sponge sopped full of human emotions. ~ To the Lighthouse by Virginia Woolf
But sleep, in the long run, proves greater than all emotions. ~ The Wendigo by Algernon Blackwood
A crowd, proportionately to its size, magnifies all that in its units pertains to the emotions, and diminishes all that in them pertains to thought. ~ Zuleika Dobson by Sir Max Beerbohm
The human brain is capable of only one strong emotion at a time, and if it be filled with curiosity or scientific enthusiasm, there is no room for fear. ~ The Brown Hand by Sir Arthur Conan Doyle
For it is the mind which creates the world about us, and, even though we stand side by side in the same meadow, my eyes will never see what is beheld by yours, my heart will never stir to the emotions with which yours is touched. ~ The Private Papers of Henry Ryecroft by George Gissing
After violent emotion most people and all boys demand food. ~ Captains Courageous by Rudyard Kipling
More Emotion Quotes from Literature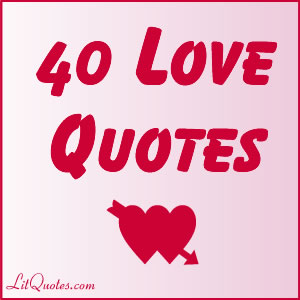 Love looks not with the eyes, but with the mind;
And therefore is wing'd Cupid painted blind. ~ A Midsummer Night's Dream by William Shakespeare

"I do love you surely in a better way than he does." He thought. "Yes—really in a better way. I want you to have your own thoughts even when I hold you in my arms." ~ A Room With A View by E. M. Forster
"God's law is only Love." ~ A Woman of No Importance by Oscar Wilde
I ask you to pass through life at my side—to be my second self, and best earthly companion. ~ Jane Eyre by Charlotte Bronte
Doubt thou the stars are fire;
Doubt that the sun doth move;
Doubt truth to be a liar;
But never doubt I love. ~ Hamlet, Prince of Denmark by William Shakespeare
Love is a flower that grows in any soil, works its sweet miracles undaunted by autumn frost or winter snow, blooming fair and fragrant all the year, and blessing those who give and those who receive. ~ Little Men by Louisa May Alcott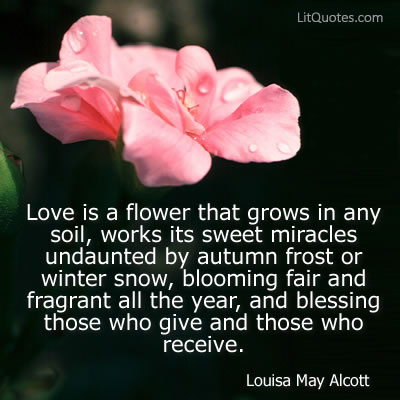 Every atom of your flesh is as dear to me as my own: in pain and sickness it would still be dear. ~ Jane Eyre by Charlotte Bronte
Lovers and madmen have such seething brains,
Such shaping fantasies, that apprehend
More than cool reason ever comprehends. ~ A Midsummer Night's Dream by William Shakespeare
"I don't want sunbursts and marble halls. I just want you." ~ Anne of the Island by Lucy Maud Montgomery
That which is loved may pass, but love hath no end. ~ Parables Of A Province by Gilbert Parker
The winds were warm about us, the whole earth seemed the wealthier for our love. ~ The Amber Gods by Harriet Prescott Spofford
"I hope that real love and truth are stronger in the end than any evil or misfortune in the world." ~  David Copperfield by Charles Dickens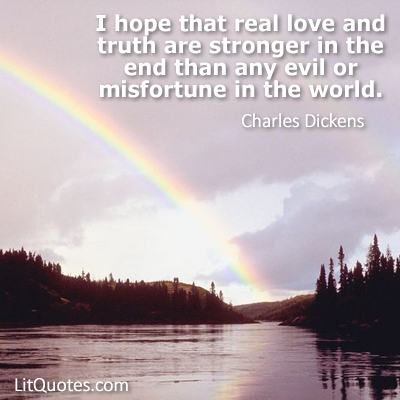 I loved her against reason, against promise, against peace, against hope, against happiness, against all discouragement that could be. ~ Great Expectations by Charles Dickens
Young men's love, then, lies
Not truly in their hearts, but in their eyes. ~ Romeo and Juliet by William Shakespeare
She had found her heart at last. Never having known its worth till now, she had never known the worth of his. ~ Barnaby Rudge by Charles Dickens
It is best to love wisely, no doubt: but to love foolishly is better than not to be able to love at all. ~ The History of Pendennis by William Makepeace Thackeray
"Love has no age, no limit; and no death." ~ The Forsyte Saga by John Galsworthy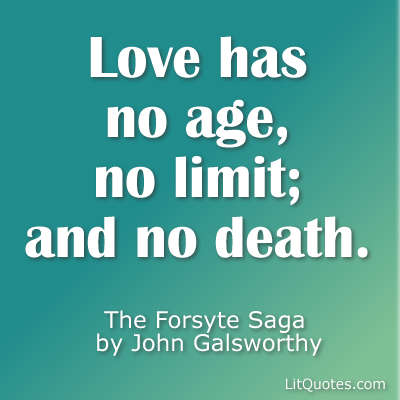 Maggie said that love was the flower of life, and blossomed unexpectedly and without law, and must be plucked where it was found, and enjoyed for the brief hour of its duration. ~ The Rainbow by D. H. Lawrence
"Love comforteth like sunshine after rain." ~ Venus and Adonis by William Shakespeare
"Love knows not distance; it hath no continent; its eyes are for the stars." ~ Parables Of A Province by Gilbert Parker
How is it that the poets have said so many fine things about our first love, so few about our later love? Are their first poems their best? Or are not those the best which come from their fuller thought, their larger experience, their deeper-rooted affections? ~ Adam Bede by George Eliot
Love, it is said, is blind, but love is not blind. It is an extra eye, which shows us what is most worthy of regard. To see the best is to see most clearly, and it is the lover's privilege. ~ The Little Minister by James M. Barrie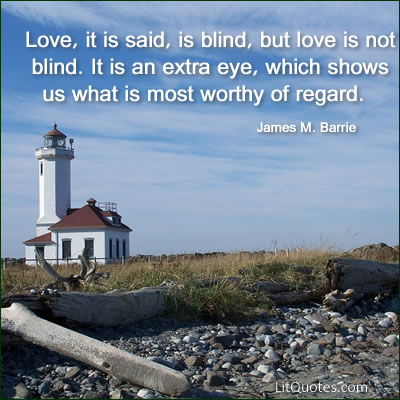 "Love of man for woman–love of woman for man. That's the nature, the meaning, the best of life itself." ~ Riders of the Purple Sage by Zane Grey
"I loved you madly; in the distasteful work of the day, in the wakeful misery of the night, girded by sordid realities, or wandering through Paradises and Hells of visions into which I rushed, carrying your image in my arms, I loved you madly." ~ The Mystery of Edwin Drood by Charles Dickens
"We are all born for love," said Morley. "It is the principle of existence, and its only end." ~ Sybil by Benjamin Disraeli
He knew that when he kissed this girl, and forever wed his unutterable visions to her perishable breath, his mind would never romp again like the mind of God. So he waited, listening for a moment longer to the tuning fork that had been struck upon a star. Then he kissed her. At his lips' touch she blossomed for him like a flower and the incarnation was complete. ~ The Great Gatsby by F. Scott Fitzgerald
"My bounty is as boundless as the sea,
My love as deep; the more I give to thee,
The more I have, for both are infinite." ~ Romeo and Juliet by William Shakespeare
"The best of life is built on what we say when we're in love. It isn't nonsense, Katharine," she urged, "it's the truth, it's the only truth." ~ Night and Day by Virginia Woolf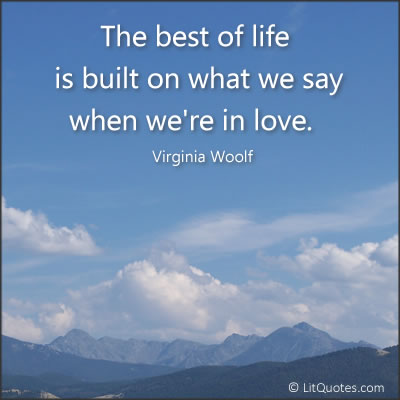 Love is no hot-house flower, but a wild plant, born of a wet night, born of an hour of sunshine; sprung from wild seed, blown along the road by a wild wind. A wild plant that, when it blooms by chance within the hedge of our gardens, we call a flower; and when it blooms outside we call a weed; but, flower or weed, whose scent and colour are always, wild! ~ The Forsyte Saga by John Galsworthy
She lifted her face to him, and he bent forward and kissed her on the mouth, gently, with the one kiss that is an eternal pledge. And as he kissed her his heart strained again in his breast. He never intended to love her. But now it was over. He had crossed over the gulf to her, and all that he had left behind had shrivelled and become void. ~ The Horse Dealer's Daughter by D. H. Lawrence
"If I loved you less, I might be able to talk about it more." ~ Emma by Jane Austen
"Men always want to be a woman's first love. That is their clumsy vanity. We women have a more subtle instinct about things. What we like is to be a man's last romance." ~ A Woman of No Importance by Oscar Wilde
She loved him with too clear a vision to fear his cloudiness. ~ Howards End by E. M. Forster
"I see you everywhere, in the stars, in the river; to me you're everything that exists; the reality of everything." ~ Night and Day by Virginia Woolf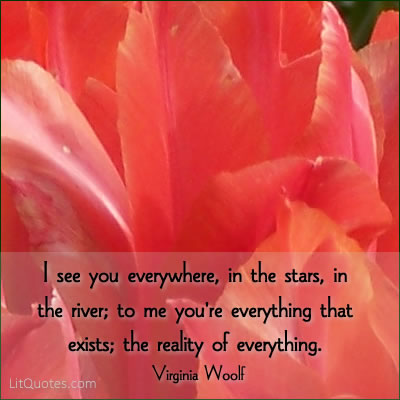 "Is love a tender thing? It is too rough,
Too rude, too boist'rous; and it pricks like thorn." ~ Romeo and Juliet by William Shakespeare
"He's more myself than I am. Whatever our souls are made of, his and mine are the same, and Linton's is as different as a moonbeam from lightning, or frost from fire." ~ Wuthering Heights by Emily Bronte
The course of true love never did run smooth. ~ A Midsummer Night's Dream by William Shakespeare
"Those who speak of love most promiscuously are the ones who've never felt it. They make some sort of feeble stew out of sympathy, compassion, contempt and general indifference, and they call it love. Once you've felt what it means to love as you and I know it–the total passion for the total height–you're incapable of anything less." ~ The Fountainhead by Ayn Rand
"You are my heart, my life, my one and only thought." ~ The White Company by Sir Arthur Conan Doyle
"Who, being loved, is poor?" ~ A Woman of No Importance by Oscar Wilde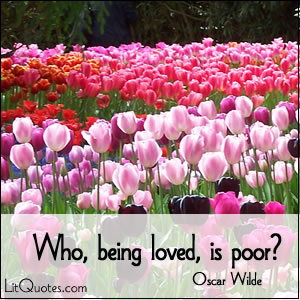 Ready for more?  See our entire love quote collection.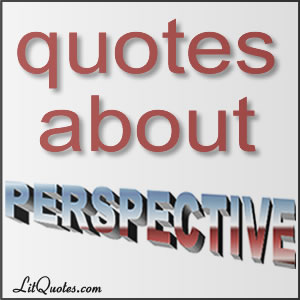 Think you of the fact that a deaf person cannot hear. Then, what deafness may we not all possess? What senses do we lack that we cannot see and cannot hear another world all around us? ~ Dune by Frank Herbert
Perhaps no man could appreciate his own world until he had seen it from space. ~ A Fall of Moondust by Arthur C. Clarke
The very stone one kicks with one's boot will outlast Shakespeare. ~ To the Lighthouse by Virginia Woolf
One never can tell from the sidewalk just what the view is to some one on the inside, looking out. ~ Knocking the Neighbors by George Ade
Come what may, I am bound to think that all things are ordered for the best; though when the good is a furlong off, and we with our beetle eyes can only see three inches, it takes some confidence in general principles to pull us through. ~ The Stark Munro Letters by Sir Arthur Conan Doyle
Will not a tiny speck very close to our vision blot out the glory of the world, and leave only a margin by which we see the blot? ~ Middlemarch by George Eliot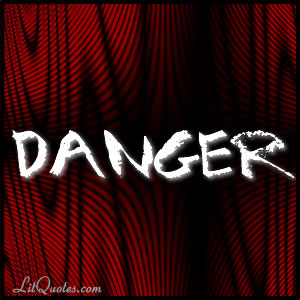 Fear of danger is ten thousand times more terrifying than danger itself. ~ Robinson Crusoe by Daniel Defoe
"You have plenty of courage, I am sure," answered Oz. "All you need is confidence in yourself. There is no living thing that is not afraid when it faces danger. The true courage is in facing danger when you are afraid, and that kind of courage you have in plenty." ~ The Wonderful Wizard of Oz by L. Frank Baum
"Do you know anything on earth which has not a dangerous side if it is mishandled and exaggerated? " ~ The Land of Mist by Sir Arthur Conan Doyle
It is in the uncompromisingness with which dogma is held and not in the dogma or want of dogma that the danger lies. ~ The Way of All Flesh by Samuel Butler
By this, he seemed to mean, not only that the most reliable and useful courage was that which arises from the fair estimation of the encountered peril, but that an utterly fearless man is a far more dangerous comrade than a coward. ~ Moby Dick by Herman Melville
A man will tell you that he has worked in a mine for forty years unhurt by an accident as a reason why he should apprehend no danger, though the roof is beginning to sink. ~ Silas Marner by George Eliot
More Danger Quotes from Literature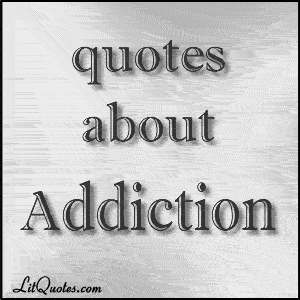 "I remember a mass of things, but nothing distinctly; a quarrel, but nothing wherefore. O God, that men should put an enemy in their mouths to steal away their brains!" ~ Othello by William Shakespeare
He raised his eyes languidly from the old black-letter volume which he had opened. "It is cocaine," he said, "a seven-per-cent solution. Would you care to try it?" ~ The Sign of The Four by Sir Arthur Conan Doyle
Drugs age you after mental excitement. Lethargy then. Why? Reaction. A lifetime in a night. Gradually changes your character. ~ Ulysses by James Joyce
"I am only myself when I am drunk. Liquor makes me human. At other times I'm merely Charley Steele!" ~ The Right of Way by Gilbert Parker
"I see that a man cannot give himself up to drinking without being miserable one-half his days and mad the other." ~ The Tenant of Wildfell Hall by Anne Bronte