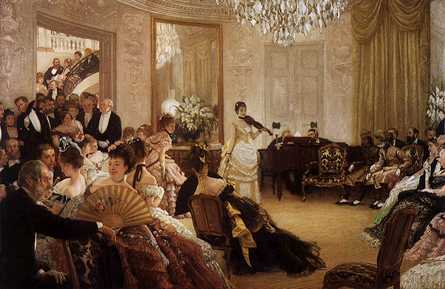 He lived alone, and, so to speak, outside of every social relation; and as he knew that in this world account must be taken of friction, and that friction retards, he never rubbed against anybody. ~ Around the World in 80 Days by Jules Verne
"This looks like one of those unwelcome social summonses which call upon a man either to be bored or to lie." ~ The Adventure of the Noble Bachelor by Sir Arthur Conan Doyle
There are moments when one has to choose between living one's own life, fully, entirely, completely – or dragging out some false, shallow, degrading existence that the world in its hypocrisy demands. ~ Lady Windermere's Fan by Oscar Wilde
"It saves trouble to be conventional, for you're not always explaining things." ~ Old Rose and Silver by Myrtle Reed
Few people can resist doing what is universally expected of them. This invisible pressure is more difficult to stand against than individual tyranny. ~ That Fortune by Charles Dudley Warner
See More Society Quotes from Literature

I added some new quotes to the site.  Here are some of my favorites from the new batch.  Remember that if you have a quote that you'd like to see added to the site, you can contribute a quote.
It was all very well for an Englishman like Mr. Fogg to make the tour of the world with a carpet-bag; a lady could not be expected to travel comfortably under such conditions. ~ Around the World in 80 Days by Jules Verne
"Better to put things at the worst at first," replied the engineer, "and reserve the best for a surprise." ~ The Mysterious Island by Jules Verne
A mind needs books as a sword needs a whetstone, if it is to keep its edge. ~ A Game of Thrones by George R. R. Martin
For those of you living on the East Coast of the United States it might be hard to believe, but spring really is on its way.  Really! Here are some quotes from literature to let you know what will soon be coming your way.
It was an ideal spring day, a light blue sky, flecked with little fleecy white clouds drifting across from west to east. The sun was shining very brightly, and yet there was an exhilarating nip in the air, which set an edge to a man's energy. ~ The Adventure of the Copper Beeches by Sir Arthur Conan Doyle
It was that period in the vernal quarter when we may suppose the Dryads to be waking for the season. The vegetable world begins to move and swell and the saps to rise, till in the completest silence of lone gardens and trackless plantations, where everything seems helpless and still after the bond and slavery of frost, there are bustlings, strainings, united thrusts, and pulls-all-together, in comparison with which the powerful tugs of cranes and pulleys in a noisy city are but pigmy efforts. ~ Far From The Madding Crowd by Thomas Hardy
For, as when the red-cheeked, dancing girls, April and May, trip home to the wintry, misanthropic woods; even the barest, ruggedest, most thunder-cloven old oak will at least send forth some few green sprouts, to welcome such glad-hearted visitants. ~ Moby Dick by Herman Melville
"That is one good thing about this world. . .there are always sure to be more springs." ~ Anne Of Avonlea by Lucy Maud Montgomery
The early mist had vanished and the fields lay like a silver shield under the sun. It was one of the days when the glitter of winter shines through a pale haze of spring. ~ Ethan Frome by Edith Wharton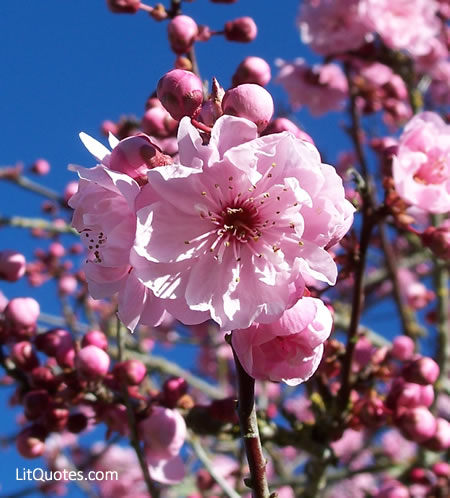 See More Literary Quotes About Spring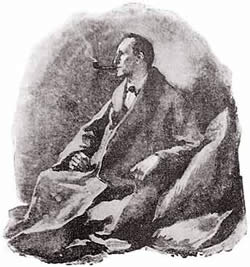 A new Sherlock Holmes novel will hit bookstores in September.  Art in the Blood is by Bonnie MacBird.  She teaches screenwriting at UCLA Extension.  MacBird is also a speaker on multiple subjects.  She's an expert on the topics of writing, creativity and of course, Sherlock Holmes.
pre-order Art in the Blood: A Sherlock Holmes Adventure
"Thoroughly entertaining … worthy of Doyle himself. … a superb, labyrinthine plot, snappy pacing and, most importantly, a deep respect for the classic characters." –Bryan Cogman, Co-Producer/Writer, HBO's Game of Thrones
The dictionary tells us that sympathy is a felling of pity or sorrow for someone else's misfortune. And here's how it's used in quotes by the masters of literature.
My heart was fashioned to be susceptible of love and sympathy, and when wrenched by misery to vice and hatred, it did not endure the violence of the change without torture such as you cannot even imagine. ~ Frankenstein by Mary Shelley
I don't know if it be a peculiarity in me, but I am seldom otherwise than happy while watching in the chamber of death, should no frenzied or despairing mourner share the duty with me. I see a repose that neither earth nor hell can break; and I feel an assurance of the endless and shadowless hereafter – the Eternity they have entered – where life is boundless in its duration, and love in its sympathy, and joy in its fulness. ~ Wuthering Heights by Emily Bronte
"Oh! I have a heart to be stabbed in or shot in, I have no doubt," said Estella, "and of course if it ceased to beat I should cease to be. But you know what I mean. I have no softness there, no—sympathy—sentiment—nonsense." ~ Great Expectations by Charles Dickens
He spoke wistfully of a sudden leaving, a breaking of old ties, a flight into a strange world, ending in this dreary valley, and Ettie listened, her dark eyes gleaming with pity and with sympathy – those two qualities which may turn so rapidly and so naturally to love. ~ The Valley of Fear by Sir Arthur Conan Doyle
more sympathy quotes from literature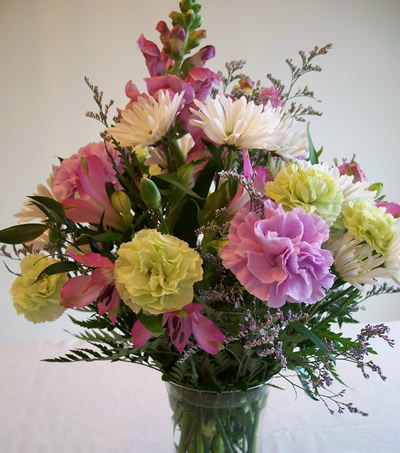 Today is the first day of autumn. To mark the day, here's a fun collection of five autumnal quotes from literature.
"Draw your chair up and hand me my violin, for the only problem we have still to solve is how to while away these bleak autumnal evenings." ~ The Adventure of the Noble Bachelor by Sir Arthur Conan Doyle
On the motionless branches of some trees, autumn berries hung like clusters of coral beads, as in those fabled orchards where the fruits were jewels. ~ Martin Chuzzlewit by Charles Dickens
It was, as I have said, a fine autumnal day; the sky was clear and serene, and nature wore that rich and golden livery which we always associate with the idea of abundance. The forests had put on their sober brown and yellow, while some trees of the tenderer kind had been nipped by the frosts into brilliant dyes of orange, purple, and scarlet. ~ The Legend of Sleepy Hollow by Washington Irving
The place, with its gray sky and withered garlands, its bared spaces and scattered dead leaves, was like a theater after the performance–all strewn with crumpled playbills. ~ The Turn of the Screw by Henry James
He lowered the window, and looked out at the rising sun. There was a ridge of ploughed land, with a plough upon it where it had been left last night when the horses were unyoked; beyond, a quiet coppice-wood, in which many leaves of burning red and golden yellow still remained upon the trees. Though the earth was cold and wet, the sky was clear, and the sun rose bright, placid, and beautiful. ~ A Tale of Two Cities by Charles Dickens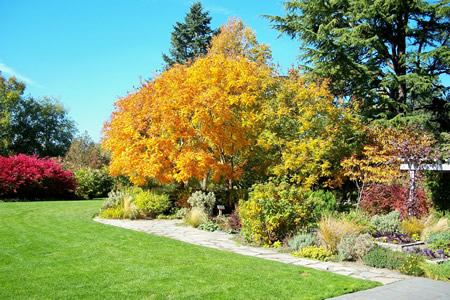 I'm thinking about 9/11 and all the lives that were lost or changed forever on that day.
The lamp was burning dim and the first cold light of dawn was breaking through the window. The night had been long and dark but the day was the sweeter and the purer in consequence. ~ The Curse of Eve by Sir Arthur Conan Doyle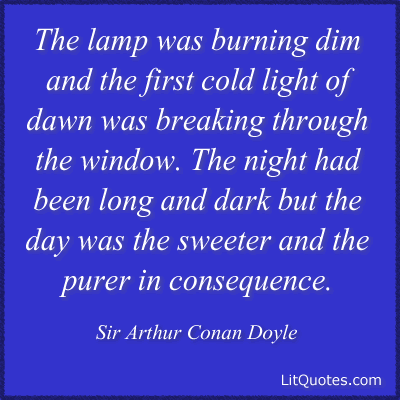 Want to share this quote photo with others?  I've posted this quote photo on the LitQuotes Facebook page as well as the LitQuotes Google Plus page to make that easy.
"Tell Wind and Fire where to stop," returned madame; "but don't tell me." ~ A Tale of Two Cities by Charles Dickens
Could I come near your beauty with my nails,
I could set my ten commandments in your face. ~ Henry VI, Part Two by William Shakespeare
"How beautiful you are! You are more beautiful in anger than in repose. I don't ask you for your love; give me yourself and your hatred; give me yourself and that pretty rage; give me yourself and that enchanting scorn; it will be enough for me." ~ The Mystery of Edwin Drood by Charles Dickens
"Holy men? Holy cabbages! Holy bean-pods! What do they do but live and suck in sustenance and grow fat? If that be holiness, I could show you hogs in this forest who are fit to head the calendar. Think you it was for such a life that this good arm was fixed upon my shoulder, or that head placed upon your neck? There is work in the world, man, and it is not by hiding behind stone walls that we shall do it." ~ The White Company by Sir Arthur Conan Doyle
"From hell's heart I stab at thee; for hate's sake I spit my last breath at thee." ~ Moby Dick by Herman Melville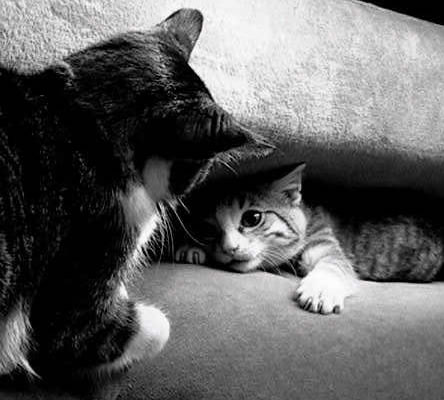 "I carry my own church about under my own hat," said I. "Bricks and mortar won't make a staircase to heaven. I believe with your Master that the human heart is the best temple." ~ The Stark Munro Letters by Sir Arthur Conan Doyle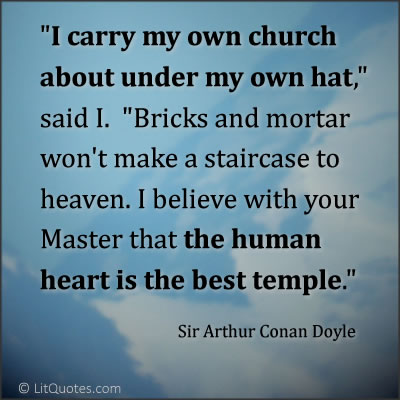 Happy Friday to everyone.   I hope you enjoy this one.  As usual,  I've posted this quote photo on the LitQuotes Facebook page as well as the LitQuotes Google Plus page for easier sharing.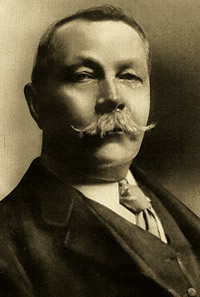 One of my favorite authors, Sir Arthur Conan Doyle, died on this day  in 1930.   He was 71 years old.
Conan Doyle is best known as the creator of Sherlock Holmes.  However he wrote many other novels and short stories.  Here are five of my favorite quotes from Sir Arthur Conan Doyle that don't have anything to do with Sherlock Holmes.
Come what may, I am bound to think that all things are ordered for the best; though when the good is a furlong off, and we with our beetle eyes can only see three inches, it takes some confidence in general principles to pull us through. ~ The Stark Munro Letters by Sir Arthur Conan Doyle
"There are times, young fellah, when every one of us must make a stand for human right and justice, or you never feel clean again." ~ The Lost World by Sir Arthur Conan Doyle
Goresthorpe Grange is a feudal mansion – or so it was termed in the advertisement which originally brought it under my notice. Its right to this adjective had a most remarkable effect upon its price, and the advantages gained may possibly be more sentimental than real. Still, it is soothing to me to know that I have slits in my staircase through which I can discharge arrows; and there is a sense of power in the fact of possessing a complicated apparatus by means of which I am enabled to pour molten lead upon the head of the casual visitor. ~ Selecting a Ghost by Sir Arthur Conan Doyle
Clouds of insects danced and buzzed in the golden autumn light, and the air was full of the piping of the song-birds. Long, glinting dragonflies shot across the path, or hung tremulous with gauzy wings and gleaming bodies. ~ The White Company by Sir Arthur Conan Doyle
What can we know? What are we all? Poor silly half-brained things peering out at the infinite, with the aspirations of angels and the instincts of beasts. ~ The Stark Munro Letters by Sir Arthur Conan Doyle