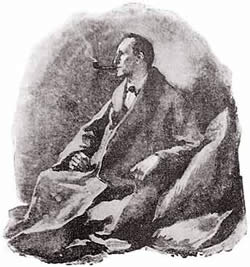 Sherlock Holmes is at your service!  Our partner site, The Chronicles of Sir Arthur Conan Doyle, has a fun feature that allows you to ask Sherlock Holmes a yes or no question.   It's fun and it's addictive!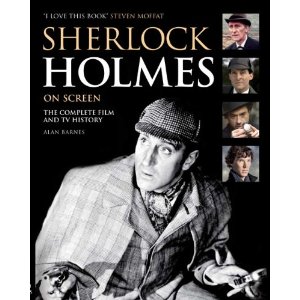 An updated edition of Sherlock Holmes On Screen is going to be released at the end of the month. However you an pre-order it now at Amazon.
Amazon has this to say:
Illustrated with rare archive pictures throughout, Sherlock Holmes on Screen is now updated with entries on the BBC's modern-day Sherlock, starring Benedict Cumberbatch, and director Guy Ritchie's all-action Sherlock Holmes, starring Robert Downey Jr – plus Sherlockian turns from Rupert Everett and Jonathan Pryce. Expanded coverage of Holmes' animated escapades opposite, among others, Batman, Scooby-Doo and the Teenage Mutant Ninja Turtles, plus new research into the Great Detective's silent film career, makes this revised edition the most comprehensive Holmes filmography ever published.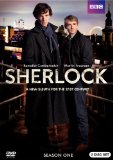 I was excited to hear the that second season of Sherlock recently started in the UK.  (Season One is available in the US from Amazon.com.)  However it sounds as though viewers got more than they bargained for with A Scandal in Belgravia.   A headline from the The Telegraph states, "Sherlock nudity before the watershed shocks viewers"   (In the UK watershed is a time period in the television schedule when adult content can be aired.)  Yikes!  I wonder what Conan Doyle would say?

Happy New Year!  May 2012 bring you health, laughter and love.  Here are some quotes from our daily quotes page for the new year . . .
The future was with Fate. The present was our own. ~ The Poison Belt by Sir Arthur Conan Doyle
"Now, I return to this young fellow. And the communication I have got to make is, that he has great expectations." ~ Great Expectations by Charles Dickens
"Ride on! Rough-shod if need be, smooth-shod if that will do, but ride on! Ride on over all obstacles, and win the race!" ~ David Copperfield by Charles Dickens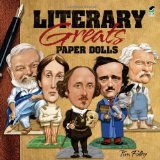 Oh, how I wish I'd seen this before Christmas!   I would have added the Literary Greats Paper Dolls Collection to my wish list.  This paper doll set for grownups contains 35 caricatures of famous authors, including Shakespeare, Mary Shelley, Edgar Allan Poe, Ayn Rand, and Charles Dickens. Each doll has three costumes that relate to the author's work.  Fox example,  the Conan Doyle doll has a Sherlock Holmes costume and Agatha Christie can be decked out as Miss Marple.  Fun stuff!!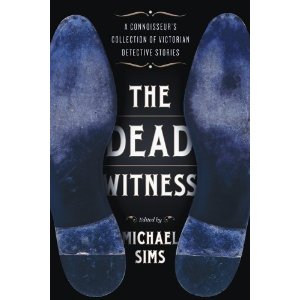 I heard about  The Dead Witness: A Connoisseur's Collection of Victorian Detective Stories on NPR this morning.  Of course Wilkie Collins and Sir Arthur Conan Doyle are represented in the collection.  However the book also has detective fiction from classic authors that aren't necessarily associated with the genre like Charles Dickens and Mark Twain.  Other stories in the collection are by authors that aren't as well known today such as Anna Katharine Green and C. L. Pirkis.
Here's what Amazon.com has to say:
From luminaries Mark Twain, Charles Dickens, Bret Harte, Wilkie Collins, and Arthur Conan Doyle to the forgotten author who helped inspire Edgar Allan Poe's "The Murders in the Rue Morgue" to a surprising range of talented female authors and detectives, The Dead Witness offers mystery surprises from every direction. The 1866 title story, by Australian writer Mary Fortune, is the first known detective story by a woman, a suspenseful clue-strewn manhunt in the Outback. Pioneer writers Anna Katharine Green and C. L. Pirkis take you from high society New York to bustling London, introducing colorful detectives such as Violet Strange and Loveday Brooke.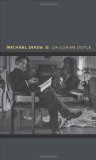 Michael Dirda, a member of The Baker Street Irregulars, has written On Conan Doyle: Or, The Whole Art of Storytelling.  This short book (210 pages) points out that there's more to Conan Doyle than Sherlock Holmes.
Here's what Amazon.com has to say about Mr. Dirda's book:
Because Arthur Conan Doyle wrote far more than the mysteries involving Holmes, this book also introduces readers to the author's lesser-known but fascinating writings in an astounding range of other genres. A prolific professional writer, Conan Doyle was among the most important Victorian masters of the supernatural short story, an early practitioner of science fiction, a major exponent of historical fiction, a charming essayist and memoirist, and an outspoken public figure who attacked racial injustice in the Congo, campaigned for more liberal divorce laws, and defended wrongly convicted prisoners. He also wrote novels about both domestic life and contemporary events (including one set in the Middle East during an Islamic uprising), as well as a history of World War I, and, in his final years, controversial tracts in defense of spiritualism.
Want to learn more?  Our partner site, The Chronicles of Sir Arthur Conan Doyle, is a great place to find out more about Conan Doyle.  And to get a taste of Conan Doyle's other writing  just click on these links: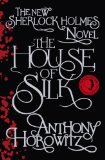 In January of  this year Anthony Horowitz made a surprising announcement at a meeting of the Sherlock Holmes Society.  The Conan Doyle Estate had authorized Horowitz to write a new Sherlock Holmes novel.    It was an absolutely unprecedented event.  The Estate had never before made such an arrangement.
The new Sherlock Holmes novel, The House of Silk, is now available and getting great reviews.
The Huffington Post ~ A book firmly rooted in the style of Doyle, faithful to the character as created and with just enough wiggle room to allow the author to say all the things he's been longing to say about the world of 221B Baker Street…THE HOUSE OF SILK will satisfy.
Publishers Weekly (starred review) ~ The hype surrounding what's being billed as the first pastiche ever officially approved by the Conan Doyle estate is amply justified … authentic. Horowitz gets everything right-the familiar narrative voice, brilliant deductions, a very active role for Watson, and a perplexing and disturbing series of puzzles to unravel-and the legion of fans of the originals will surely be begging for Horowitz to again dip into Watson's trove of untold tales.
If you have a Kindleand are a little unsure about the whole Conan Doyle replacement issue, then you can download a sample chapter and check it out before you commit to buying the book.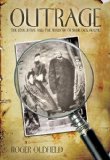 Arthur Conan Doyle didn't just write mysteries, he actually solved a few.  One of his most famous cases is the George Edalji case.
Roger Oldfield has written a book about the case, Outrage: The Edalji Five and the Shadow of Sherlock Holmes.  Mr. Oldfield brings a unique perspective to the case as someone who has met descendents of individuals involved in the case.  He's also familiar with the area where the case took place.
Roger Oldfield recently told LitQuotes this about the case and about his new book:

'SHERLOCK HOLMES AT WORK'.  This was the headline in the Daily Telegraph on January 11 1907 when Sir Arthur Conan Doyle in the first of two articles announced to the world that he was taking up the case of George Edalji.    The great novelist George Meredith, one of the many literary friends who wrote to congratulate him, put it this way: Sherlock Holmes, he said, had shown 'what can be done in the life of breath'.

There had already been a national outcry in 1903 when George Edalji of Great Wyrley in Staffordshire had been convicted of wounding a pony, the 8th of a series of barbarous outrages against animals in his home village.  The fact however that the very creator of Sherlock Holmes seemed in 1907 to be acting out the part of his own creation, the most famous character in British fiction, gave George Edalji's cause worldwide fame: newspapers from New York to Paris to Mumbai reported the developing events of 1907 with fascination.  Conan Doyle not only acted as sleuth, scouring the scene of the crime and interviewing the major players;  he also had his real-life Inspector Lestrade as adversary, in the shape of George Anson, Chief Constable of Staffordshire, whom he blamed for George Edalji's wrongful conviction.
The shadow of Sherlock Holmes has hung over the story every since. 'It is a blot upon the record of English Justice,' Conan Doyle wrote in his Memories and Adventures in 1924, 'and even now it should be wiped out.' This was the verdict which echoed for decades through the pens of many of the dozens of his admirers and biographers – 'a very gentle, perfect knight (Lamond, 1931), a 'brilliant vindication of Edalji' (Pemberton, 1936), 'the incarnation of the English conscience' (Nordon, 1968).  Even Julian Barnes, who has revived worldwide interest in the story in his novel Arthur & George (2005), the bookies' favourite for the top literary prize in Britain in 2005, does not question Conan Doyle's view that Edalji was innocent.
There is evidence, however, which runs counter to the Conan Doyle view, as the local historian Michael Harley suggested in the 1980s.   Roger Oldfield's book Outrage: The Edalji Five and the Shadow of Sherlock Holmes, Vanguard Press, 2010, is the first to go behind the scenes and assess the evidence for and against George Edalji in full.  A conclusion is reached on whether the man who believed in fairies had been taken in by the mild-mannered, middle class myopic from Great Wyrley.   As for Julian Barnes's novel, that too is subjected to rigorous scrutiny and the general reader is given a glimpse into how far it remains true to the actual historical record.
Also new, and of special interest for Conan Doyle addicts, is an account of the extraordinary secret war which broke out between Conan Doyle and Chief Constable Anson.  At one point their furious dispute led each of them to appeal to Winston Churchill for support.   Anson was utterly contemptuous of the detective skills of the man many thought actually was Sherlock Holmes, and his seething hatred for the world-famous writer lasted until his death.
Roger Oldfield's book suggests that the shadow of Sherlock Holmes hanging over the story has obscured the fascinating history of the Edalji family as a whole.  His research has uncovered a mass of new material about all five members of the family which has never been published before.
For full details of the book see www.outrage-rogeroldfield.co.uk
'unlikely to be surpassed as a comprehensive, intelligent, balanced and intensely readable account' ~ The Newsletter of the Sherlock Holmes Society of London
'certainly the best thing there is concerning the Edalji case on every count' ~ D. Michael Risinger, Professor of Law, Newark, USA.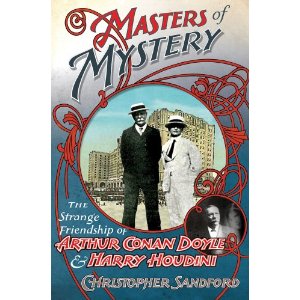 Fans of Sir Arthur Conan Doyle will be happy to hear that a new book about his life will soon be published. Masters of Mystery: The Strange Friendship of Arthur Conan Doyle and Harry Houdini tells about the friendship and conflict between Conan Doyle and Harry Houdini.
People unfamiliar with Conan Doyle's life may be surprised to learn that he was a proponent of Spiritualism.  He firmly believed that it was possible to communicate with those who had passed over to the other side.
Houdini, who was hit hard by the death of his beloved mother, was outraged at the tricks mediums used during their seances.  He used his experience as a magician and illusionist to expose the fraudulent spiritualists.

Amazon says this about the book:
Renowned mystery author Arthur Conan Doyle and famous illusionist Harry Houdini first met in 1920, during the magician's tour of England. At the time, Conan Doyle had given up his lucrative writing career, killing off Sherlock Holmes in the process, in order to concentrate on his increasingly manic interest in Spiritualism. Houdini, who regularly conducted séances in an attempt to reach his late mother, was also infatuated with the idea of what he called a "living afterlife," though his enthusiasm came to be tempered by his ability to expose fraudulent mediums, many of whom employed crude variations of his own well-known illusions. Using previously unpublished material on the murky relationship between Houdini and Conan Doyle, this sometimes macabre, sometimes comic tale tells the fascinating story of the relationship between two of the most loved figures of the 20th century and their pursuit of magic and lost loved ones.
Learn More:
Conan Doyle and Spiritualism – Article on Conan Doyle's belief in Spiritualism from our partner site, The Chronicles of Sir Arthur Conan Doyle