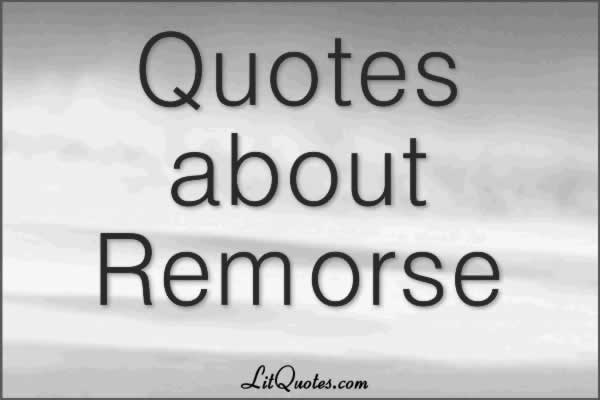 But sorry is the Kool-Aid of human emotions. It's what you say when you spill a cup of coffee or throw a gutterball when you're bowling with the girls in the league. True sorrow is as rare as true love. ~ Carrie by Stephen King
Her husband had archaic ideas about jewels; a man bought them for his wife in acknowledgment of things he could not gracefully utter. ~ A Lost Lady by Willa Cather
"The study of Nature makes a man at last as remorseless as Nature." ~ The Island of Doctor Moreau by H. G. Wells
"There is no refuge from memory and remorse in this world. The spirits of our foolish deeds haunt us, with or without repentance." ~ Mrs. Falchion by Gilbert Parker
It is a good rule in life never to apologize. The right sort of people do not want apologies, and the wrong sort take a mean advantage of them. ~ The Man Upstairs by P. G. Wodehouse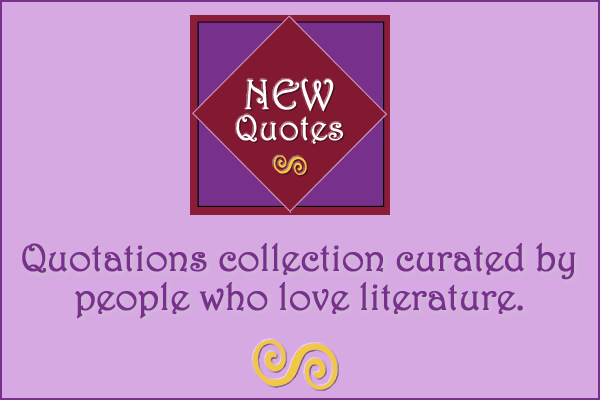 We added new quotes to the site today.  All of the quotes on this site list an author and a source. NONE of the quotes come from movies made from books.
Smiles and tears are so alike with me, they are neither of them confined to any particular feelings: I often cry when I am happy, and smile when I am sad. ~ The Tenant of Wildfell Hall by Anne Bronte
I wish I were a girl again, half savage and hardy, and free; and laughing at injuries, not maddening under them! ~ Wuthering Heights by Emily Bronte
A trusty companion halves the journey and doubles the courage. ~ The Coming Race by Edward Bulwer-Lytton
It was a dark and stormy night; the rain fell in torrents, except at occasional intervals, when it was checked by a violent gust of wind which swept up the streets (for it is in London that our scene lies), rattling along the house-tops, and fiercely agitating the scanty flame of the lamps that struggled against the darkness. ~ Paul Clifford by Edward Bulwer-Lytton
In case you're wondering, the above IS the quote that made "it was a dark and stormy night" famous.
"I'll borrow of imagination what reality will not give me." ~ Shirley by Charlotte Bronte
Feeling without judgment is a washy draught indeed; but judgment untempered by feeling is too bitter and husky a morsel for human deglutition. ~ Jane Eyre by Charlotte Bronte
But sorry is the Kool-Aid of human emotions. It's what you say when you spill a cup of coffee or throw a gutterball when you're bowling with the girls in the league. True sorrow is as rare as true love. ~ Carrie by Stephen King
Her husband had archaic ideas about jewels; a man bought them for his wife in acknowledgment of things he could not gracefully utter. ~ A Lost Lady by Willa Cather
Everything may be labelled—but everybody is not. ~ The Age of Innocence by Edith Wharton
"Why do we call all our generous ideas illusions, and the mean ones truths?" ~ The House of Mirth by Edith Wharton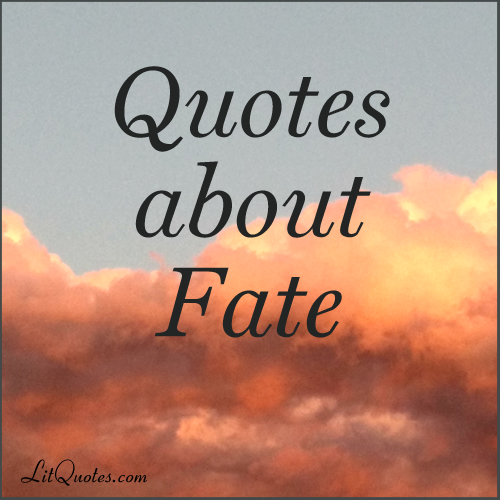 It is never quite safe to think we have done with life. When we imagine we have finished our story fate has a trick of turning the page and showing us yet another chapter. ~ Rainbow Valley by Lucy Maud Montgomery
It matters not how strait the gate,
How charged with punishments the scroll,
I am the master of my fate:
I am the captain of my soul. ~ Invictus by William Ernest Henley
You pay for what you get, you own what you pay for… and sooner or later whatever you own comes back home to you. ~ It by Stephen King
We are merely the stars' tennis-balls, struck and banded Which way please them. ~ The Duchess of Malfi by John Webster
Were we no better than chessmen, moved by an unseen power, vessels the potter fashions at his fancy, for honour or for shame? ~ Lord Arthur Savile's Crime by Oscar Wilde
There's a divinity that shapes our ends,
Rough-hew them how we will. ~ Hamlet, Prince of Denmark by William Shakespeare
Fortune's a right whore: If she give aught, she deals it in small parcels, That she may take away all at one swoop. ~ The White Devil by John Webster
But often the great cat Fate lets us go only to clutch us again in a fiercer grip. ~ The Curse of Eve by Sir Arthur Conan Doyle
It is curious to look back and realize upon what trivial and apparently coincidental circumstances great events frequently turn as easily and naturally as a door on its hinges. ~ Allan Quatermain by H. Rider Haggard
"This whole act's immutably decreed. 'Twas rehearsed by thee and me a billion years before this ocean rolled. Fool! I am the Fates' lieutenant; I act under orders." ~ Moby Dick by Herman Melville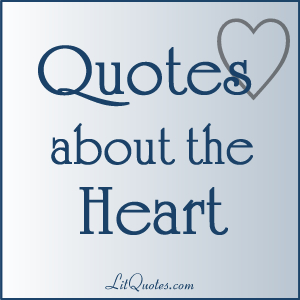 These are some of the sweetest quotes about hearts from literature.
"Friendship, I fancy, means one heart between two." ~ Diana of the Crossways by George Meredith
Life's more than breath and the quick round of blood;
It is a great spirit and a busy heart. ~ Festus by Philip James Bailey
Men who look on nature, and their fellow-men, and cry that all is dark and gloomy, are in the right; but the sombre colours are reflections from their own jaundiced eyes and hearts. The real hues are delicate, and need a clearer vision. ~ Oliver Twist by Charles Dickens
Maybe, he thought, there aren't any such things as good or bad friends – maybe there are just friends, people who stand by you when you're hurt and who help you feel not so lonely. Maybe they're always worth being scared for, and hoping for, and living for. Maybe worth dying for, too, if that's what has to be. No good friends. No bad friends. Only people you want, need to be with; people who build their houses in your heart. ~ It by Stephen King
She had found her heart at last. Never having known its worth till now, she had never known the worth of his. ~ Barnaby Rudge by Charles Dickens
"I carry my own church about under my own hat," said I. "Bricks and mortar won't make a staircase to heaven. I believe with your Master that the human heart is the best temple." ~ The Stark Munro Letters by Sir Arthur Conan Doyle
Heaven knows we need never be ashamed of our tears, for they are rain upon the blinding dust of earth, overlying our hard hearts. ~ Great Expectations by Charles Dickens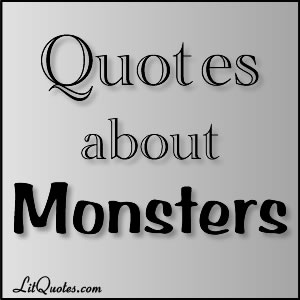 Eddie discovered one of his childhood's great truths. Grownups are the real monsters, he thought. ~ It by Stephen King
It seemed to be a sort of monster, or symbol representing a monster, of a form which only a diseased fancy could conceive. If I say that my somewhat extravagant imagination yielded simultaneous pictures of an octopus, a dragon, and a human caricature, I shall not be unfaithful to the spirit of the thing. A pulpy, tentacled head surmounted a grotesque and scaly body with rudimentary wings; but it was the general outline of the whole which made it most shockingly frightful. ~ The Call of Cthulhu by H. P. Lovecraft
It was the incarnation of blind and insensate Greed. It was a monster devouring with a thousand mouths, trampling with a thousand hoofs; it was the Great Butcher–it was the spirit of Capitalism made flesh. ~ The Jungle by Upton Sinclair
"O, beware, my lord, of jealousy! It is the green-eyed monster, which doth mock the meat it feeds on." ~ Othello by William Shakespeare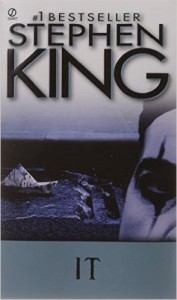 It, by Stephen King, was published in 1986. The novel won the British Fantasy Award in 1987, and received nominations for the Locus and World Fantasy Awards that same year. Publishers Weekly listed It as the best-selling book in the United States in 1986.
A miniseries based on the book aired in 1990.
If you want a good scare for Halloween, I highly recommend both the book and the miniseries.  But be warned you may never feel the same way about clowns or balloons ever again.
The terror, which would not end for another 28 years-if it ever did end-began, so far as I know or can tell, with a boat made from a sheet of newspaper floating down a gutter swollen with rain. ~ It by Stephen King
Read the book or view the miniseries.


I added new quotes to the site today.  It's a fun group of quotes and includes some by Stephen King.
Here are some of my favorites from the new batch:
The daylight, the trailing glory of the sun, went streaming out of the sky, was drawn aside like some luminous curtain, and at last I looked into the blue gulf of immensity which the sunshine hides, and saw the floating hosts of the stars. ~ The Island of Doctor Moreau by H. G. Wells
The Anglo-Saxon genius for parliamentary government asserted itself; there was a great deal of talk and no decisive action. ~ The Invisible Man by H. G. Wells
But dreams come through stone walls, light up dark rooms, or darken light ones, and their persons make their exits and their entrances as they please, and laugh at locksmiths. ~ Carmilla by J. Sheridan Le Fanu
Come on back and we'll see if you remember the simplest thing of all – how it is to be children, secure in belief and thus afraid of the dark. ~ It by Stephen King
My hour for tea is half-past five, and my buttered toast waits for nobody. ~ The Woman in White by Wilkie Collins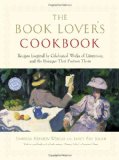 I was browsing through Amazon.com and was happily surprised to find The Book Lover's Cookbook: Recipes Inspired by Celebrated Works of Literature.  You can be sure that I've added it to my wish list!  It combines two of may favorite things, cooking and reading.
Wake up to a perfect breakfast with Mrs. Dalby's Buttermilk Scones, courtesy of James Herriot's All Things Bright and Beautiful and Ichabod's Slapjacks, as featured in Washington Irving's The Legend of Sleepy Hollow. There's homey comfort food like Connie May's Tomato Pie, created with and inspired by Connie May Fowler (Remembering Blue); Thanksgiving Spinach Casserole (Elizabeth Berg's Open House); and Amish Chicken and Dumplings (Jodi Picoult's Plain Truth) . . . Sample salads, breads, and such soul-warming soups as Nearly-a-Meal Potato Soup (Terry Kay's Shadow Song); Mr. Casaubon's Chicken Noodle Soup (George Eliot's Middlemarch); and Mrs. Leibowitz's Lentil-Vegetable Soup (Frank McCourt's Angela's Ashes) . . . After relishing appetizers and entrees, there's a dazzling array of desserts, including Carrot Pudding (Charles Dickens's A Christmas Carol); Effie Belle's Coconut Cake (Olive Ann Burns's Cold Sassy Tree); and the kids will love C.S. Lewis's Turkish Delight from The Lion, The Witch, and the Wardrobe.

Sprinkled throughout with marvelous anecdotes about writers and writing, The Book Lover's Cookbook is a culinary and literary delight, a browser's cornucopia of reading pleasure, and a true inspiration in the kitchen.
Some of the Recipes and the Books that Inspired Them
Jo's Best Omelette . . . Little Women by Louisa May Alcott
No Dieter's Delight Chicken Neapolitan . . . Thinner by Stephen King
Extra-Special Rhubarb Pie . . . The Persian Pickle Club by Sandra Dallas
Grand Feast Crab Meat Casserole . . . At Home in Mitford by Jan Karon
Persian Cucumber and Yogurt . . . House of Sand and Fog by Andre Dubus III
Tamales . . . Like Water for Chocolate by Laura Esquivel
Bev's No-Fuss Crab Cakes . . . Unnatural Exposure by Patricia Cornwell
Macaroni and Cheese . . . The Accidental Tourist by Anne Tyler
Veteran Split Pea Soup . . . The Red Badge of Courage by Stephen Crane
Alternative Carrot-Raisin-Pineapple Salad . . . Midwives by Chris Bohjalian
Summer's Day Cucumber-Tomato Sandwiches . . . Women in Love by D. H. Lawrence
Refreshing Black Cows . . . The Book of Ruth by Jane Hamilton
Dump Punch . . . Pride and Prejudice by Jane Austen
Not Violet, But Blueberry Pie . . . Charlie and the Chocolate Factory by Roald Dahl
Innocent Sweet Bread . . . The Bluest Eye by Toni Morrison
Daddy's Rich Chocolate Cake . . . Fatherhood by Bill Cosby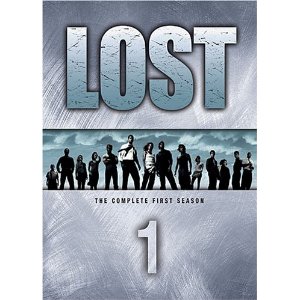 I love Netflix. One of the shows that I'm watching on it is Lost. The first season of Lost was the start of a huge adventure.  I absolutely loved it.  It was exciting.  It kept me guessing.  And there were loads of literary references.
Walkabout, the fourth episode of season one, features Jack asking Kate, "Tell me something, how come every time there's a hike into the Heart of Darkness you sign up?"
The fifth episode,  was titled White Rabbit after Alice in Wonderland.
During the flashback to Charlie's life did you notice a similarity between him and Eddie from The Dark Tower, Book 2?
At one point Kate finds Sawyer reading Watership Down.
Speaking of Sawyer reading, Hurley commented on Sawyer's reading glasses, "Dude, looks like someone steamrolled Harry Potter."
In the 17th episode Sawyer states, "Folks down on the beach might have been doctors and accountants a month ago, but it's Lord of the Flies time, now."