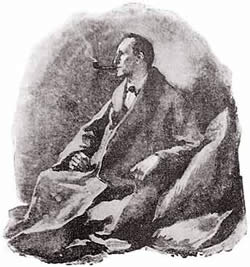 A new Sherlock Holmes novel will hit bookstores in September.  Art in the Blood is by Bonnie MacBird.  She teaches screenwriting at UCLA Extension.  MacBird is also a speaker on multiple subjects.  She's an expert on the topics of writing, creativity and of course, Sherlock Holmes.
pre-order Art in the Blood: A Sherlock Holmes Adventure
"Thoroughly entertaining … worthy of Doyle himself. … a superb, labyrinthine plot, snappy pacing and, most importantly, a deep respect for the classic characters." –Bryan Cogman, Co-Producer/Writer, HBO's Game of Thrones
This Sherlockian license plate frame is one of  the most popular item at the LitQuotes gift shop.  I know the quote is in The Adventure of Abbey Grange.  Does anyone know if it's in other Sherlock Holmes stories?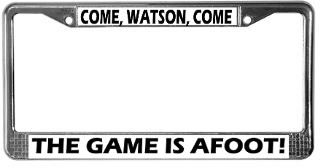 "Come, Watson, come!" he cried. The game is afoot." ~ The Adventure of Abbey Grange by Sir Arthur Conan Doyle