With fake news running wild, how do we know what's true? Here's what William Shakespeare, Herman Melville, George R. R. Martin and others have to say.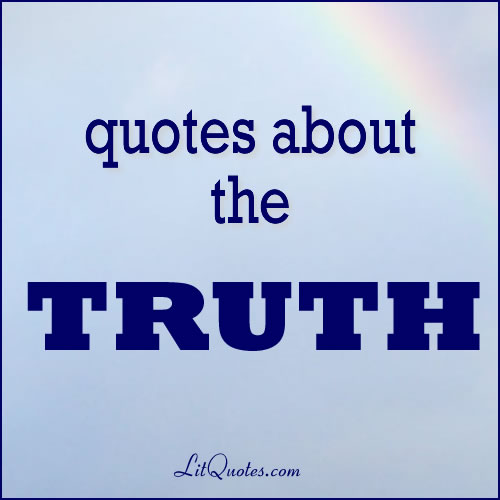 There was a great historian lost in Wolverstone. He had the right imagination that knows just how far it is safe to stray from the truth and just how far to colour it so as to change its shape for his own purposes. ~ Captain Blood by Rafael Sabatini
"Truth is like a thrashing-machine; tender sensibilities must keep out of the way." ~ The Confidence-Man by Herman Melville
You'll find truth in your looking glass, not on the tongues of men. ~ A Feast for Crows by George R. R. Martin
Being in a minority, even a minority of one, did not make you mad. There was truth and there was untruth, and if you clung to the truth even against the whole world, you were not mad. ~ Nineteen Eighty-Four by George Orwell
"It is an old maxim of mine that when you have excluded the impossible, whatever remains, however improbable, must be the truth." ~ The Adventure of the Beryl Coronet by Sir Arthur Conan Doyle
"Journalists say a thing that they know isn't true, in the hope that if they keep on saying it long enough it will be true." ~ The Title by Arnold Bennett
People often claim to hunger for truth, but seldom like the taste when it's served up. ~ A Clash of Kings by George R. R. Martin
"I make no manner of doubt that you threw a very diamond of truth at me, though you see it hit me so directly in the face that it wasn't exactly appreciated, at first." ~ Uncle Tom's Cabin by Harriet Beecher Stowe
Truth is tough. It will not break, like a bubble, at a touch; nay, you may kick it about all day, like a football, and it will be round and full at evening. ~ The Professor at the Breakfast Table by Oliver Wendell Holmes, Sr.
"For truth is truth to the end of reckoning." ~ Measure for Measure by William Shakespeare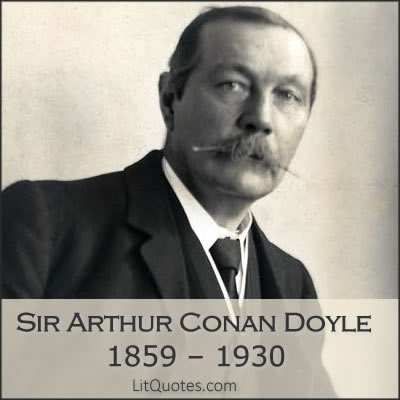 Sir Arthur Conan Doyle was born in 1859 and died in 1930.  He's best known as the creator of the Sherlock Holmes.  But here are five things about him that you may not know.
1 – Conan Doyle was a physician.  He attended the University of Edinburgh Medical School and graduated in 1881 with a Bachelor of Medicine and Mastery of Surgery.
2 – He worked as a ship's surgeon on a whaling vessel.
3 – Conan Doyle was not knighted for his Sherlock Holmes stories.  The War in South Africa: Its Causes and Conduct caught the eye of the monarchy.  In it, Conan Doyle comes to Great Britain's defense against charges of war crimes in the Boer War.
4 – George Edalji was an innocent man convicted of mutilating and killing livestock.  Who helped him prove his innocence?  The case was solved by Arthur Conan Doyle.  Sir Arthur solved two real-life crime cases, the George Edalji case and the Oscar Slater case.
5 – Conan Doyle believed in Spiritualism.  It's true.  The man who created the ever-logical Sherlock Holmes believed in spirits and things like automatic writing.
You can learn more about all of these subjects at our partner site, Conan Doyle Info.  As the site says, Sherlock Holmes is just the beginning.
Partial List of Work by Conan Doyle
A Study in Scarlet
Micah Clarke
The Mystery of Cloomber
The Sign of the Four
The Firm of Girdlestone
The White Company
The Doings of Raffles Haw
The Great Shadow
The Refugees
The Parasite
The Stark Munro Letters
Rodney Stone
Uncle Bernac
The Tragedy of the Korosko
A Duet, with an Occasional Chorus
The Hound of the Baskervilles
Sir Nigel
The Lost World
The Poison Belt
The Valley of Fear
The Land of Mist
The Maracot Deep
More Information about Sir Arthur Conan Doyle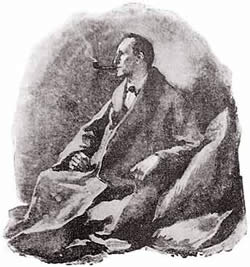 A new Sherlock Holmes novel will hit bookstores in September.  Art in the Blood is by Bonnie MacBird.  She teaches screenwriting at UCLA Extension.  MacBird is also a speaker on multiple subjects.  She's an expert on the topics of writing, creativity and of course, Sherlock Holmes.
pre-order Art in the Blood: A Sherlock Holmes Adventure
"Thoroughly entertaining … worthy of Doyle himself. … a superb, labyrinthine plot, snappy pacing and, most importantly, a deep respect for the classic characters." –Bryan Cogman, Co-Producer/Writer, HBO's Game of Thrones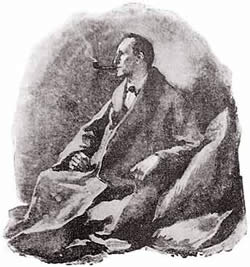 Our partner site, The Chronicles of Sir Arthur Conan Doyle, has as great quiz for the true Sherlockian.   Yes, I hear you scoff, "How hard can that be?"  Let me tell you, it's pretty challenging!  In this multiple choice game you're given the first line to 10 of the stories in The Adventures of Sherlock Holmes.  Select the title that matches the first line from the drop down menu.  I hope you enjoy The Adventures of Sherlock Holmes Matching Quiz.
Check out this fascinating YouTube video showing Sir Arthur Conan Doyle talking about how he came up with the idea for Sherlock Holmes.
Learn more about Sir Arthur Conan Doyle:
The Chronicles of Sir Arthur Conan Doyle – This is our partner site on the life and work of Sir Arthur Conan Doyle.  While I enjoy Sherlock Holmes, there's a lot more to Conan Doyle than his most famous creation.