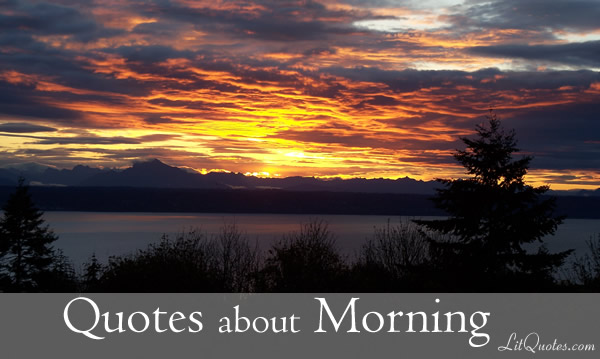 The sun comes out, a golden huzzar, from his tent, flashing his helm on the world. ~ The Confidence-Man by Herman Melville
The longest way must have its close,—the gloomiest night will wear on to a morning. ~ Uncle Tom's Cabin by Harriet Beecher Stowe
Saturday morning was come, and all the summer world was bright and fresh, and brimming with life. There was a song in every heart; and if the heart was young the music issued at the lips. There was cheer in every face and a spring in every step. ~ The Adventures of Tom Sawyer by Mark Twain
Morning made a considerable difference in my general prospect of Life, and brightened it so much that it scarcely seemed the same. ~ Great Expectations by Charles Dickens
"I like breakfast-time better than any other moment in the day," said Mr. Irwine. "No dust has settled on one's mind then, and it presents a clear mirror to the rays of things." ~ Adam Bede by George Eliot
Rays from the sunrise drew forth the buds and stretched them into long stalks, lifted up sap in noiseless streams, opened petals, and sucked out scents in invisible jets and breathings. ~ Tess of the D'Urbervilles by Thomas Hardy
From the east to the west sped the angels of the Dawn, from sea to sea, from mountain-top to mountain-top, scattering light with both their hands. ~ She by H. Rider Haggard
No man knows till he has suffered from the night how sweet and dear to his heart and eye the morning can be. ~ Dracula by Bram Stoker
With fake news running wild, how do we know what's true? Here's what William Shakespeare, Herman Melville, George R. R. Martin and others have to say.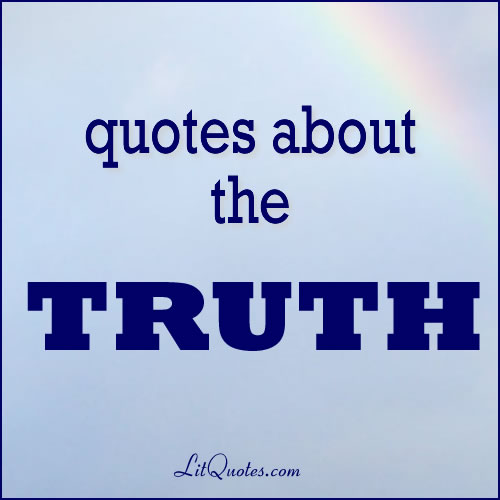 There was a great historian lost in Wolverstone. He had the right imagination that knows just how far it is safe to stray from the truth and just how far to colour it so as to change its shape for his own purposes. ~ Captain Blood by Rafael Sabatini
"Truth is like a thrashing-machine; tender sensibilities must keep out of the way." ~ The Confidence-Man by Herman Melville
You'll find truth in your looking glass, not on the tongues of men. ~ A Feast for Crows by George R. R. Martin
Being in a minority, even a minority of one, did not make you mad. There was truth and there was untruth, and if you clung to the truth even against the whole world, you were not mad. ~ Nineteen Eighty-Four by George Orwell
"It is an old maxim of mine that when you have excluded the impossible, whatever remains, however improbable, must be the truth." ~ The Adventure of the Beryl Coronet by Sir Arthur Conan Doyle
"Journalists say a thing that they know isn't true, in the hope that if they keep on saying it long enough it will be true." ~ The Title by Arnold Bennett
People often claim to hunger for truth, but seldom like the taste when it's served up. ~ A Clash of Kings by George R. R. Martin
"I make no manner of doubt that you threw a very diamond of truth at me, though you see it hit me so directly in the face that it wasn't exactly appreciated, at first." ~ Uncle Tom's Cabin by Harriet Beecher Stowe
Truth is tough. It will not break, like a bubble, at a touch; nay, you may kick it about all day, like a football, and it will be round and full at evening. ~ The Professor at the Breakfast Table by Oliver Wendell Holmes, Sr.
"For truth is truth to the end of reckoning." ~ Measure for Measure by William Shakespeare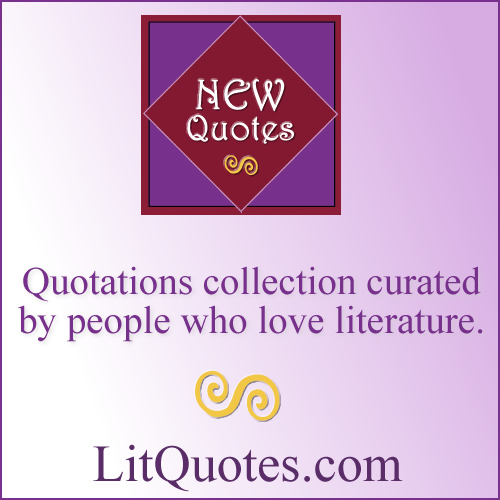 New quotes were added to the site today.  Just a reminder that all of the quotes list an author and a source. This quotation collection is curated by people and NOT by a computer program.
Here are some quotes from the new additions. . .
No legacy is so rich as honesty. ~ All's Well That Ends Well by William Shakespeare
"I'm so thankful for friendship. It beautifies life so much." ~ Anne Of Avonlea by Lucy Maud Montgomery
She was becoming herself and daily casting aside that fictitious self which we assume like a garment with which to appear before the world. ~ The Awakening by Kate Chopin
Truth uncompromisingly told will always have its ragged edges. ~ Billy Budd by Herman Melville
"Truth is like a thrashing-machine; tender sensibilities must keep out of the way." ~ The Confidence-Man by Herman Melville
The first thing you learn in life is you're a fool. The last thing you learn in life is you're the same fool. ~ Dandelion Wine by Ray Bradbury
"You must be the best judge of your own happiness." ~ Emma by Jane Austen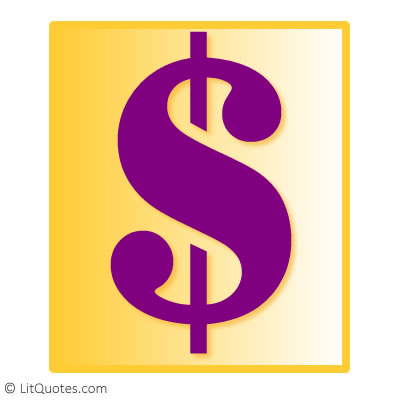 Don't be alarmed, but tax day is coming!  That sad and inevitable fact has got me reviewing my budget and thinking about money.
"Money, you think, is the sole motive to pains and hazard, deception and deviltry, in this world. How much money did the devil make by gulling Eve?" ~ The Confidence-Man by Herman Melville
"Let me give you a tip on a clue to men's characters: the man who damns money has obtained it dishonorably; the man who respects it has earned it." ~ Atlas Shrugged by Ayn Rand
"Death and taxes and childbirth! There's never any convenient time for any of them!" ~ Gone With The Wind by Margaret Mitchell
It has been said that the love of money is the root of all evil. The want of money is so quite as truly. ~ Erewhon by Samuel Butler
I have learned one thing, my friend 'one can get nearly everything with money. It is the hidden machinery which makes the world of success go round. With brains, you say? Yes, money and brains, but without the money brains seldom win alone. ~ No Defense by Gilbert Parker
More Quotes About Money From Literature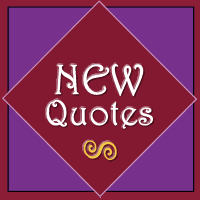 Yesterday I added new quotes to the collection.  Here are my favorites from the new batch.  Remember that if you have a quote that you'd like to see added, you can contribute a quote.
Fair speech may hide a foul heart. ~ The Two Towers by J. R. R. Tolkien
"Why, sometimes I've believed as many as six impossible things before breakfast." ~ Through the Looking-Glass by Lewis Carroll
"Money, you think, is the sole motive to pains and hazard, deception and deviltry, in this world. How much money did the devil make by gulling Eve?" ~ The Confidence-Man by Herman Melville
"Since mine own doors refuse to entertain me,
I'll knock elsewhere, to see if they'll disdain me." ~ The Comedy of Errors by William Shakespeare
"Words," said the host, at length, "is worse'n bullets. You never know what they'll hit." ~ The Night Horseman by Max Brand
Other LitQuotes Features