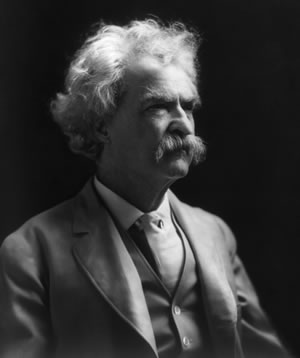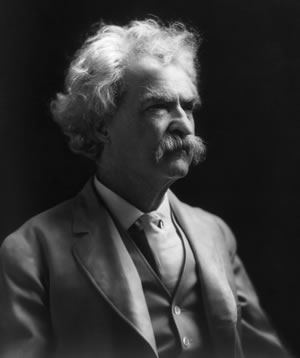 1 – Mark Twain, whose real name was Samuel Langhorne Clemens, was born on November 30th 1835. He died on April 21st, 1910.
2 – For a time he worked as a riverboat pilot on the Mississippi River. He also worked as a newspaper journalist and a miner before he turned to writing fiction.
3 – While he was well paid as a writer, he was plagued with financial problems. One of his biggest problems was bad investments. He lost a lot of money with his investment in Paige Compositor, a mechanical typesetter. Twain eventually declared bankruptcy. However later he paid back all of his creditors.
4 – He married Olivia Landon in 1870. They remained together until her death in 1904. They had four children.
5 – Twain was born shortly after a visit by Halley's Comet. He told people that he would "go out with it" as well. Here's a quote from Twain in 1909.
I came in with Halley's Comet in 1835. It is coming again next year, and I expect to go out with it. It will be the greatest disappointment of my life if I don't go out with Halley's Comet. The Almighty has said, no doubt: 'Now here are these two unaccountable freaks; they came in together, they must go out together'.
Twain predicted correctly. He died the day after the comet's return.
Novels by Mark Twain
The Gilded Age: A Tale of Today
The Adventures of Tom Sawyer
The Prince and the Pauper
Adventures of Huckleberry Finn
A Connecticut Yankee in King Arthur's Court
The American Claimant
The Tragedy of Pudd'nhead Wilson
Tom Sawyer Abroad
Personal Recollections of Joan of Arc
Tom Sawyer, Detective
The Mysterious Stranger (published posthumously)
More about Mark Twain