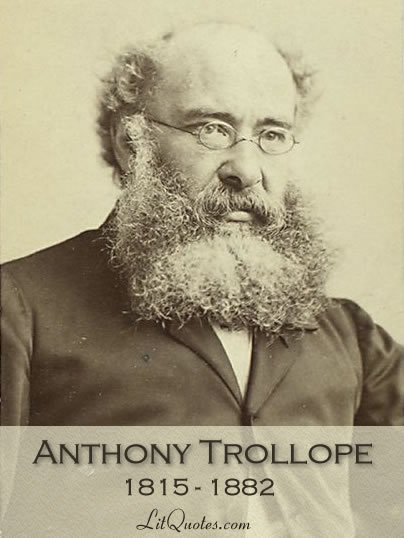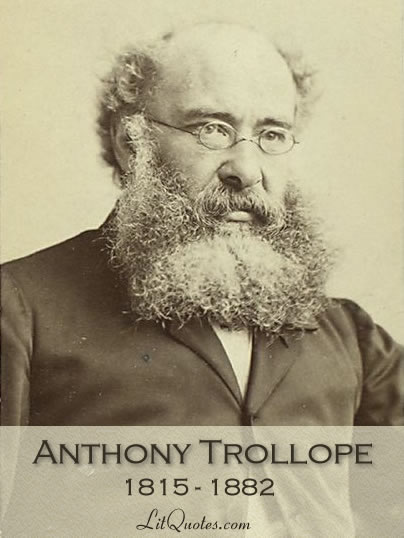 Anthony Trollope (April 24, 1815 – December 6, 1882) was one of the most successful and prolific novelists of the Victorian era. Among his best-known works is a series of novels collectively known as the Chronicles of Barsetshire, which revolves around the imaginary county of Barsetshire.
Trollope was born in London.  His father, Thomas Anthony Trollope, was an unhappy man.  He wanted his sons to be raised as gentlemen, but didn't have the means to make that happen. The money situation came to a head in 1834 when the entire Trollope family moved to Belgium to avoid being arrested for debt.
Later in 1834 Anthony accepted a position as clerk in the General Post Office in London. He worked for the postal system in various positions and locations until 1864.
Trollope wrote in his spare time and while traveling for his postal service job.  His finished his first novel, The Macdermots of Ballycloran, in 1845.
Ride at any fence hard enough, and the chances are you'll get over. The harder you ride the heavier the fall, if you get a fall; but the greater the chance of your getting over. ~ Phineas Redux by Anthony Trollope
The Novels in the Chronicles of Barsetshire are:
The Warden (1855)
Barchester Towers (1857)
Doctor Thorne (1858)
Framley Parsonage (1861)
The Small House at Allington (1864)
The Last Chronicle of Barset (1867)
Palliser Novels
Can You Forgive Her? (1865)
Phineas Finn (1869)
The Eustace Diamonds (1873)
Phineas Redux (1874)
The Prime Minister (1876)
The Duke's Children (1880)
Other Novels by Anthony Trollope
The Macdermots of Ballycloran (1847)
The Kellys and the O'Kellys (1848)
La Vendée: An Historical Romance (1850)
The Three Clerks (1858)
The Bertrams (1859)
Castle Richmond (1860)
Orley Farm (1862)
The Struggles of Brown, Jones & Robinson (1862)
Rachel Ray (1863)
Miss Mackenzie (1865)
The Belton Estate (1866)
The Claverings (1867)
Nina Balatka (1867)
Linda Tressel (1868)
He Knew He Was Right (1869)
The Vicar of Bullhampton (1870)
Sir Harry Hotspur of Humblethwaite (1871)
Ralph the Heir (1871)
The Golden Lion of Granpère (1872)
Harry Heathcote of Gangoil (1874)
Lady Anna (1874)
The Way We Live Now (1875)
The American Senator (1877)
Is He Popenjoy? (1878)
John Caldigate (1879)
An Eye for an Eye (1879)
Cousin Henry (1879)
Ayala's Angel (1881)
Doctor Wortle's School (1881)
The Fixed Period (1882)
Kept in the Dark (1882)
Marion Fay (1882)
Mr. Scarborough's Family (1883)
The Landleaguers (1883)
An Old Man's Love (1884)
Learn More about Anthony Trollope