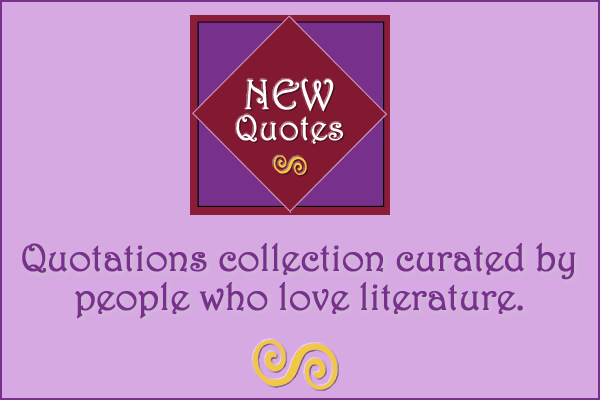 We added new quotes to the site today.  All of the quotes on this site list an author and a source. NONE of the quotes come from movies made from books.
Smiles and tears are so alike with me, they are neither of them confined to any particular feelings: I often cry when I am happy, and smile when I am sad. ~ The Tenant of Wildfell Hall by Anne Bronte
I wish I were a girl again, half savage and hardy, and free; and laughing at injuries, not maddening under them! ~ Wuthering Heights by Emily Bronte
A trusty companion halves the journey and doubles the courage. ~ The Coming Race by Edward Bulwer-Lytton
It was a dark and stormy night; the rain fell in torrents, except at occasional intervals, when it was checked by a violent gust of wind which swept up the streets (for it is in London that our scene lies), rattling along the house-tops, and fiercely agitating the scanty flame of the lamps that struggled against the darkness. ~ Paul Clifford by Edward Bulwer-Lytton
In case you're wondering, the above IS the quote that made "it was a dark and stormy night" famous.
"I'll borrow of imagination what reality will not give me." ~ Shirley by Charlotte Bronte
Feeling without judgment is a washy draught indeed; but judgment untempered by feeling is too bitter and husky a morsel for human deglutition. ~ Jane Eyre by Charlotte Bronte
But sorry is the Kool-Aid of human emotions. It's what you say when you spill a cup of coffee or throw a gutterball when you're bowling with the girls in the league. True sorrow is as rare as true love. ~ Carrie by Stephen King
Her husband had archaic ideas about jewels; a man bought them for his wife in acknowledgment of things he could not gracefully utter. ~ A Lost Lady by Willa Cather
Everything may be labelled—but everybody is not. ~ The Age of Innocence by Edith Wharton
"Why do we call all our generous ideas illusions, and the mean ones truths?" ~ The House of Mirth by Edith Wharton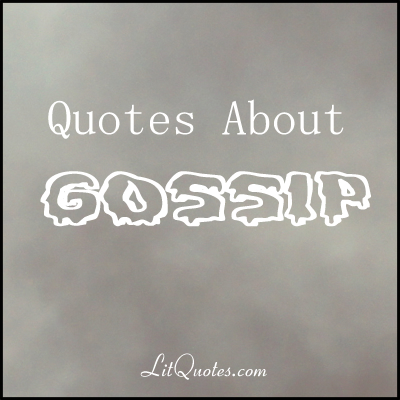 "My own business always bores me to death. I prefer other people's." ~ Lady Windermere's Fan by Oscar Wilde
"Gossip is never fatal, Georgie," he said, "until it is denied." ~ The Magnificent Ambersons by Booth Tarkington
Grace Stepney's mind was like a kind of moral fly-paper, to which the buzzing items of gossip were drawn by a fatal attraction, and where they hung fast in the toils of an inexorable memory. ~ The House of Mirth by Edith Wharton
There was a lady at Santarem–but my lips are sealed. It is the part of a gallant man to say nothing, though he may indicate that he could say a great deal. ~ The Crime of The Brigadier by Sir Arthur Conan Doyle
The talked-about is always the last to hear the talk. ~ Saint's Progress by John Galsworthy
There are two things that will be believed of any man whatsoever, and one of them is that he has taken to drink. ~ Penrod by Booth Tarkington
"There is only one thing in the world worse than being talked about, and that is not being talked about." ~ The Picture of Dorian Gray by Oscar Wilde
The House of Mirth was was written by Edith Wharton and published as a book in October of 1905. (Earlier in that year it was serialized in Scribner's Magazine.)  The novel tells the tale of socialite Lily Bart as she deals with issues of money, a woman's place in society and social expectations.
"Half the trouble in life is caused by pretending there isn't any." ~ The House of Mirth by Edith Wharton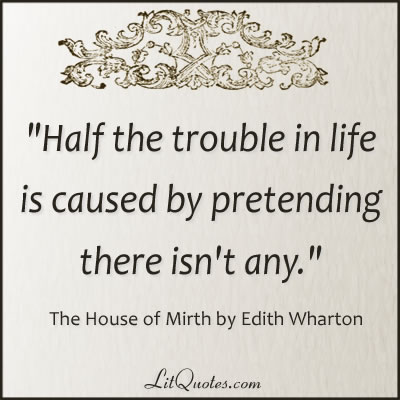 I've also posted this at the LitQuotes Facebook page, the LitQuotes Twitter page and our Pinterest page.

"To win back my youth, Gerald, there is nothing I wouldn't do—except take exercise, get up early, or be a useful member of the community." ~ A Woman of No Importance by Oscar Wilde
"I always say beauty is only sin deep." ~ Reginald by Saki
It is the necessary nature of a political party in this country to avoid, as long as it can be avoided, the consideration of any question which involves a great change. ~ Phineas Redux by Anthony Trollope
The world is a stage, but the play is badly cast. ~ Lord Arthur Savile's Crime by Oscar Wilde
"Prophecy is like a half-trained mule," he complained to Jorah Mormont. "It looks as though it might be useful, but the moment you trust in it, it kicks you in the head." ~ A Dance with Dragons by George R. R. Martin
You can't expect the fatted calf to share the enthusiasm of the angels over the prodigal's return. ~ Reginald by Saki
Fox terriers are born with about four times as much original sin in them as other dogs are. ~ Three Men in a Boat by Jerome K. Jerome
Discovering that priests were infinitely more attentive when she was in process of losing or regaining faith in Mother Church, she maintained an enchantingly wavering attitude. ~ This Side of Paradise by F. Scott Fitzgerald
"This looks like one of those unwelcome social summonses which call upon a man either to be bored or to lie." ~ The Adventure of the Noble Bachelor by Sir Arthur Conan Doyle
"Morality is simply the attitude we adopt towards people whom we personally dislike." ~ An Ideal Husband by Oscar Wilde
In one respect at least the Martians are a happy people; they have no lawyers. ~ A Princess of Mars by Edgar Rice Burroughs
"I discovered early that crying makes my nose red, and the knowledge has helped me through several painful episodes." ~ The House of Mirth by Edith Wharton
In all the thousands of times I have asked other people for advice, I never yet got the advice I wanted. ~ Armadale by Wilkie Collins
A story with a moral appended is like the bill of a mosquito. It bores you, and then injects a stinging drop to irritate your conscience. ~ Strictly Business by O. Henry
Mrs. Bittacy rustled ominously, holding her peace meanwhile. She feared long words she did not understand. Beelzebub lay hid among too many syllables. ~ The Man Whom the Trees Loved by Algernon Blackwood
"Unbidden guests
Are often welcomest when they are gone." ~ Henry VI, Part One by William Shakespeare
The bishop did not whistle: we believe that they lose the power of doing so on being consecrated. ~ The Warden by Anthony Trollope
What the eye does not see, the stomach does not get upset over. ~ Three Men in a Boat by Jerome K. Jerome
I don't want to repeat my innocence. I want the pleasure of losing it again. ~ This Side of Paradise by F. Scott Fitzgerald
Unless one is a genius, it is best to aim at being intelligible. ~ Dolly Dialogues by Anthony Hope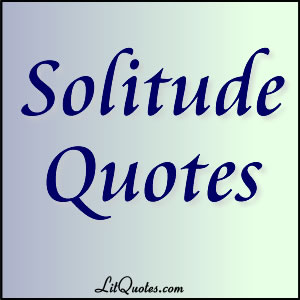 I can live alone, if self-respect, and circumstances require me so to do. I need not sell my soul to buy bliss. I have an inward treasure born with me, which can keep me alive if all extraneous delights should be withheld, or offered only at a price I cannot afford to give. ~ Jane Eyre by Charlotte Bronte
She discovered that, while solitude with dreams is glorious, solitude without them has few charms. ~ Anne of the Island by Lucy Maud Montgomery
She was not accustomed to taste the joys of solitude except in company. ~ The House of Mirth by Edith Wharton
One bright day in the last week of February, I was walking in the park, enjoying the threefold luxury of solitude, a book, and pleasant weather. ~ Agnes Grey by Anne Bronte
At the enchanted metropolitan twilight I felt a haunting loneliness sometimes, and felt it in others–poor young clerks who loitered in front of windows waiting until it was time for a solitary restaurant dinner–young clerks in the dusk, wasting the most poignant moments of night and life. ~ The Great Gatsby by F. Scott Fitzgerald
More Quotes about Solitude from Literature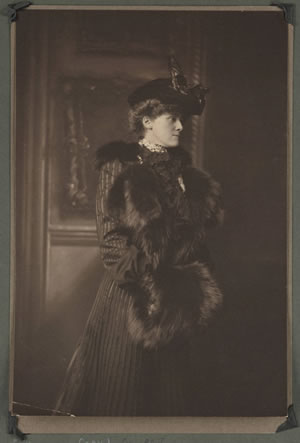 Edith Wharton was an American novelist, short story writer, and designer. She's best knows for her Pulitzer-winning novel, The Age of Innocence as well as Ethan Frome and The House of Mirth.
Edith Newbold Jones was born in New York City in 1862.  Her family was wealthy.  In fact the saying "keeping up with the Joneses" is said to refer to her father's family.
She was always interested in writing.  Wharton began her first novel at eleven.  When she was 15 she was published for the first time.  (It was a translation of a German poem.) Later she would go on to write fifteen novels, seven novellas, eighty-five short stores as well as poems and non-fiction.
In 1885 she married Edward (Teddy) Robbins Wharton.  He shared her love of travel. Sadly, their travels ceased because of Edward's acute depression.  Later his metal health grew worse.  Edith divorced him in 1913 after 28 years of marriage.
During World War One she lived in Paris and was involved in humanitarian projects.   In 1914 Wharton opened a workroom for unemployed women that provided food and employment.  She was involved in the American Hostels for Refugees organization as well as the Children of Flanders Rescue Committee.
Edith Wharton knew many of the well-known people of her time.  This includes Henry James, Sinclair Lewis, Theodore Roosevelt, Bernard Berenson, and Kenneth Clark.
"Half the trouble in life is caused by pretending there isn't any." ~ The House of Mirth by Edith Wharton
Novels and Novellas by Edith Wharton
The Touchstone, 1900
The Valley of Decision, 1902
Sanctuary, 1903
The House of Mirth, 1905
Madame de Treymes, 1907
The Fruit of the Tree, 1907
Ethan Frome, 1911
The Reef, 1912
The Custom of the Country, 1913
Bunner Sisters, 1916
Summer, 1917
The Marne, 1918
The Age of Innocence, 1920
The Glimpses of the Moon, 1922
A Son at the Front, 1923
Old New York: False Dawn, The Old Maid, The Spark, New Year's Day, 1924
The Mother's Recompense, 1925
Twilight Sleep, 1927
The Children, 1928
Hudson River Bracketed, 1929
The Gods Arrive, 1932
The Buccaneers, 1938 (unfinished)
Fast and Loose: A Novelette, 1938 (written in 1876–1877)
More About Edith Wharton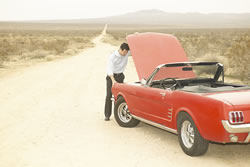 I hope that your weekend is off to a good start!  No flat tires, arguments or bounced checks.  Just in case though, here are five quotes about trouble that may help you take it all in stride.
"Most of the trouble in life comes from misunderstanding, I think," said Anne. ~ Anne of the Island by Lucy Maud Montgomery
"Would the world ever have been made if its maker had been afraid of making trouble? Making life means making trouble." ~ Pygmalion by George Bernard Shaw
"Half the trouble in life is caused by pretending there isn't any." ~ The House of Mirth by Edith Wharton
"I have read in your face, as plain as if it was a book, that but for some trouble and sorrow we should never know half the good there is about us." ~ The Haunted Man by Charles Dickens
"Oh, friend John, it is a strange world, a sad world, a world full of miseries, and woes, and troubles. And yet when King Laugh come, he make them all dance to the tune he play." ~ Dracula by Bram Stoker