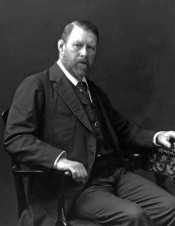 Bram Stoker, the author of Dracula,  was born on November 8, 1847 and died on April 20, 1912.  Here are five quick facts about the author that you may not know:
1 – Although we may think of Stoker as being English, he was actually born in Clontarf, Ireland.  (Clontarf is a suburb of Dublin.)
2 – He was a sickly child and was bedridden for much of his first seven years.   However Stoker thrived after that.  He grew to be over six feet tall.  His red hair plus athletic build lead a biographer to refer to Stoker as a "red-haired giant."
3 – An early romantic interest of Oscar Wilde was Florence Balcombe.  She eventually became the wife of Bram Stoker.
4 – Stoker was a late bloomer in terms of his writing career.  He didn't publish Dracula until he was fifty years old.
5 – Speaking of Dracula, in the 1980s the original manuscript of the novel was found in a barn in Pennsylvania.  It revealed that Stoker considered calling the novel THE UN-DEAD.  I don't know about you, but I like Dracula better.
Novels by Bram Stoker
The Primrose Path
The Snake's Pass
The Watter's Mou'
The Shoulder of Shasta
Dracula
Miss Betty
The Mystery of the Sea
The Jewel of Seven Stars
The Man (a.k.a. The Gates of Life)
Lady Athlyne
The Lady of the Shroud
The Lair of the White Worm (a.k.a. The Garden of Evil)