Today is the first day of autumn. To mark the day, here's a fun collection of five autumnal quotes from literature.
"Draw your chair up and hand me my violin, for the only problem we have still to solve is how to while away these bleak autumnal evenings." ~ The Adventure of the Noble Bachelor by Sir Arthur Conan Doyle
On the motionless branches of some trees, autumn berries hung like clusters of coral beads, as in those fabled orchards where the fruits were jewels. ~ Martin Chuzzlewit by Charles Dickens
It was, as I have said, a fine autumnal day; the sky was clear and serene, and nature wore that rich and golden livery which we always associate with the idea of abundance. The forests had put on their sober brown and yellow, while some trees of the tenderer kind had been nipped by the frosts into brilliant dyes of orange, purple, and scarlet. ~ The Legend of Sleepy Hollow by Washington Irving
The place, with its gray sky and withered garlands, its bared spaces and scattered dead leaves, was like a theater after the performance–all strewn with crumpled playbills. ~ The Turn of the Screw by Henry James
He lowered the window, and looked out at the rising sun. There was a ridge of ploughed land, with a plough upon it where it had been left last night when the horses were unyoked; beyond, a quiet coppice-wood, in which many leaves of burning red and golden yellow still remained upon the trees. Though the earth was cold and wet, the sky was clear, and the sun rose bright, placid, and beautiful. ~ A Tale of Two Cities by Charles Dickens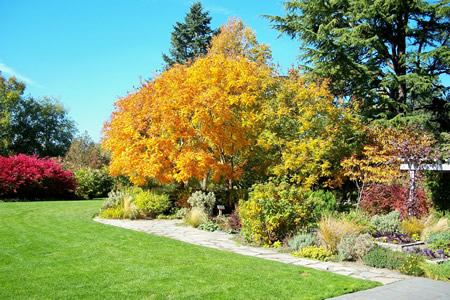 Literature and TV meet in Sleepy Hollow.  The television program by FOX brings characters from The Legend of Sleepy Hollow by Washington Irving to modern times. The television show premieres September 16th.
From the show's website:
Welcome to SLEEPY HOLLOW, the thrilling new mystery-adventure drama from co-creators/executive producers Alex Kurtzman and Roberto Orci (the "Star Trek" and "Transformers" franchises, "Fringe").

In this modern-day twist on Washington Irving's classic, ICHABOD CRANE (Tom Mison, "Salmon Fishing in the Yemen") is resurrected and pulled two and a half centuries through time to unravel a mystery that dates all the way back to the founding fathers. Revived alongside Ichabod is the infamous Headless Horseman who is on a murderous rampage in present-day Sleepy Hollow. Ichabod quickly realizes that stopping Headless is just the beginning, as the resurrected rider is but the first of the Four Horsemen of the Apocalypse and only one of the many formidable foes that Ichabod must face to protect not only Sleepy Hollow, but the world.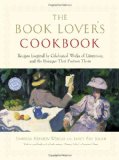 I was browsing through Amazon.com and was happily surprised to find The Book Lover's Cookbook: Recipes Inspired by Celebrated Works of Literature.  You can be sure that I've added it to my wish list!  It combines two of may favorite things, cooking and reading.
Wake up to a perfect breakfast with Mrs. Dalby's Buttermilk Scones, courtesy of James Herriot's All Things Bright and Beautiful and Ichabod's Slapjacks, as featured in Washington Irving's The Legend of Sleepy Hollow. There's homey comfort food like Connie May's Tomato Pie, created with and inspired by Connie May Fowler (Remembering Blue); Thanksgiving Spinach Casserole (Elizabeth Berg's Open House); and Amish Chicken and Dumplings (Jodi Picoult's Plain Truth) . . . Sample salads, breads, and such soul-warming soups as Nearly-a-Meal Potato Soup (Terry Kay's Shadow Song); Mr. Casaubon's Chicken Noodle Soup (George Eliot's Middlemarch); and Mrs. Leibowitz's Lentil-Vegetable Soup (Frank McCourt's Angela's Ashes) . . . After relishing appetizers and entrees, there's a dazzling array of desserts, including Carrot Pudding (Charles Dickens's A Christmas Carol); Effie Belle's Coconut Cake (Olive Ann Burns's Cold Sassy Tree); and the kids will love C.S. Lewis's Turkish Delight from The Lion, The Witch, and the Wardrobe.

Sprinkled throughout with marvelous anecdotes about writers and writing, The Book Lover's Cookbook is a culinary and literary delight, a browser's cornucopia of reading pleasure, and a true inspiration in the kitchen.
Some of the Recipes and the Books that Inspired Them
Jo's Best Omelette . . . Little Women by Louisa May Alcott
No Dieter's Delight Chicken Neapolitan . . . Thinner by Stephen King
Extra-Special Rhubarb Pie . . . The Persian Pickle Club by Sandra Dallas
Grand Feast Crab Meat Casserole . . . At Home in Mitford by Jan Karon
Persian Cucumber and Yogurt . . . House of Sand and Fog by Andre Dubus III
Tamales . . . Like Water for Chocolate by Laura Esquivel
Bev's No-Fuss Crab Cakes . . . Unnatural Exposure by Patricia Cornwell
Macaroni and Cheese . . . The Accidental Tourist by Anne Tyler
Veteran Split Pea Soup . . . The Red Badge of Courage by Stephen Crane
Alternative Carrot-Raisin-Pineapple Salad . . . Midwives by Chris Bohjalian
Summer's Day Cucumber-Tomato Sandwiches . . . Women in Love by D. H. Lawrence
Refreshing Black Cows . . . The Book of Ruth by Jane Hamilton
Dump Punch . . . Pride and Prejudice by Jane Austen
Not Violet, But Blueberry Pie . . . Charlie and the Chocolate Factory by Roald Dahl
Innocent Sweet Bread . . . The Bluest Eye by Toni Morrison
Daddy's Rich Chocolate Cake . . . Fatherhood by Bill Cosby