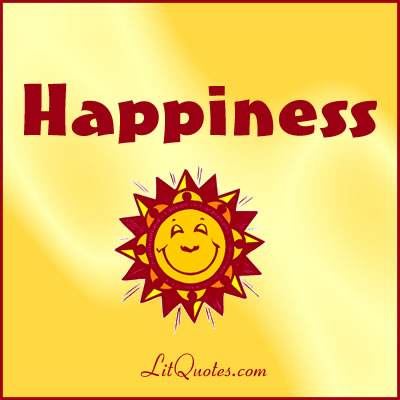 We've got a large collection of literary quotes about happiness.  Here are the 20 best quotes about from the collection. Authors include Charles Dickens, L. Frank Baum, George Eliot and Lucy Maud Montgomery.
---
"Money is a needful and precious thing, and when well used, a noble thing, but I never want you to think it is the first or only prize to strive for. I'd rather see you poor men's wives, if you were happy, beloved, contented, than queens on thrones, without self-respect and peace." ~ Little Women by Louisa May Alcott
---
"You must be the best judge of your own happiness." ~ Emma by Jane Austen
---
"I would always rather be happy than dignified." ~ Jane Eyre by Charlotte Bronte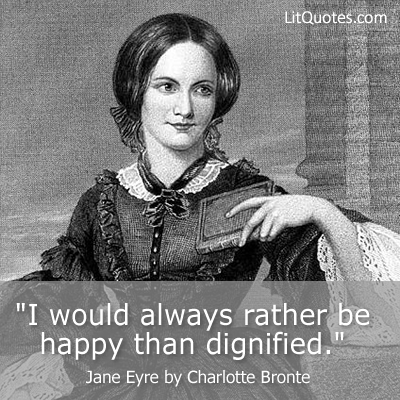 ---
Cheerfulness and content are great beautifiers, and are famous preservers of youthful looks, depend upon it. ~ Barnaby Rudge by Charles Dickens
---
There were days when she was very happy without knowing why. She was happy to be alive and breathing, when her whole being seemed to be one with the sunlight, the color, the odors, the luxuriant warmth of some perfect Southern day. She liked then to wander alone into strange and unfamiliar places. She discovered many a sunny, sleepy corner, fashioned to dream in. And she found it good to dream and to be alone and unmolested. ~ The Awakening by Kate Chopin
---
There is no happiness like that of being loved by your fellow-creatures, and feeling that your presence is an addition to their comfort. ~ Jane Eyre by Charlotte Bronte
---
It is a poor heart that never rejoices. ~ Barnaby Rudge by Charles Dickens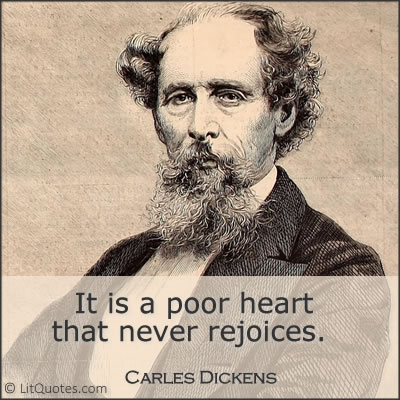 ---
"Action may not always be happiness," said the general; "but there is no happiness without action." ~ Lothair by Benjamin Disraeli
---
No one can be happy in eternal solitude. ~ The Tenant of Wildfell Hall by Anne Bronte
---
To see their sons and daughters so flushed and healthy and happy, gave them also a reflected glow, and it was hard to say who had most pleasure from the game, those who played or those who watched. ~ Beyond the City by Sir Arthur Conan Doyle
---
People who have tried it, tell me that a clear conscience makes you very happy and contented; but a full stomach does the business quite as well, and is cheaper, and more easily obtained. ~ Three Men in a Boat by Jerome K. Jerome
---
"Happy are they that hear their detractions, and can put them to mending." ~ Much Ado About Nothing by William Shakespeare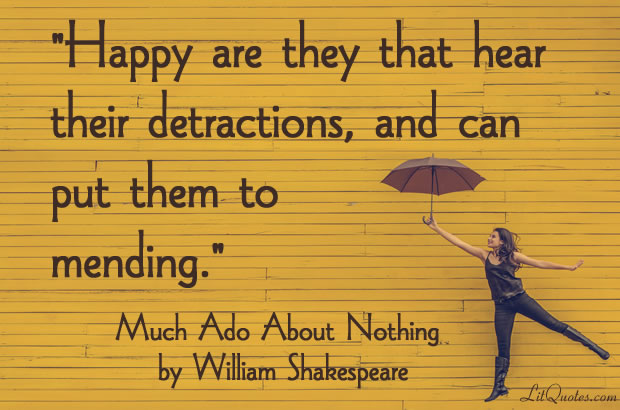 ---
Anne was always glad in the happiness of her friends; but it is sometimes a little lonely to be surrounded everywhere by a happiness that is not your own. ~ Anne of the Island by Lucy Maud Montgomery
---
"One gets a bad habit of being unhappy." ~ The Mill on the Floss by George Eliot
---
She better liked to see him free and happy, even than to have him near her, because she loved him better than herself. ~ Barnaby Rudge by Charles Dickens
---
No mockery in this world ever sounds to me so hollow as that of being told to cultivate happiness. What does such advice mean? Happiness is not a potato. ~ Villette by Charlotte Bronte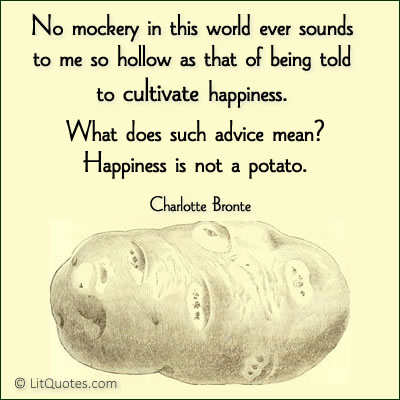 ---
There are a set of religious, or rather moral writers, who teach that virtue is the certain road to happiness, and vice to misery, in this world. A very wholesome and comfortable doctrine, and to which we have but one objection, namely, that it is not true. ~ Tom Jones by Henry Fielding
---
Annual income twenty pounds, annual expenditure nineteen nineteen and six, result happiness. Annual income twenty pounds, annual expenditure twenty pounds ought and six, result misery. ~ David Copperfield by Charles Dickens
"Happy is the man who can make a living by his hobby!" ~ Pygmalion by George Bernard Shaw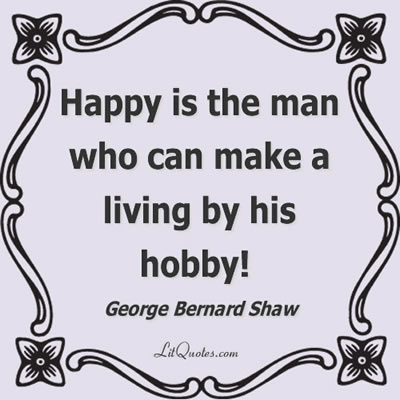 ---
"I shall take the heart," returned the Tin Woodman; "for brains do not make one happy, and happiness is the best thing in the world." ~ The Wonderful Wizard of Oz by L. Frank Baum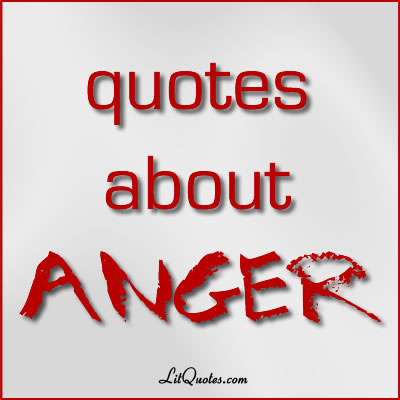 "You do not know how the people of this country bear malice. It is the boast of some of them that they can keep a stone in their pocket seven years, turn it at the end of that time, keep it seven years longer, and hurl it and hit their mark 'at last.'" ~ Shirley by Charlotte Bronte
How often it is that the angry man rages denial of what his inner self is telling him. ~ The Woman in White by Wilkie Collins
Any woman who is sure of her own wits is a match at any time for a man who is not sure of his own temper. ~ The Woman in White by Wilkie Collins
Anger and jealousy can no more bear to lose sight of their objects than love. ~ The Mill on the Floss by George Eliot
Anger's my meat; I sup upon myself,
And so shall starve with feeding. ~ Coriolanus by William Shakespeare
"From hell's heart I stab at thee; for hate's sake I spit my last breath at thee." ~ Moby Dick by Herman Melville
With a fierce action of her hand, as if she sprinkled hatred on the ground, and with it devoted those who were standing there to destruction, she looked up once at the black sky, and strode out into the wild night. ~ Dombey and Son by Charles Dickens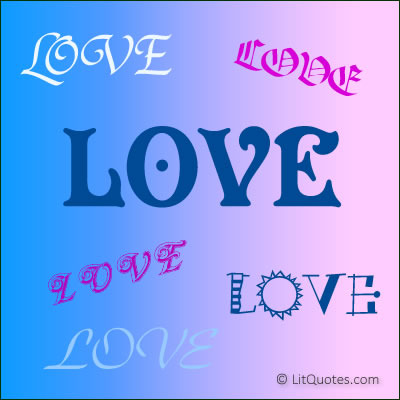 How is it that the poets have said so many fine things about our first love, so few about our later love? Are their first poems their best? Or are not those the best which come from their fuller thought, their larger experience, their deeper-rooted affections? ~ Adam Bede by George Eliot
These fellow-mortals, every one, must be accepted as they are: you can neither straighten their noses, nor brighten their wit, nor rectify their dispositions; and it is these people–amongst whom your life is passed–that it is needful you should tolerate, pity, and love: it is these more or less ugly, stupid, inconsistent people whose movements of goodness you should be able to admire–for whom you should cherish all possible hopes, all possible patience. ~ Adam Bede by George Eliot
Such young unfurrowed souls roll to meet each other like two velvet peaches that touch softly and are at rest; they mingle as easily as two brooklets that ask for nothing but to entwine themselves and ripple with ever-interlacing curves in the leafiest hiding-places. ~ Adam Bede by George Eliot
A difference of taste in jokes is a great strain on the affections. ~ Daniel Deronda by George Eliot
She and Stephen were in that stage of courtship which makes the most exquisite moment of youth, the freshest blossom-time of passion,–when each is sure of the other's love, but no formal declaration has been made, and all is mutual divination, exalting the most trivial word, the lightest gesture, into thrills delicate and delicious as wafted jasmine scent. ~ The Mill on the Floss by George Eliot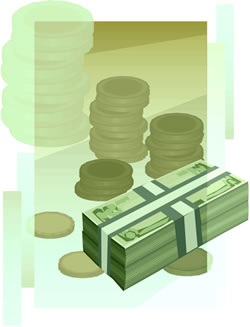 Here are ten quotes from literature about money.
"Simple, generous goodness is the best capital to found the business of this life upon. It lasts when fame and money fail, and is the only riches we can take out of this world with us." ~  Little Men by Louisa May Alcott
But the Law is still, in certain inevitable cases, the pre-engaged servant of the long purse. ~ The Woman in White by Wilkie Collins
"Life and money both behave like loose quicksilver in a nest of cracks. And when they're gone we can't tell where–or what the devil we did with 'em!" ~ The Magnificent Ambersons by Booth Tarkington
Put not your trust in money, but put your money in trust. ~  The Autocrat of the Breakfast Table by Oliver Wendell Holmes, Sr.
"Rich folks may ride on camels, but it an't so easy for 'em to see out of a needle's eye. That is my comfort, and I hope I knows it." ~  Martin Chuzzlewit by Charles Dickens
"Look at that sea, girls–all silver and shadow and vision of things not seen. We couldn't enjoy its loveliness any more if we had millions of dollars and ropes of diamonds." ~ Anne of Green Gables by Lucy Maud Montgomery
"Remuneration! O, that's the Latin word for three farthings." ~ Love's Labour's Lost by William Shakespeare
"Better spend an extra hundred or two on your son's education, than leave it him in your will." ~ The Mill on the Floss by George Eliot
"Money pads the edges of things." ~  Howards End by E. M. Forster
"Ah, nowadays we are all of us so hard up, that the only pleasant things to pay are compliments. They're the only things we can pay." ~ Lady Windermere's Fan by Oscar Wilde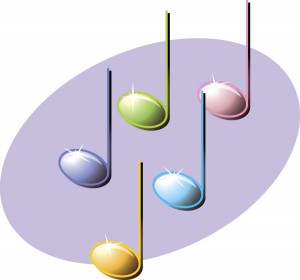 "I do hate singing before that sort of audience. It is like giving them your soul to look at, and you don't want them to see it. It seems indecent. To my mind, music is the most REVEALING thing in the world." ~  The Rosary by Florence L. Barclay
For his part, every beauty of art or nature made him thankful as well as happy, and that the pleasure to be had in listening to fine music, as in looking at the stars in the sky, or at a beautiful landscape or picture, was a benefit for which we might thank Heaven as sincerely as for any other worldly blessing. ~  Vanity Fair by William Makepeace Thackeray
At a single strain of music, the scent of a flower, or even one glimpse of a path of moonlight lying fair upon a Summer sea, the barriers crumble and fall. Through the long corridors the ghosts of the past walk unforbidden, hindered only by broken promises, dead hopes, and dream-dust. ~  Old Rose and Silver by Myrtle Reed
"Your voice and music are the same to me." ~  The Haunted Man by Charles Dickens
She made up her mind to tell them to play loud–there was a lot of music in a cornet, if the man would only put his soul into it. ~  The Forsyte Saga by John Galsworthy
"I think I should have no other mortal wants, if I could always have plenty of music. It seems to infuse strength into my limbs, and ideas into my brain. Life seems to go on without effort, when I am filled with music." ~  The Mill on the Floss by George Eliot
"And now, Doctor, we've done our work, so it's time we had some play. A sandwich and a cup of coffee, and then off to violin-land, where all is sweetness and delicacy and harmony, and there are no red-headed clients to vex us with their conundrums." ~  The Red-Headed League by Sir Arthur Conan Doyle
see all of the music quotes from literature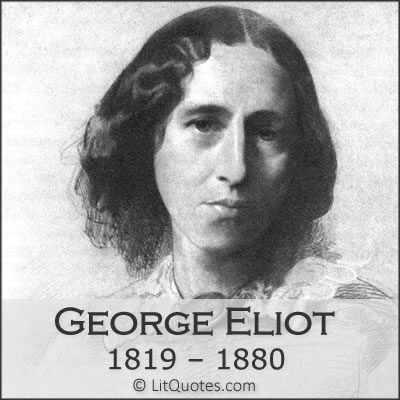 Mary Anne Evans, commonly known as George Eliot, was born on November 22, 1819.   Evans wrote under a male pen name to ensure that her works  would be taken seriously.  At the time it was thought that women authors wrote only lighthearted romances.
Middlemarch, for instance, deals with subjects like the Great Reform Bill, the beginnings of railways and the death of King George IV.  Virginia Woolf once said that Middlemarch, "is one of the few English novels written for grown-up people."
Other novels by George Eliot include Adam Bede, The Mill on the Floss, Silas Marner,   Romola, Daniel Deronda as well as Felix Holt, the Radical.
Pride helps us; and pride is not a bad thing when it only urges us to hide our own hurts—not to hurt others. ~ Middlemarch by George Eliot
Novels by George Eliot
Adam Bede
The Mill on the Floss
Silas Marner
Romola
Felix Holt, the Radical
Middlemarch
Daniel Deronda
More About George Eliot