New quotes were added to the site today.  As per usual, all of the quotes list an author and a source. We're proud that this quotation collection is curated by people and NOT by a computer program.
Here are some quotes from the new additions:
Men must want to do things of their own innermost drives. People, not commercial organizations or chains of command, are what make great civilizations work. Every civilization depends upon the quality of the individuals it produces. If you over-organize humans, over-legalize them, suppress their urge to greatness — they cannot work and their civilization collapses. ~ Children of Dune by Frank Herbert
"A sermon is not to tell you what you are, but what you ought to be, and a novel should tell you not what you are to get, but what you'd like to get." ~ The Small House at Allington by Anthony Trollope
"Must we be strangers, you and I, because there was a time in which we were almost more than friends?" ~ Phineas Finn by Anthony Trollope
Your man with a thin skin, a vehement ambition, a scrupulous conscience, and a sanguine desire for rapid improvement, is never a happy, and seldom a fortunate politician. ~ The Prime Minister by Anthony Trollope
Something unpleasant is coming when men are anxious to tell the truth. ~ The Young Duke by Benjamin Disraeli
"God did not give me my life to throw away." ~ Jane Eyre by Charlotte Bronte
The wild rains of the day are abated; the great single cloud disparts and rolls away from heaven, not passing and leaving a sea all sapphire, but tossed buoyant before a continued, long-sounding, high-rushing moonlight tempest. The moon reigns glorious, glad of the gale, as glad as if she gave herself to his fierce caress with love. ~ Shirley by Charlotte Bronte
We should acknowledge God merciful, but not always for us comprehensible. ~ Villette by Charlotte Bronte
"Your father, Jo. He never loses patience, never doubts or complains, but always hopes, and works and waits so cheerfully that one is ashamed to do otherwise before him." ~ Little Women by Louisa May Alcott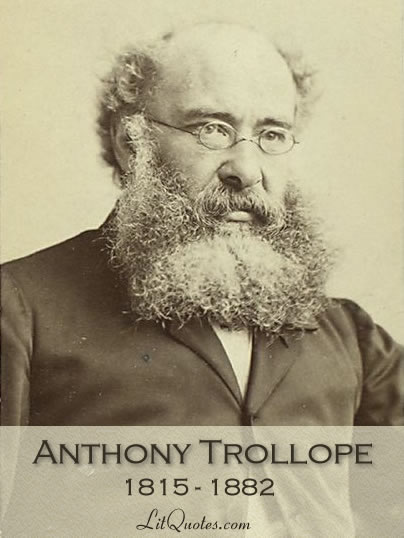 Anthony Trollope (April 24, 1815 – December 6, 1882) was one of the most successful and prolific novelists of the Victorian era. Among his best-known works is a series of novels collectively known as the Chronicles of Barsetshire, which revolves around the imaginary county of Barsetshire.
Trollope was born in London.  His father, Thomas Anthony Trollope, was an unhappy man.  He wanted his sons to be raised as gentlemen, but didn't have the means to make that happen. The money situation came to a head in 1834 when the entire Trollope family moved to Belgium to avoid being arrested for debt.
Later in 1834 Anthony accepted a position as clerk in the General Post Office in London. He worked for the postal system in various positions and locations until 1864.
Trollope wrote in his spare time and while traveling for his postal service job.  His finished his first novel, The Macdermots of Ballycloran, in 1845.
Ride at any fence hard enough, and the chances are you'll get over. The harder you ride the heavier the fall, if you get a fall; but the greater the chance of your getting over. ~ Phineas Redux by Anthony Trollope
The Novels in the Chronicles of Barsetshire are:
The Warden (1855)
Barchester Towers (1857)
Doctor Thorne (1858)
Framley Parsonage (1861)
The Small House at Allington (1864)
The Last Chronicle of Barset (1867)
Palliser Novels
Can You Forgive Her? (1865)
Phineas Finn (1869)
The Eustace Diamonds (1873)
Phineas Redux (1874)
The Prime Minister (1876)
The Duke's Children (1880)
Other Novels by Anthony Trollope
The Macdermots of Ballycloran (1847)
The Kellys and the O'Kellys (1848)
La Vendée: An Historical Romance (1850)
The Three Clerks (1858)
The Bertrams (1859)
Castle Richmond (1860)
Orley Farm (1862)
The Struggles of Brown, Jones & Robinson (1862)
Rachel Ray (1863)
Miss Mackenzie (1865)
The Belton Estate (1866)
The Claverings (1867)
Nina Balatka (1867)
Linda Tressel (1868)
He Knew He Was Right (1869)
The Vicar of Bullhampton (1870)
Sir Harry Hotspur of Humblethwaite (1871)
Ralph the Heir (1871)
The Golden Lion of Granpère (1872)
Harry Heathcote of Gangoil (1874)
Lady Anna (1874)
The Way We Live Now (1875)
The American Senator (1877)
Is He Popenjoy? (1878)
John Caldigate (1879)
An Eye for an Eye (1879)
Cousin Henry (1879)
Ayala's Angel (1881)
Doctor Wortle's School (1881)
The Fixed Period (1882)
Kept in the Dark (1882)
Marion Fay (1882)
Mr. Scarborough's Family (1883)
The Landleaguers (1883)
An Old Man's Love (1884)
Learn More about Anthony Trollope