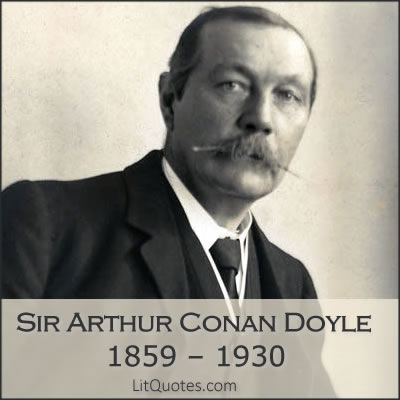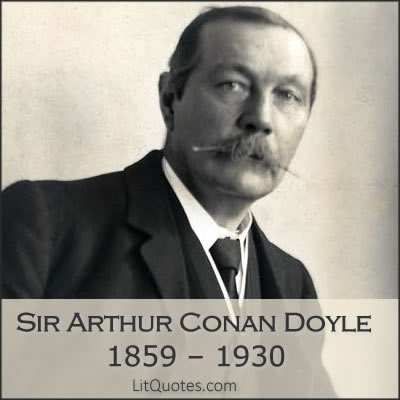 Sir Arthur Conan Doyle was born in 1859 and died in 1930.  He's best known as the creator of the Sherlock Holmes.  But here are five things about him that you may not know.
1 – Conan Doyle was a physician.  He attended the University of Edinburgh Medical School and graduated in 1881 with a Bachelor of Medicine and Mastery of Surgery.
2 – He worked as a ship's surgeon on a whaling vessel.
3 – Conan Doyle was not knighted for his Sherlock Holmes stories.  The War in South Africa: Its Causes and Conduct caught the eye of the monarchy.  In it, Conan Doyle comes to Great Britain's defense against charges of war crimes in the Boer War.
4 – George Edalji was an innocent man convicted of mutilating and killing livestock.  Who helped him prove his innocence?  The case was solved by Arthur Conan Doyle.  Sir Arthur solved two real-life crime cases, the George Edalji case and the Oscar Slater case.
5 – Conan Doyle believed in Spiritualism.  It's true.  The man who created the ever-logical Sherlock Holmes believed in spirits and things like automatic writing.
You can learn more about all of these subjects at our partner site, Conan Doyle Info.  As the site says, Sherlock Holmes is just the beginning.
Partial List of Work by Conan Doyle
A Study in Scarlet
Micah Clarke
The Mystery of Cloomber
The Sign of the Four
The Firm of Girdlestone
The White Company
The Doings of Raffles Haw
The Great Shadow
The Refugees
The Parasite
The Stark Munro Letters
Rodney Stone
Uncle Bernac
The Tragedy of the Korosko
A Duet, with an Occasional Chorus
The Hound of the Baskervilles
Sir Nigel
The Lost World
The Poison Belt
The Valley of Fear
The Land of Mist
The Maracot Deep
More Information about Sir Arthur Conan Doyle