Happy New Year's Eve!  I just wanted to let you know that I've added a few more quotes to the site.  Here are my favorites.
There's small choice in rotten apples. ~   The Taming of the Shrew by William Shakespeare
Continual complexity makes it impossible for any of us to know anything outside our own personal field-I can't follow the work of the man sitting at the next desk over from me. Too much knowledge has piled up in each field. And there's too many fields." ~  The Variable Man by Philip K. Dick
It makes your sin no worse, as I conceive, to do it a la mode and stylishly. ~  The Prisoner of Zenda by Anthony Hope
Other LitQuotes Features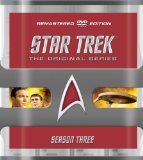 I recently watched an episode of classic Star Trek from season three entitled All Our Yesterdays.  It turns out that the title of the episode is from Macbeth.
"There would have been a time for such a word. To-morrow, and to-morrow, and to-morrow, creeps in this petty pace from day to day, to the last syllable of recorded time; And all our yesterdays have lighted fools The way to dusty death. Out, out, brief candle! Life's but a walking shadow; a poor player, that struts and frets his hour upon the stage, and then is heard no more: it is a tale told by an idiot, full of sound and fury, signifying nothing." ~ Macbeth by William Shakespeare
That's not the only reference to Shakespeare in this season.  The plot of Elaan of Troyius will be familiar to people who know of The Taming of the Shrew.  Whom Gods Destroy features a character that quotes from Shakespeare's Sonnet 18.