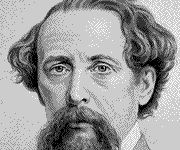 Are you ready for a gruesome Halloween tale featuring Charles Dickens?  Then head on over to the Historical Society of Pennsylvania's site to learn about Charles Dickens, the Supernatural and Captain Murderer.
While our partner site, Charles Dickens Info, touches on Captain Murder the article from HSP provides more chilling details of the vile villain.
The young woman who brought me acquainted with Captain Murderer had a fiendish enjoyment of my terrors, and used to begin, I remember – as a sort of introductory overture – by clawing the air with both hands, and uttering a long low hollow groan. So acutely did I suffer from this ceremony in combination with this infernal Captain, that I sometimes used to plead I thought I was hardly strong enough and old enough to hear the story again just yet. The Uncommercial Traveller – Nurse's Stories by Charles Dickens
If you haven't heard about The Uncommercial Traveler, here's the scoop.  In 1859 Dickens founded a new journal called All the Year Round.  The Uncommercial Traveller articles by Dickens appeared in that journal.  Seventeen Uncommercial Traveller articles were printed in All the Year Round in 1860.  Dickens wrote eleven more articles between 1863 and 1865.  A few more were written between 1868 and 1869.