"To win back my youth, Gerald, there is nothing I wouldn't do—except take exercise, get up early, or be a useful member of the community." ~ A Woman of No Importance by Oscar Wilde
"I always say beauty is only sin deep." ~ Reginald by Saki
It is the necessary nature of a political party in this country to avoid, as long as it can be avoided, the consideration of any question which involves a great change. ~ Phineas Redux by Anthony Trollope
The world is a stage, but the play is badly cast. ~ Lord Arthur Savile's Crime by Oscar Wilde
"Prophecy is like a half-trained mule," he complained to Jorah Mormont. "It looks as though it might be useful, but the moment you trust in it, it kicks you in the head." ~ A Dance with Dragons by George R. R. Martin
You can't expect the fatted calf to share the enthusiasm of the angels over the prodigal's return. ~ Reginald by Saki
Fox terriers are born with about four times as much original sin in them as other dogs are. ~ Three Men in a Boat by Jerome K. Jerome
Discovering that priests were infinitely more attentive when she was in process of losing or regaining faith in Mother Church, she maintained an enchantingly wavering attitude. ~ This Side of Paradise by F. Scott Fitzgerald
"This looks like one of those unwelcome social summonses which call upon a man either to be bored or to lie." ~ The Adventure of the Noble Bachelor by Sir Arthur Conan Doyle
"Morality is simply the attitude we adopt towards people whom we personally dislike." ~ An Ideal Husband by Oscar Wilde
In one respect at least the Martians are a happy people; they have no lawyers. ~ A Princess of Mars by Edgar Rice Burroughs
"I discovered early that crying makes my nose red, and the knowledge has helped me through several painful episodes." ~ The House of Mirth by Edith Wharton
In all the thousands of times I have asked other people for advice, I never yet got the advice I wanted. ~ Armadale by Wilkie Collins
A story with a moral appended is like the bill of a mosquito. It bores you, and then injects a stinging drop to irritate your conscience. ~ Strictly Business by O. Henry
Mrs. Bittacy rustled ominously, holding her peace meanwhile. She feared long words she did not understand. Beelzebub lay hid among too many syllables. ~ The Man Whom the Trees Loved by Algernon Blackwood
"Unbidden guests
Are often welcomest when they are gone." ~ Henry VI, Part One by William Shakespeare
The bishop did not whistle: we believe that they lose the power of doing so on being consecrated. ~ The Warden by Anthony Trollope
What the eye does not see, the stomach does not get upset over. ~ Three Men in a Boat by Jerome K. Jerome
I don't want to repeat my innocence. I want the pleasure of losing it again. ~ This Side of Paradise by F. Scott Fitzgerald
Unless one is a genius, it is best to aim at being intelligible. ~ Dolly Dialogues by Anthony Hope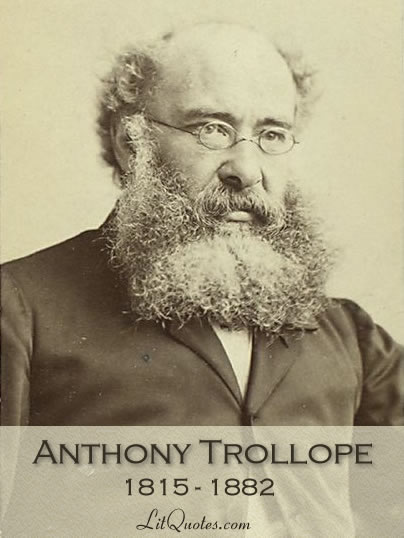 Anthony Trollope (April 24, 1815 – December 6, 1882) was one of the most successful and prolific novelists of the Victorian era. Among his best-known works is a series of novels collectively known as the Chronicles of Barsetshire, which revolves around the imaginary county of Barsetshire.
Trollope was born in London.  His father, Thomas Anthony Trollope, was an unhappy man.  He wanted his sons to be raised as gentlemen, but didn't have the means to make that happen. The money situation came to a head in 1834 when the entire Trollope family moved to Belgium to avoid being arrested for debt.
Later in 1834 Anthony accepted a position as clerk in the General Post Office in London. He worked for the postal system in various positions and locations until 1864.
Trollope wrote in his spare time and while traveling for his postal service job.  His finished his first novel, The Macdermots of Ballycloran, in 1845.
Ride at any fence hard enough, and the chances are you'll get over. The harder you ride the heavier the fall, if you get a fall; but the greater the chance of your getting over. ~ Phineas Redux by Anthony Trollope
The Novels in the Chronicles of Barsetshire are:
The Warden (1855)
Barchester Towers (1857)
Doctor Thorne (1858)
Framley Parsonage (1861)
The Small House at Allington (1864)
The Last Chronicle of Barset (1867)
Palliser Novels
Can You Forgive Her? (1865)
Phineas Finn (1869)
The Eustace Diamonds (1873)
Phineas Redux (1874)
The Prime Minister (1876)
The Duke's Children (1880)
Other Novels by Anthony Trollope
The Macdermots of Ballycloran (1847)
The Kellys and the O'Kellys (1848)
La Vendée: An Historical Romance (1850)
The Three Clerks (1858)
The Bertrams (1859)
Castle Richmond (1860)
Orley Farm (1862)
The Struggles of Brown, Jones & Robinson (1862)
Rachel Ray (1863)
Miss Mackenzie (1865)
The Belton Estate (1866)
The Claverings (1867)
Nina Balatka (1867)
Linda Tressel (1868)
He Knew He Was Right (1869)
The Vicar of Bullhampton (1870)
Sir Harry Hotspur of Humblethwaite (1871)
Ralph the Heir (1871)
The Golden Lion of Granpère (1872)
Harry Heathcote of Gangoil (1874)
Lady Anna (1874)
The Way We Live Now (1875)
The American Senator (1877)
Is He Popenjoy? (1878)
John Caldigate (1879)
An Eye for an Eye (1879)
Cousin Henry (1879)
Ayala's Angel (1881)
Doctor Wortle's School (1881)
The Fixed Period (1882)
Kept in the Dark (1882)
Marion Fay (1882)
Mr. Scarborough's Family (1883)
The Landleaguers (1883)
An Old Man's Love (1884)
Learn More about Anthony Trollope

I added new quotes to the site today.  The quotes are by George R. R. Martin and Anthony Trollope.  New titles included in this batch are A Storm of Swords and Framley Parsonage.
Here are some of my favorites from the new batch.  If you have a quote that you'd like to see added to the site, you can contribute a quote.
All men must die, Jon Snow. But first we'll live. ~ A Storm of Swords by George R. R. Martin
He took such high ground that there was no getting on to it. ~ The Warden by Anthony Trollope
Having a comfortable allowance from his father, he could devote the whole proceeds of his curacy to violet gloves and unexceptionable neck ties. ~ Barchester Towers by Anthony Trollope
A burden that will crush a single pair of shoulders will, when equally divided—when shared by two, each of whom is willing to take the heavier part—become light as a feather. ~ Framley Parsonage by Anthony Trollope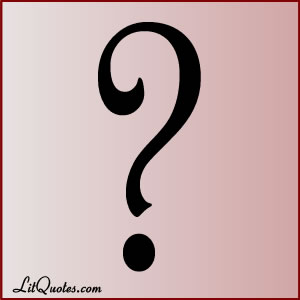 Have you ever thought about questions?  Questions are very, very important.  Without questions we'd have no answers.
Those are my thoughts on questions.  Now here are five quotes from literature about questions:
There are no ugly questions except those clothed in condescension. ~ East of Eden by John Steinbeck
Aunt Polly asked him questions that were full of guile, and very deep—for she wanted to trap him into damaging revealments. Like many other simple-hearted souls, it was her pet vanity to believe she was endowed with a talent for dark and mysterious diplomacy, and she loved to contemplate her most transparent devices as marvels of low cunning. ~ The Adventures of Tom Sawyer by Mark Twain
"What is any public question but a conglomeration of private interests?" ~ The Warden by Anthony Trollope
"Questions are never indiscreet. Answers sometimes are." ~ An Ideal Husband by Oscar Wilde
"I feel very strongly about putting questions; it partakes too much of the style of the day of judgment." ~ The Strange Case of Dr. Jekyll and Mr. Hyde by Robert Louis Stevenson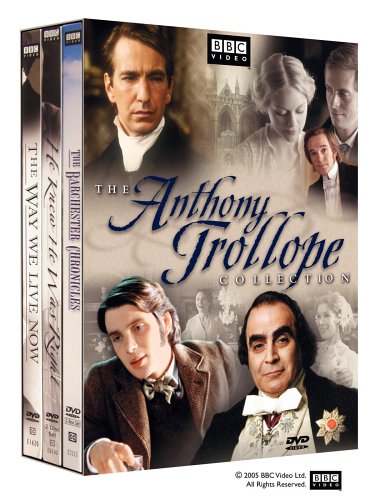 I just found this at Amazon and I'm pretty excited about it.  The Anthony Trollope Collection by the BBC is a 6-DVD set.   The set contains  The Barchester Chronicles (an adaptation of the first two Barchester novels, The Warden and Barchester Towers), He Knew He Was Right  and  The Way We Live Now.  I only wish I already had ordered this.  It would be perfect for a lazy, Sunday afternoon.
She well knew the great architectural secret of decorating her constructions, and never condescended to construct a decoration. ~ Barchester Towers by Anthony Trollope

Classic literature can be inspirational.  It can be poetic.  It can be educational.  Classic literature can also be really funny!  Check out these ten funny quotes from literature:
1 – "How dreadful!" cried Lord Henry. "I can stand brute force, but brute reason is quite unbearable. There is something unfair about its use. It is hitting below the intellect." ~  The Picture of Dorian Gray by Oscar Wilde
2 – "If you could see my legs when I take my boots off, you'd form some idea of what unrequited affection is."  ~  Dombey and Son by Charles Dickens
3 – Indeed, he would sometimes remark, when a man fell into his anecdotage, it was a sign for him to retire from the world. ~  Lothair by Benjamin Disraeli
4 – You cannot make a man by standing a sheep on its hind-legs. But by standing a flock of sheep in that position you can make a crowd of men. ~  Zuleika Dobson by Sir Max Beerbohm
5 – The bishop did not whistle: we believe that they lose the power of doing so on being consecrated. ~  The Warden by Anthony Trollope
6 – A story with a moral appended is like the bill of a mosquito. It bores you, and then injects a stinging drop to irritate your conscience. ~  Strictly Business by O. Henry
7  – From politics, it was an easy step to silence. ~  Northanger Abbey by Jane Austen
8 – Few things are harder to put up with than the annoyance of a good example. ~  The Tragedy of Pudd'nhead Wilson by Mark Twain
9 – It is not that I object to the work, mind you; I like work: it fascinates me. I can sit and look at it for hours. ~  Three Men in a Boat by Jerome K. Jerome
10 – I don't want to repeat my innocence. I want the pleasure of losing it again. ~  This Side of Paradise by F. Scott Fitzgerald
If you enjoyed these quotes check out our humorous quotes page or our random funny quote feature.