New quotes were added to the site today.  As per usual, all of the quotes list an author and a source. We're proud that this quotation collection is curated by people and NOT by a computer program.
Here are some quotes from the new additions:
Men must want to do things of their own innermost drives. People, not commercial organizations or chains of command, are what make great civilizations work. Every civilization depends upon the quality of the individuals it produces. If you over-organize humans, over-legalize them, suppress their urge to greatness — they cannot work and their civilization collapses. ~ Children of Dune by Frank Herbert
"A sermon is not to tell you what you are, but what you ought to be, and a novel should tell you not what you are to get, but what you'd like to get." ~ The Small House at Allington by Anthony Trollope
"Must we be strangers, you and I, because there was a time in which we were almost more than friends?" ~ Phineas Finn by Anthony Trollope
Your man with a thin skin, a vehement ambition, a scrupulous conscience, and a sanguine desire for rapid improvement, is never a happy, and seldom a fortunate politician. ~ The Prime Minister by Anthony Trollope
Something unpleasant is coming when men are anxious to tell the truth. ~ The Young Duke by Benjamin Disraeli
"God did not give me my life to throw away." ~ Jane Eyre by Charlotte Bronte
The wild rains of the day are abated; the great single cloud disparts and rolls away from heaven, not passing and leaving a sea all sapphire, but tossed buoyant before a continued, long-sounding, high-rushing moonlight tempest. The moon reigns glorious, glad of the gale, as glad as if she gave herself to his fierce caress with love. ~ Shirley by Charlotte Bronte
We should acknowledge God merciful, but not always for us comprehensible. ~ Villette by Charlotte Bronte
"Your father, Jo. He never loses patience, never doubts or complains, but always hopes, and works and waits so cheerfully that one is ashamed to do otherwise before him." ~ Little Women by Louisa May Alcott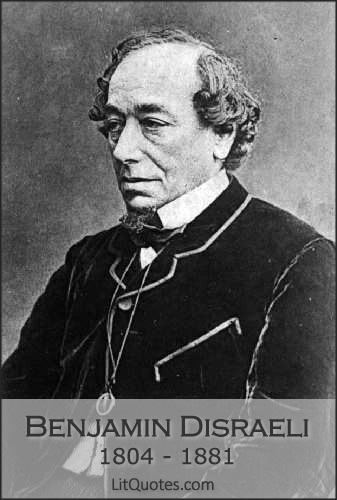 Benjamin Disraeli was born on December 21, 1804  and died on April 19, 1881.  He was a talented writer as well as a politician.  He twice served as Prime Minister. His works include Sybil, Coningsby and Vivian Grey.
While Disraeli was British, all of his grandparents and great grandparents were born in Italy
He was of Jewish birth, but later converted to Christianity.  As of this writing, he's the only person to hold the office of British Prime Minister who was born Jewish.
In 1839 Disraeli married Mary Anne Lewis.  She was twelve years older than Disraeli and had an income of £5,000 a year. "Dizzy married me for my money," his wife later said, "But, if he had the chance again, he would marry me for love."
He served as Prime Minister twice.  The first time was from February 27 to 1 December of 1868.  The second time Disraeli was Prime Minister was from February 20, 1874 to April 21, 1880.
Disraeli is remembered for his political battles with the Liberal leader, William Ewart Gladstone.
Hughenden Manor, a red brick Victorian mansion, located in High Wycombe, Buckinghamshire, England was Disraeli's country house.  In 1862 the Disraelis had the house remodelled by the architect Edward Buckton Lamb. Today, it is owned by the National Trust and open to the public.
Disraeli had a close friendship with Queen Victoria, who in 1876 created him Earl of Beaconsfield.
"There is no act of treachery or meanness of which a political party is not capable; for in politics there is no honour." ~ Vivian Grey by Benjamin Disraeli
"We are all born for love," said Morley. "It is the principle of existence, and its only end." ~ Sybil by Benjamin Disraeli
"Nurture your mind with great thoughts. To believe in the heroic makes heroes." ~ Coningsby by Benjamin Disraeli
Novels by Benjamin Disraeli
Vivian Grey
Popanilla
The Young Duke
Contarini Fleming
Ixion in Heaven
The Wondrous Tale of Alroy
The Rise of Iskander
The Infernal Marriage
Henrietta Temple
Venetia
Coningsby, or the New Generation
Sybil, or The Two Nations
Tancred, or the New Crusade
Lothair
Endymion
Falconet (unfinished)
More About Benjamin Disraeli